Bookworm on Oct 28 2012 at 8:58 pm | Filed under: Barack Obama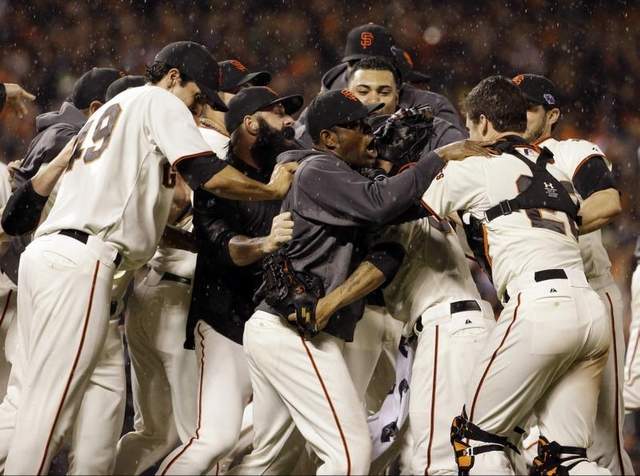 Not only did the Detroit Tigers lose the world series, they lost spectacularly, with the Giants winning in a solid four game streak.  I predicted this outcome a few days ago, not because I know anything about baseball (I don't), but because I am familiar with the Obama curse.  As Rush Limbaugh has been pointing out for years, if Obama backs something (a business, a climate summit, an Olympic games venue), it goes down in flames.
On Wednesday night, Obama appeared on Jay Leno's Tonight Show.  There, in response to Jay's question about the World Series, Obama turned his back on the Golden State that has filled his campaign coffers and told America that he was rooting for Detroit's team (keeping in mind that Michigan's electoral votes are up for grabs):
I will say, I've spent a lot of time in Detroit lately, and I didn't want to let Detroit go bankrupt. So in this particular World Series, I might be a little partial.
Once Obama voiced his support for the Tigers, their defeat was assured.  The Giants played marvelously, that's true, but they should also send a word of thanks to the President.  Without the benefit of the curse he laid upon the Tigers, they might not have won.
Those Obama voters who are Detroit Tigers fans might want to rethink their support for the President.  It's really not nice what he did to their team.
Email This Post To A Friend
10 Responses to "The Obama Curse strikes again: Detroit Tigers lose the world series"
[...] DETROIT TIGERS LOSE WORLD SERIES: The Obama Curse strikes again. [...]

on 28 Oct 2012 at 9:34 pm

2

DL Sly

I s'pose it'd be *inappropriate* to laugh, even though, I, like you, knew the jinx was cast as soon as he said it.
*snnnnnicker*
(Ymar, I'm sure, will attest that I'm not necessarily known for being *appropriate*.)

I read the other day that Obama voted…..for himself.

Things that make ya go "Hmmmmm….."
heh

Oh, and he had to show ID.
*snnnort*
0>;~}

Taking a cue from James Taranto: "TIgers lose: women, children hardest hit."
 
I was rooting for the Giants, from my time living in San Francisco. After a couple of nail-biting series, their bats finally got hot in the last game of the NLCS. Stellar pitching and very good defense took care of the rest.
 
I've noticed that a disturbingly high percentage of the time, President Obama's public appearances are on some entertainment venue. I have to conclude that he doesn't realize these appearances diminish both him and the presidency. Even media hound Bill Clinton acted more 'presidential'.
 

on 29 Oct 2012 at 12:04 am

4

SADIE

Romney to Obama: 'You Don't Just Pick The Winners And Losers, You Pick The Losers' 

       

 

[...] it on the team having too much time off in between games, but I say it was the Obama curse, and I'm not the only one.On Wednesday night, Obama appeared on Jay Leno's Tonight Show.  There, in response to Jay's [...]

on 29 Oct 2012 at 10:53 am

6

jj

Back in the days when NBC had baseball, this would have been a low-interest world series, at best.  That means: immediate family members of the teams will watch, plus a few friends from down the block in the two cities involved: 90% of the nation will not care.  Ratings?  Terrible – but not awful.  "Awful" is when the world series is between Kansas City and Arizona, or Minnesota and Milwaukee.  Not even all the immediate family members watch, and 99% of the country Does Not Care.  The world series ratings are such that you're sorry your bid for the MLB contract was successful.  This wasn't that bad – but almost.  The best world series' always involve the Yankees, and the absolute best is Yankees-Dodgers.  (I mean in terms of national interest.  Ratings, in other words.  Money, to go straight to the last word.  People in Des Moines will watch the Yankees and Dodgers – God knows why, but they do.)  Yankees-Cubs has no history, but that would probably be pretty good, too, given the Cubs' storyline over the years.  Decades.  But Detroit-San Francisco?  Gluck….  I don't know what the ratings were, but I do know they weren't very good.  You guys from Marin will have a somewhat skewed view, there was probably some rooting for the Giants going on, and the series probably came up in line at Starbucks – but the rest of the country was barely aware there was a world series going on.
 
But still: congratulations, fat boys by the bay.  I didn't catch a minute of it, but congratulations anyway.

on 29 Oct 2012 at 11:07 am

7

Charles Martel

I'd like to see a World Series between Miami and Havana.

on 29 Oct 2012 at 5:52 pm

8

Gringo

I'd much rather have ∅bama predicting sports scores for a living than having him in his current job.
Is Keith Olbermann's old sportscasting job [ESPN?] still open?
Would MSNBC hire ∅bama as a talking head?
 
Speaking of  ∅bama and baseball I am reminded of the interview with Bob Costas when ∅bama, a Chicago South Side resident for two decades, referred to the the place where the South Side residing Chicago White Sox play as "Caminsky Field." I have no problem with "Caminsky," as that is Chicago-speak for Comiskey. If the Sox no longer play at Comiskey Park- that is also OK , because who can keep up with all the stadium changes. But Caminsky FIELD? Even I, whose only time spent in Chicago has been to transfer from bus, train or plane, know that the White Sox play in a PARK and the Cubbies play at Wrigley FIELD. ∅bama can't even get that right, after two decades in Chicago?
 
Just one more example of how ∅bama is removed from mainstream America- doesn't realize that the baseball team which he professes to be fan of, plays in a PARK, and not in a FIELD.
 

on 29 Oct 2012 at 6:01 pm

9

SADIE

Comiskey PARK or FIELD, I am only surprised he didn't call it Comiskey Golf Course.

[...] Hurricane Sandy Crisis Map: TechCrunchFDNY to NYC: Please don't tweet for help: CNetCornucopiaThe Obama Curse strikes again: BookwormWarning, Storm of the Century On Direct Path for the White House: MOTUS5 Deep Insights [...]
Leave a Reply
You must be logged in to post a comment.