Bookworm on Mar 06 2013 at 11:00 am | Filed under: Blogs and Blogging
Here's an update on the new gig I told you about.  For the foreseeable future, I will be the main original content provider at Mr. Conservative — a site that, unknown to most people by name, is one of the most heavily trafficked sites on the internet.  Unlike Bookworm Room, where I write about whatever interests me, and fill my posts with a lot of personal commentary, the pieces I write for Mr. Conservative's site riff off of news stories.  In some, I'm just flat-out reporting.  In others, I add a little bit of me to the mix.
What I'm ending up with is a sort of Venn diagram, with an area of overlap between the me posts and the Mr. Conservative posts: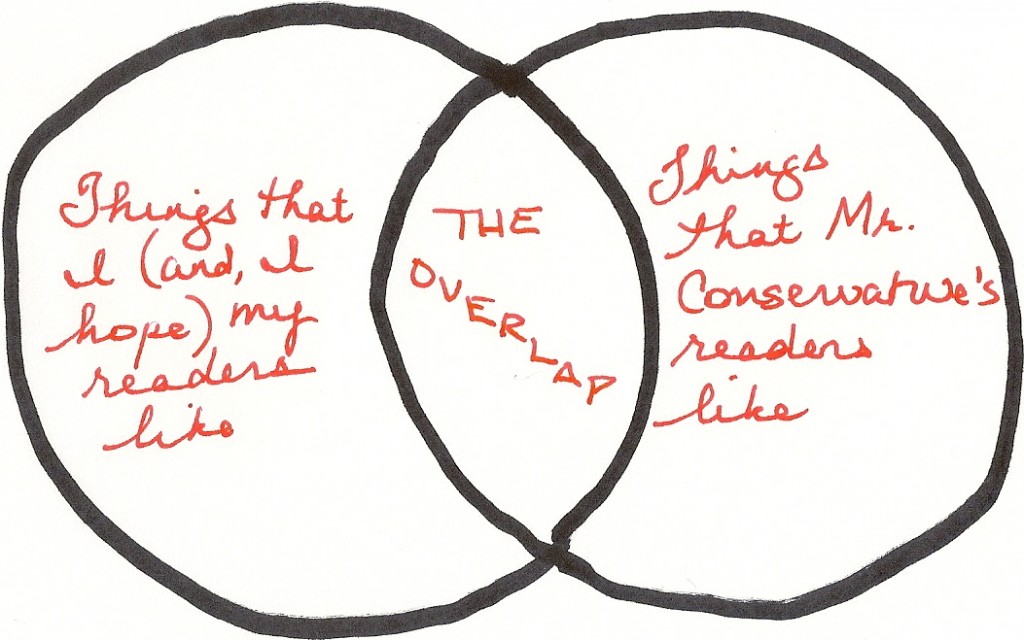 To the extent that there's overlap — that is, I write a post for Mr. Conservative that is the same as a post I would write on my blog — I'm re-posting my work here and noting at the bottom that it originally appeared at Mr. Conservative's site. I'm telling you this now so that you know that it is my work.  I could leave these posts only on Mr. Conservative, but I want to re-post those pieces here, at Bookworm Room, so that they can be part of the delightful, ongoing conversation that we have here.  I will also continue to post entirely original content, unique to Bookworm Room (such as this post).
For me, doing things this way means that I only have to write once about something that matters to me. Since I'm providing lots of original content that's exclusive to Mr. Conservative, as well as the original content that is near and dear to my heart at Bookworm Room, it's nice to cut a few procedural corners occasionally as to those things that overlap without actually diminishing quality.
Please let me know if you have any questions or concerns about this. I'm excited to be earning money, but the job does require a fair amount of work. Doing some post-sharing seems like the most efficient way to get the endless flow of words in my brain out to the right places.
Email This Post To A Friend
5 Responses to "A slight change at the Bookworm Room"
 
Once again, Congratulations — I'm so very happy for you!!  Trust it turns out to be all you desired.
 
I'm going to bookmark Mr. Conservative and spend some time there, too…..
 
 

on 06 Mar 2013 at 2:29 pm

2

Charles Martel

OK by me wherever I have to go to get my Bookworm fix. On my way to Mr. Conservative even as we speak!

on 06 Mar 2013 at 5:21 pm

3

Mike Devx

I like the content at Mr. Conservative.  Added to my list of sites to read.  Congratulations again on your involvement!
 
It's interesting that there's no authorship assigned to any individual piece on the site.  Just how many writers does Mr. Conservative have, providing content?  I wonder if any sort of (amateur hobbyist) contextual analysis will help me identify which are yours, Book, and which are written by others?
 
But your loyal readers here will at least know via cross-posting here that some are definitely yours!
 
ps. I doubt we'll be see Abba video clips on Mr. Conservative anytime soon
 

90% of the content posted since last Friday is mine.  You've put your finger on the reason Mr. Conservative is huge, but unknown.  The model is not about individualism, but about driving interested traffic to news stories.

The method is often used by home business owners that use the internet to sell stuff on. Extremely lucrative, at least for those with the time, interest, passion, and capital to sustain it. It's almost like a passive income. once you set it up and get it started, it snowballs on itself.
Leave a Reply
You must be logged in to post a comment.