Bookworm on Mar 09 2013 at 7:16 pm | Filed under: Culture, Sex
I overheard two women talking the other day.  One told the other that her teenage son was looking at internet porn.  Worse, her husband wouldn't help her stop this behavior because, as he said, "I used to read Playboy when I was his age, and it didn't hurt me."  Is it really possible for the father of a teenage boy to be that clueless? This daddy's ignorance about internet porn is so great that it may prove that reading Playboy when he was a teen did hurt him.
Playboy nudes were wholesome.  I know this sounds like an oxymoron, but the Playmates were like the girl next door, except without clothes.  For at least the first twenty or more years of Playboy's history, these gals were an every man (or boy) fantasy brought to life.  The teens and young men perusing the pages could easily pretend that Miss January was that cute brunette down the street, or that Miss July was the hot girl you admired on the other side of the classroom.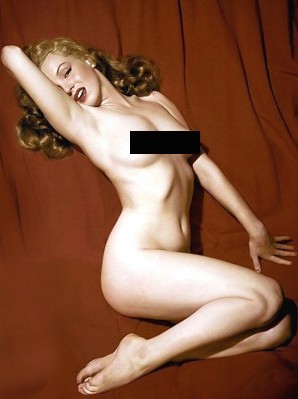 Eventually, though, the pleasure centers in male consumers' brains stopped getting a thrill from "mere" nudes.  They started gravitating in greater numbers to magazines such as Penthouse or Hustler that showed women who were not only undressed, but were also engaging in sexual acts.
With the advent of the internet, though, the old-line magazines, both hard and soft core, couldn't keep up with the gravitational pull of the internet.  And in the internet world, where porn is king, purveyors had to keep on-upping each other if they wanted to keep traffic coming to their sites.  Changes to content, instead of happening in human years, over the course of decades, happened in fruit fly years, over the course of weeks or even days.  If I'm a porn site mogul, I show nudes, but lose traffic to the guy who shows nudes playing with themselves, so I up the ante by showing two nudes playing with each other, so he ups the ante by adding two men and, perhaps, a dog or two. And so it goes, with each competitive iteration getting more perverse in a never-ending effort to catch the attention of an increasingly jaded viewing public.
Eventually, you end up with scenes such as this one, which I've censored appropriately to remove any and all pornographic or distasteful images: The result of this rising tide of porn that goes into realms far beyond "hard-core" is that, unlike his clueless Dad, the teen I introduced you to in the first paragraph is not looking at wholesome young things who, quite miraculously, seem to have lost their clothes.  Instead, he's looking at depravity that would have delighted the Marquis de Sade and variety that would have exhausted even Casanova. Moreover, the same "beaver shots" that could once get a publication into trouble with the law are strewn about in the open air on University campuses (and I'm sure parents and taxpayers are very happy to fund these pornographic exhibitions).
What happens, sadly, is that teens' pleasure centers become so calloused that they can no longer respond to real women in a loving, monogamous relationship.  These jaded teens, many of whom have never actually touched a real woman, find ordinary sex boring from the get go.  Why bother, then, with a real woman, who won't act out your depraved fantasies involving whips, chains, Great Danes and, God knows how, three on a chandelier.  It's better to develop a deeper relationship with the porn on your computer monitor.
Incidentally, the allusion to whips, chains, Great Danes, etc., comes from Martin Mull's humming song:
It's obvious that, if Martin Mull did his funny humming song now, there'd be no humming at all. He would describe in painful and graphic detail precisely how that sordid little orgy proceeded. It would be shocking, but it wouldn't be clever, and anyone with a mental development beyond that of a 13-year-old boy wouldn't laugh.  Which gets me to humor in our modern age.
The essence of humor is surprise. The perfect joke is one that leads in one direction and then, in a clever, witty way, veers off in a direction we never anticipated:
Lady Nancy Astor: "Winston, if you were my husband, I'd put poison in your coffee."

Winston Churchill: "Nancy, if you were my wife, I'd drink it."
In the old days of American humor, when dirty jokes were relegated to burlesque shows, comedians who didn't want to perform only in tawdry dives endlessly honed their craft, leading their audience in directions no one anticipated.
These comedians were good.  Really, really good. I defy any but the most jaded not to laugh when they see Lucy advertising Vitameatavegamin or Abbott and Costello riffing effortlessly through "Who's on first?"
What's fascinating about these clips is that they're long. In a humorous world that wasn't limited by its audience's controlled by painfully short, MTV attention span, comedic geniuses had a lot of space in which to develop their jokes. The other fascinating thing about this hysterically funny humor is that it's wholesome. The laughs come from clever, unexpected behavior, not salacious language or crude insults.
As television grew more popular, and as cable TV added ever more channels to the old five- or six- or seven-channel line-up, the competition for audience attention increased. Writers and comedians discovered that the best — and also the easiest — way to stand out in a crowd was to be shocking. The surprise that led a startled audience to laugh wasn't that the joke was witty, it was, instead, that someone would have the temerity to say something gross, or sexual, or mean-spirited.
We've gone downhill quickly from the first "shock" humor shows such as All In The Family or Laugh In.  Once upon a time, George Carlin did fairly clever riff about the "Seven Words You Can Never Say on Television." Now, if you turn on any HBO or SHO comedy show, whether a narrative show such as the staggeringly unfunny Louie K or a stand-up comedy act by just about anyone, these same words are thrown around with abandon.  Jon Stewart, who throws his puerile infants around on Comedy Central, gets bleeped every third or fourth word, but everyone knows what he's saying.
These comedians aren't shocking any more — and they also not funny. They're just out there, revealing that both writers and comedians have large, empty pockets in their brains that have dirty words floating around like dust motes.
But with dirty words, insults, and ugly sexuality now de riguer, what's next? One "comedian" decided to try revolting scatological and sexual jokes about the Queen and Kate Middleton:
Controversial Frankie Boyle took comedy to a disgusting new low last night as he made vile jokes about The Queen and Kate, the pregnant Duchess of Cambridge during a TV fundraiser.

The Scottish 'funnyman' was booed by the crowd as he joked he wished the Queen had died, and made an unprintable gag about how Kate fell pregnant.

In a revolting 10-minute routine on Russell Brand's Give It Up For Comic Relief event at London's Wembley Arena, Boyle also drew gasps from the 12,500-strong audience with a particularly crude jibe at Oscar Pistorious.

Boyle's routine was deemed in such bad taste that it was axed from the 'almost-live' broadcast of the show on BBC Three.
Boyle may have been booed and banned today, but you can bet your bottom dollar that, as comedians aim for ever more shocking material in order to stand out in the crowd, Boyle's material will become ordinary and, after a falsely anguished debate amongst TV executives, will be streaming into living rooms very soon.
All of this — whether we're talking about pornography or what passes for humor today — is depressing. But I do believe there is some good news. Envelopes can only be pushed so far. People eventually become jaded about being jaded. This happened at the end of the utterly debauched Georgian era, when the middle class social and religious values that had been bubbling in the countryside exploded into full-out Victorian repression. After decades of rampant alcoholism, gambling, and sexual depravity, the culture looked for something fresh and new — and that "freshness" and "newness" came in the form of prudery and respectability. Debauchery didn't vanish, it just hid in poor neighborhoods and rich houses. The staid middle class controlled social mores, and managed to do so for a hundred years.
I don't know if we're at the tipping point yet, but I think we're getting near. Interestingly, I see it in the children in my community. Ten years ago, the teenage girls dressed like street corner hookers — and these were girls at nice middle class high schools and middle schools. Now, the girls are starting to dress more like girls. Decolletage is rising, belly buttons are hiding, and shorts aren't quite so short. There are still sexting and sex scandals, but the kids who engage in these aren't admired, they're ridiculed.
When things get old, we look for the new. So perhaps the comedy and porn of today, despite frantic efforts to remain relevant by being disgusting, is starting to bore the public. The next big thing will be the comedian who comes out and shocks everyone by saying "I'm a virgin and I like it" — and then proceeds to insult those who haven't stayed so pure. Steve Crowder, for now, is in a minority of one, but I think that's going to change. Or at least, I hope that's going to change.
Email This Post To A Friend
27 Responses to "Porn, comedy, and an increasingly jaded culture (but don't give up all hope)"
on 09 Mar 2013 at 7:43 pm

1

Mike Devx

Lucille Ball was such a superb physical comedienne, especially with her facial expressions.  Lou Costello was awfully hood at the same thing, too.  They spent years developing perfect timing and made it look easy.
 
If there is a tipping point and our society redraws the lines of propriety once more towards restrained, polite behavior, today's rude, crude, even vile comedians don't stand a chance.  They haven't been required to develop technique, that knife-edge of perfect timing.
 
Can an old dog teach itself new tricks?  Can years and years of the most infantile-like broad, blunt, crude behavior be transformed into a new, required refined, even civilized, behavior?
 
More likely, these broad, crude pantomime artists would be replaced rather quickly by up-and-comers who can move artistically, even gracefully, within more restrained comedic zones.

on 10 Mar 2013 at 2:14 am

2

SCOTTtheBADGER

I doubt that we will see anything as funny as Jack Benny's programs again, anytime soon. He and his cast had honed true comedy to a fine edge, and required no discomfort on the part of the audience. Nor are we likely to see anything as funny as Carol Burnett, with her sense of the absurd.
Part of the genius of both of those, is that they would act as the straight man at least 60% of the time.  This is much harder than being the center of attention, but is much more effective. I guess I shall have to keep listening to Old Time Radio programs, and ignore the alleged comedy being offered to us today.

on 10 Mar 2013 at 7:11 am

3

phillips1938

Bookie, I have horrible news for you.  Horrible.  Nearly all men masturbate from an early age.  A very high percentage of men look at porn.  Your Puritan crusade will not be effective.  It never has been.  You clearly know nothing about the history of porn which has been abundant throughout human history.  Sorry to be so rude.  Many Puritans don't even know what is happening in their own families. I love your work but this is loser.

on 10 Mar 2013 at 7:54 am

4

Call me Lennie

Porn has been "abundant" throughout history, Philips38?  Are you trying to say that some 12 year old farm kid in the 19th century had access to millions of sexualized images and videos like they do today? I grew up in the Sixties and Seventies at the onset of the Sexual Rebellion, and the first time I ever saw a clear image of an wide open vagina was when I was sixteen.  I had seen lots of slightly less hard core images, because I accidentally discovered my older brother's stash of nudie magazines. But even these never depicted intercourse
 
I didn't see a film that depicted intercourse until I was 21, because you had to be 21 to enter an adult film theater.  Of course, there were stag films circulating around but I didn't encounter one of those until one of my friends got married when I was 22. We played them at his bachelor's party. And of course what I'm describing is a quantom leap in the availability of porn as compared to previous eras
 
Meanwhile, any clever modern day 13 year old can access tens of thousands of videos of intercourse, to includes videos of 80 year old and 400 lb women giving fellatio, and hundreds of thousands of images FOR FREE!  So tell me again how pornography has been just as abundant as it is now.
 
 
 
 
 
 

on 10 Mar 2013 at 9:38 am

5

Libby

PBS's Frontline did an excellent series in 2002 on the the explosive growth of the porn industry. They explored how it was the result of several factors, including technological advances and the Clinton DOJ's lenience, and how the growth required producers to keep pushing the envelope. The program is available here – warning: there are some scenes that are hard to watch (rape porn film shoot where the actress is really beaten): http://tinyurl.com/yuavc
What seems to be different about porn today (or really, the last 15 yrs) is the mainstreaming of more deviant behavior. There has always been sexual deviance; however, a 14 year old kid hasn't always had ready access to it. Its practitioners were on the margins, engaging in obscurity, not making home movies and freely networking & sharing with other like-minded folks around the world. And everyday folks can now send each other "funny" clips of it, such as a man hammering nails into his privates. This desensitizes us as much as the prevalence of violence in movies and TV.

on 10 Mar 2013 at 10:58 am

6

Charles Martel

phillips1938, I think there's a difference between masturbating and what it is one masturbates to. Kind of like the difference between the urge to satisfy hunger and what one satisfies it with. Call me Lennie is spot on when he talks about the ubiquity and the depravity of modern porn.
 
Even in the Roman era, which we think of as a very licentious and debased time, there were certain sex acts commonly practiced today that simply were not done, let alone mentioned, at any level of society. (The Romans did spoof those acts in some of their art and graffiti, but they clearly were considered to be beyond the pale.)
 
Not so today. Any kids with the least bit of computer chops can access the most vile visual stimulants imaginable. You have only to think of the depravity and there are numerous sites out there that will accommodate you.
 
I don't think Book's discussion is Puritanism in any way. If you accept the old definition of a Puritan as "a person who worries that someone somewhere might be having fun," Book is actually taking an anti-Puritan stance in that she stands in defense of real pleasure. Nothing destroys pleasure faster than easy and abundant exposure to the same source of pleasure over and over. You can pig out on truffles and fine Bordeaux, video games and orgasms on demand.
 
The experience of deep and profound pleasure involves anticipation, longing, imagination, waiting, taking time. The kid who pleasures himself thinking of the cute red-haired girl two seats over is in a far better place than the wretch who has to frantically feed his now destroyed imagination with images that leave nothing to the imagination.

on 10 Mar 2013 at 4:16 pm

7

Spartacus

Once upon a time I stumbled across an article on National Review written by "Anonymous."  Not quite understanding why NRO had deviated from their usual format, I went ahead and read the article anyway, and then understood why the editors had chosen to make an exception.  Anyway, that article is here, and I must highly recommend it; it was an eye-opener.

on 10 Mar 2013 at 10:14 pm

8

Ron19

"But I'm only a little bit pregnant."

on 11 Mar 2013 at 7:10 am

9

Caped Crusader

JAMA reported a study in April 2004 showing frequent masturbation in younger men resulted in a marked decrease in prostate cancer later in life. Therefore, this could be considered a healthy life style and an approved form or preventive medicine, saving millions of dollars in medical expenditures, and those who "suffer" from this malady are actually helping to decrease the federal debt and doing a civic duty. Oh, where is Jocelyn Elders when we need her most? Sorry that these findings come too late to benefit some!
 
http://www.ncbi.nlm.nih.gov/pmc/articles/PMC387502/
 
A great number of good comments with which I find little to disagree on the main,

Charles Martel got what I was trying to say:  It's not porn per se (or young men masturbating their way into a cancer-free life); it's the quality of what they're watching.  The internet has to keep ratcheting up the shock value of porn in order to maintain audience — and that means boys are maturing into deviant sexual expectations, rather than ordinary ones.

And it means that, since all modern comedy can do is shock, as we become inured to the stuff and no longer gasp out an amazed giggle, we're not laughing any more.

Which left me wondering where we go from here, both with regard to sex and society and with regard to humor and society.

on 11 Mar 2013 at 8:33 am

11

Caped Crusader

I got it also, Bookworm. That was mostly TIC. Society is, in all respects, defining decency down in all venues, which is the point I have made in other comments; that you cannot tear out suddenly and by the roots all the long established norms and morays that society has lived by for myriad years and not expect chaos which is exactly what is happening today with an ever accelerating frequency.

on 11 Mar 2013 at 8:40 am

12

Caped Crusader

And speaking of comedy, do you remember Evening at the Improv on A&E more than 20 years ago when the comedians were actually funny and could make fun of everyone without grossly foul language? Haven't bothered to watch today's comedians in many years.

on 11 Mar 2013 at 9:12 am

13

lee

I have this recollection of reading that Ted Bundy had said that he had a porn addiction that lead to an addiction of raunchier and raunchier porn, until all that could satisfy him was what he became infamous for. And that was before the internet!
I find it interesting that the people who get upset over the thought of limiting access to porn, are generally the same people who want to limit our second amendment rights. The people who have no problem with student groups plastering their campus with photos of female genitalia, get the vapors if other students want to show the graphic details of an abortion.
I also find it interesting that the concept of "sophisticated" humor is more about how dirty it can get. "Bob Newhart Show" back in the seventies, had some pretty risque humor, though none of it was filthy, and there was certainly no foul language involved. It was FAR more sophisticated than that of, oh, Sarah Silverman.

[...] Bookworm Room – Porn, comedy, and an increasingly jaded culture (but don't give up all hope) [...]

[...] Bookworm Room – Porn, comedy, and an increasingly jaded culture (but don't give up all hope) [...]

[...] Bookworm Room – Porn, comedy, and an increasingly jaded culture (but don?t give up all hope) [...]

[...] Bookworm Room – Porn, comedy, and an increasingly jaded culture (but don?t give up all hope) [...]

Watcher's Council nominations…

Joshuapundit-New Egyptian Law Allows Unrestricted 'Citizen's Arrests' Of Foreign TouristsThe Colossus of Rhodey – Do We Need Overseers To Make Sure We Don't Destroy Ourselves? The Noisy Room – Beware the Droids of March The Political Commentator …

[...] Bookworm Room – Porn, comedy, and an increasingly jaded culture (but don't give up all hope) [...]

[...] Bookworm Room – Porn, comedy, and an increasingly jaded culture (but don't give up all hope) [...]

[...] Third place *t* with 1 1/3 votes – Bookworm Room- Porn, comedy, and an increasingly jaded culture (but don't give up all hope) [...]

[...] Third place *t* with 1 1/3 votes – Bookworm Room – Porn, comedy, and an increasingly jaded culture (but don't give up all hope) [...]

Watcher's Council winners…

*First place with 3 votes! The Razor –What If The Experts Are Wrong About North Korea? Second place with 1 2/3 votes – Simply Jews – North Korea: The mistake of Lieutenant Novichenko Third place *t* with 1 1/3 votes……

[...] Bookworm Room – Porn, comedy, and an increasingly jaded culture (but don't give up all hope) [...]

[...] Third place *t* with 1 1/3 votes – Bookworm Room- Porn, comedy, and an increasingly jaded culture (but don't give up all hope) [...]

Watcher's Council Results…

OK, here we go with this week's full results: Council Winners*First place with 3 votes! The Razor –What If The Experts Are Wrong About North Korea? Second place with 1 2/3 votes – Simply Jews – North Korea: The mistake of Lieute…

[...] Third place *t* with 1 1/3 votes – Bookworm Room- Porn, comedy, and an increasingly jaded culture (but don't give up all hope) [...]
Leave a Reply
You must be logged in to post a comment.