Never forget — September 11, 2001 (Kept at top; scroll down for newer posts) *UPDATED 9/8/11*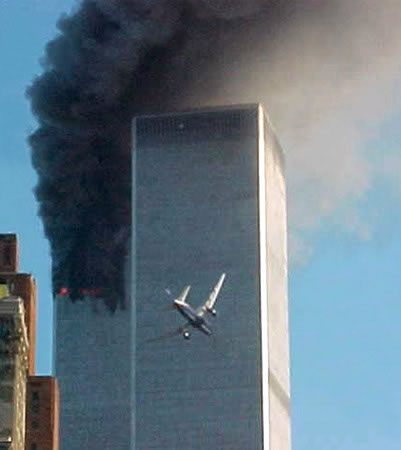 The current administration seems bound and determined to forget 9/11.  To this end, it grovels before those who wish to kill us, disarms those who wish to protect us (our military, our CIA), frees those who have raised their hands against us, and tries to turn 9/11 into a socialist worker's holiday.  That may be the current administration, but that's not me.  I will never forget those who died that day, nor will I ever forgive either the people or the ideology that gave rise to the attack.  With the government as it is now, we must, more vigilantly than ever before, remember that we are vulnerable if we let our guard down.
If you scroll down, you'll see the three posts I did in memory of three who died that day (here, here and here).
Others in the blogosphere are posting too.  The most comprehensive collection of links to posts about those who died on 9/11 is at the 2996 Project.  I've also collected here a few posts from just a few of my blog friends.  If you've done 9/11 post, please feel free to leave a link in the comments.  (And if you left a link in another comment section, please feel free to repost that link here.)
Tribute to Matthew Lancelot Ryan at Blackfive
Tribute to Marc Shulman at Noisy Room
Tribute to Kevin Francis Conroy at Radio Patriot
9/11, Eight years on, by the Anchoress
9/11, Remembrance and Prayers, by the Anchoress
It's 9/11.  Patriot's Day.  A Day of Remembering. — by Some Soldier's Mom
Never Forget — September 11, 2001 . . . Rick Rescorla, at Pierre LeGrand's Pink Flamingo Bar
Never Forget — Eight Years Later, by Lorie Byrd at Wiz Bang
9/11: For those there for us then to now, by Bruce Kesler, at Maggie's Farm
Tribute to Ezra Aviles, at March Hare's House
The Missing, at American Digest
Of a Fire in a Field and a Hole in the Sky, at American Digest
A Tribute to Shreyas Ranganath at Thought You'd Never Ask
A Tribute to Lee Adler at Right Truth
9/11 plus eight years, by Photon Courier
Benning's Tribute to the Victims of 9/11
9-11 — the Injustice Still Grates, by Melissa Clouthier
9-11 (the true face of evil), at Atlas Shrugs
September 11, 2001 — my story, at Brutally Honest
The Anniversary and things remembered, by Locutisprime
Project 2996 — Remembering the lost of 9/11, at Hot Air
Project 2,996 — Honoring John J. Chada, by Michelle Malkin
9/11:  Eight Years Ago Today, at Stop the ACLU
Don Surber has collected links
United Flight 93 Hijacked, Crashes in Pennsylvania — 9/11/01, by Marooned in Marin
The end logic of terror, written on 9/12/01 by the late Michael Kelly (h/t Soccer Dad)
Do you remember 9-11? by Noisy Room
And a look at an alternative universe by Tom Elia
What I Saw: Notes Made on September 11, 2001 from Brooklyn Heights, at American Digest
Eight years later, by Soccer Dad
Eight years on, by Mark Steyn
Betraying our dead, by Ralph Peters
Remembering 9/11:  A view from the heartland, by Ed Morrissey
Remembering 9/11:  United 93, by Ed Morrissey
Never forget, by Conservative Liberal
More to follow as the day goes by….
UPDATED (9/8/11):  Thank you for stopping by.  My current post on 9/11 ("Honoring 9/11 by remembering that we are warriors") is here.