Hospital bedside blogging, with my thoughts turning to evil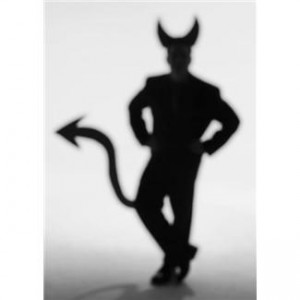 Mom's in the hospital again and suffering greatly, not in body, but in mind. She's mildly delusional, and very paranoid, angry and anxious. I can't imagine how grim it is to live in her head.
I slipped away for an hour and had lunch with Don Quixote. Our conversation turned to evil. I believe evil exists. Don Quixote pointed out, correctly, that many people who commit evil believe in their own heads that they're doing a good thing.  They believe in their revolution or their God, and believe that they are serving that revolution or God (and, therefore, the greater good) by torturing or murdering mass numbers people who "get in the way."
I'm going for moral absolutism here:  I believe that my system, which is predicated on maximum individual freedom within a framework of stable laws, is the best.  If two systems, mine and another that is more repressive, find themselves clashing over physical or mental control of people, I believe my system must win, and the other system must be defeated, even if that battle spills blood and causes the death of innocents.  I justify these deaths on the ground that, over the long run, my system will provide the greatest good for the greatest number of people, while any other system (e.g., Communism or radical Islam) will force great suffering on people for an indefinite amount of time.
At this point in my thinking, I don't care that the Islamist or the Communist thinks I'm the evil and he's the good.  If I lie down right now and refuse to do battle, he wins, and I will have perpetuated what is, in my absolutist universe, the greatest wrong of all, which is to allow evil — admitted evil as I define it — to flourish.
What do you say?  Does evil exist?  Am I evil for taking an absolutist position and being willing to fight and kill to defend it?  (Or more accurately, given my armchair warrior status, sending others to fight and kill to defend it?)
I am very interested in what you have to say on the subject.
Incidentally, it's worth thinking in this regard that part of my Mom's continuing mental anguish is that she spent WWII interned in a Japanese concentration camp in a war the Japanese started and that she spent the Israeli War of Independence getting shot at by Arabs who refused to recognize the Jewish state.  Those events created a lifelong anxiety that kept her alive during war, but that is slowly and depressingly killing her in old age.