King Obama the Insane — is Obama still living the big lie, or has he slipped round the bend?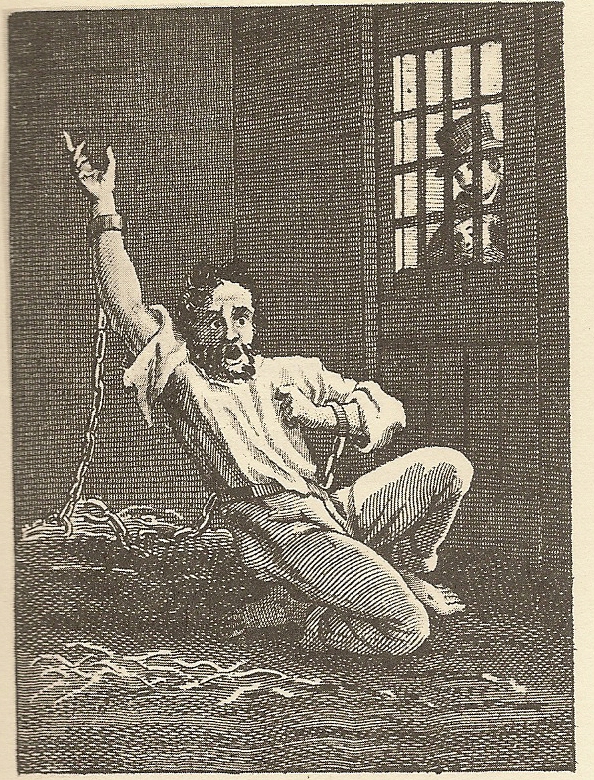 Albert Einstein allegedly defined insanity as "doing the same thing over and over again and expecting different results." Austin O'Malley looked at the process of insanity: "A sane man often reasons from sound premises; an insane man commonly reasons as well, but the premises are unsound." And Guy de Maupassant examined that peculiar phenomenon we now call monomania:
I have seen mad people, and I have known some who were quite intelligent, lucid, even clear-sighted in every concern of life, except on one point. They could speak clearly, readily, profoundly on everything; till their thoughts were caught in the breakers of their delusions and went to pieces there, were dispersed and swamped in that furious and terrible sea of fogs and squalls which is called MADNESS.
The common thread in these quotations is the fact that the insane person is disconnected from reality. He doesn't understand cause and effect, his factual premises are ludicrous, and his inability to deal with reality may be centered a specific subject, so that he appears lucid as to other things.
With Obama's most recent speech about the economy, the one in which he cited approvingly to an immediately discredited study claiming that he's been one of the most frugal presidents in history, a new meme sprang up in the blogosphere — "Obama the Insane."
Of course, no one has stated it with that level of clarity.  More and more writers, however, are commenting upon (1) Obama's belief that if he keeps spending more and more money, he will magically reverse the fact that his existing spending binge has already caused inestimable harm to the U.S. economy; (2) his reliance on manifestly false facts; and (3) the way in which, even as he is cogent on other subjects (his family, rap parties, etc.), Obama's focus on those things that most deeply affect Americans, such as the economy, foreign affairs, national security, bears no relationship to the facts on the ground.
Here are three respected writers, each of whom expresses serious concern about President Obama's increasingly obvious disconnect from the reality of his presidency and his policies.
Peggy Noonan politely calls the presidency a "house of cards":
There is, now, a house-of-cards feel about this administration.

It became apparent some weeks ago when the president talked on the stump—where else?—about an essay by a fellow who said spending growth is actually lower than that of previous presidents. This was startling to a lot of people, who looked into it and found the man had left out most spending from 2009, the first year of Mr. Obama's presidency. People sneered: The president was deliberately using a misleading argument to paint a false picture! But you know, why would he go out there waving an article that could immediately be debunked? Maybe because he thought it was true. That's more alarming, isn't it, the idea that he knows so little about the effects of his own economic program that he thinks he really is a low spender.
Peter Ferrara is also dismayed by the President's inability to recognize economic reality, although he believes the president is simply being deceptive. After quoting with approval the Noonan passage, above, Ferrara goes on to chide Obama for lying:
What this shows most importantly is that the recognition is starting to break through to the general public regarding the President's rhetorical strategy that I've have been calling Calculated Deception. The latter is deliberately using a misleading argument to paint a false picture. That has been a central Obama practice not only throughout his entire presidency, but also as the foundation of his 2008 campaign strategy, and actually throughout his whole career.

Rest assured, Ms. Noonan, that the President is not as nuts as he may seem at times. He knows very well that he is not a careful spender. His whole mission is to transform the U.S. not into a Big Government country, but a Huge Government country, because only a country run by a Huge Government can be satisfactorily controlled by superior, all wise and beneficent individuals like himself. That is why he is at minimum a Swedish socialist, if not worse. Notice, though, how far behind the times he and his weak minded supporters are, as even the Swedes have abandoned Swedish socialism as a failure.
Mark Steyn speaks in terms of soaring rhetoric unconnected to earthbound problems:
Take, for example, the attempt at soaring rhetoric: "That's how we built this country — together. We constructed railroads and highways, the Hoover Dam and the Golden Gate Bridge. We did those things together," he said, in a passage that was presumably meant to be inspirational but was delivered with the faintly petulant air of a great man resentful at having to point out the obvious, yet again. "Together, we touched the surface of the moon, unlocked the mystery of the atom, connected the world through our own science and imagination. We haven't done these things as Democrats or Republicans. We've done them as Americans."

Beyond the cheap dissembling, there was a bleak, tragic quality to this paragraph. Does anyone really believe a second-term Obama administration is going to build anything? Yes, you, madam, the gullible sap at the back in the faded hope'n'change T-shirt. You seriously think your guy is going to put up another Hoover Dam? Let me quote one Deanna Archuleta, Obama's deputy assistant secretary of the interior, in a speech to Democrat environmentalists in Nevada:

"You will never see another federal dam."

Ever.
All three essays are worth reading in their entirety. All three struggle with the vast chasm between Obama's words and actual reality. Although Ferrara calls Obama a liar to his face, Ferrara's take on the matter is the most generous of the three, because he believes that Obama is a con man, not an insane man.
I wonder. Certainly if Obama is a con man, he's a very bad one, in that he's letting his audience in on the trick. A good con man would never rely upon such an easily proven set of numbers. If this is what Obama did, he's once again proven himself to be the un-Churchill.
Why do I say that? It's because of a story I once read that Churchill's assistant told about the great man. I don't know if it's a true story, but it perfectly illustrates what a good con should be:
Churchill was invited to speak to a group of manufacturers about the future of their industry. He asked his assistant to research for him information about the probably economic future of this industry. The assistant returned to him and said that there were so many variables that it was impossible to put together a coherent picture of the industry's future in the coming year, let alone the coming decade. To the assistant's great surprise, the very next day, he heard Churchill give a speech replete with numbers, analyses, and estimates projecting out a good ten years. After the speech, the assistant approached Churchill and asked "How did you do that?" "Simple, my boy," Churchill replied. "I made it up. You told me that there were too many variables to reach a conclusion or make a prediction about even the immediate future. That means that it will take years to prove my statements wrong, by which time there will have been so many intervening factors, no one will look back on what I said."
Now that's a con. What is not a con is to state as truth an absolute falsehood, and one that, moreover, has already been conclusively proven to be false.  The man who does that is either the most clumsy of all lies, or a monomaniac who has become unmoored from factual reality and drifted off into an economic realm all his own.
From the moment Obama appeared on the national political scene, many writers (including me) have been harping on Obama's malignant narcissism.  The important thing to remember is that a malignant narcissist has built around an empty emotional core a carefully constructed, quite superior persona.  In order to keep that illusion alive, the narcissistic must constantly assert his superiority.  We've seen Obama do that over and over again.  Here are a few examples:
Marion Berry recounted meetings with White House officials, reminiscent of some during the Clinton days, where he and others urged them not to force Blue Dogs "off into that swamp" of supporting bills that would be unpopular with voters back home.

"I've been doing that with this White House, and they just don't seem to give it any credibility at all," Berry said. "They just kept telling us how good it was going to be. The president himself, when that was brought up in one group, said, 'Well, the big difference here and in '94 was you've got me.' We're going to see how much difference that makes now."

******

President Obama met yesterday with "about 20 Conservative Jewish community leaders, thanking them for the work they do to improve communities around the country and discussed their shared commitment to rebuilding the U.S. economy," Haaretz reports.

In the meeting, Obama reportedly boasted about his knowledge of Judaism, telling the leaders that he thinks he knows more "about Judaism" than all past presidents. He said he gained this knowledge of Judaism from reading.

"Obama … stressed he probably knows about Judaism more than any other president, because he read about it," Haaretz reports.

******


When it comes to piloting, Barack Obama seems to think he's the political equivalent of Charles Lindbergh, Chuck Yeager and—in a "Fly Me to the Moon" sort of way—Nat King Cole rolled into one. "I think I'm a better speech writer than my speech writers," he reportedly told an aide in 2008. "I know more about policies on any particular issue than my policy directors. And I'll tell you right now that I'm . . . a better political director than my political director."
The flip side of this constant self-assurance is the need to deny other people their due.  Narcissists are offensive.  That too is an Obama trait:
Asked in the Saturday Democratic debate about her dearth of "likability," Clinton offered an answer both artful and sweet — first, demurely saying her feelings were hurt and mock-heroically adding that she would try to carry on regardless, then generously conceding that Obama is very likable and "I don't think I'm that bad."

At which point, Obama, yielding to some inexplicable impulse, gave the other memorable unscripted moment of the New Hampshire campaign — the gratuitous self-indicting aside: "You're likable enough, Hillary." He said it looking down and with not a smile but a smirk.

******

Obama poked fun of McCain and Palin's new "change" mantra.

"You can put lipstick on a pig," he said as the crowd cheered. "It's still a pig."

"You can wrap an old fish in a piece of paper called change. It's still gonna stink."

"We've had enough of the same old thing."

******

The president defended his talks with Gulf fishermen and oil spill experts, saying their purpose was not academic – rather, they were an exercise in asserting where the presidential boot should be administered, "so I know whose ass to kick".

******

President Barack Obama says police in Cambridge, Mass., acted "stupidly" this week when they arrested Harvard University professor Henry Louis Gates, someone they knew was in his own home.
The big question, of course, is what happens to a malignant narcissist when reality is so overwhelming that his normal coping mechanisms — self-aggrandizement and the denigration of others — no longer work?  Obama is being soundly slapped in the face by economic reality, by statistics, by an aggressive political opponent (You go, Mitt!), and by a disillusioned, although still loyal, media.
One could say that insanity is the last refuge of a narcissist.  If the real world will no longer conform to his self-image, he'll deny the real world, and come up with a better one that allows him to boast to his heart's content, not just about his own alleged qualities, but about larger, objective reality.
Obama's intellectual and emotional collapse would normally be a sad sight, indeed.  Because of his peculiarly exalted position, though, a mad President Obama is just as unnerving and dangerous for the State as any mad monarch of old.