Found it on Facebook — Planned Parenthood's attack on Paul Ryan
With the election nearing, the Facebook frenzy is accelerating.  I got this from a Facebook acquaintance: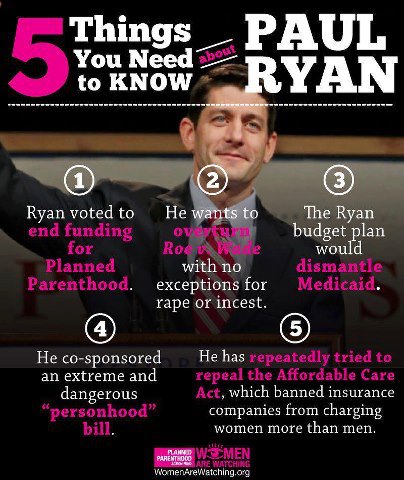 Lots of food for thought, there:
Ryan voted to end funding for Planned Parenthood.  Ryan's vote is completely in line with Romney's insistence that a broke U.S. government should repeatedly ask itself "Is this program worth going into debt to the Chinese?"
This is an especially good question, when it's unclear why Planned Parenthood gets special funding status.  If we're saying women's health care (including or not including) abortion is of transcendent importance, then we should just put aside a pot of money and let all health care programs apply by proving that they provide the best women's health care for the least money.  Alternative, we should give women vouchers entitling them to special services that are unique to women.
Of course, once we stop assuming that Planned Parenthood is automatically entitled to funds, and start questioning the services it provides and the benefits citizens receive, we'd better start giving men vouchers for services that are unique to men.  For example, the feds could pay for women's pap smears, breast exams, and well-baby checkups, and pay for men's prostate exams, Viagra, and heart disease prevention and treatment (since men die from heart disease in proportionately greater numbers than women).  Indeed, since men routinely die earlier than women do (sorry guys), men should get special longevity treatments, or they should get cash payments for those years that they die sooner, thereby saving the government money.  And really, if we're going to break it down this way, by looking at both need and savings, we'd better have special vouchers for African-American men who, sadly, have significantly greater health risks than their white or Asian counterparts.  They should get both bigger vouchers and a cash discount for being virtuous enough to die before they cost the government too much  money.  (And wasn't it the Progressives who want bat bleep crazy when they learned that a cigarette company argued that smoking is really a benefit for socialized medicine because people die sooner, rather than being a lasting burden on the system?)
This is so confusing.  I have a really good idea:  How about the government stops funding special interests and starts promoting a competitive market for quality health care?
He wants to overturn Roe v. Wade with no exceptions for rape or incest.  All thinking people want to overturn Roe v. Wade because it is a terrible malformation of American law.  There is no right to abortion under the Constitution.  There is also no federal ban on abortion under the Constitution.  Abortion is not a federal issue.  It's a state issue.  Roe v. Wade should be overturned, with the abortion question then being returned to the various States.  They will do what they will, and each state, by looking at the others' experiments regarding abortion, will be able to decide what is the best policy, either generally or specifically (i.e., for a given state's finances or morals).
The Ryan budget plan would dismantle Medicaid.  How often will Ryan have to repeat that Medicaid will be there for those who have vested or who are near vesting?  Don't answer — that's a hypothetical question.  I know that no Progressive will ever believe him or the laws he's proposed.  And how often will Ryan have to repeat that Medicaid will continue to be there for those younger people who want it, but that the government will facilitate market-based insurance for those who don't?  Yup.  That's another hypothetical.  [UPDATE:  Me being dyslexic and confusing Medicare and Medicaid.  Sorry.  Medicaid is a state program which is going to get royally reamed under Obama.  He's giving short-term benefits now and then transferring the entire burden to the various states, many of which are currently looking for ways to run and hide.  I suspect that the Ryan budget plan can't be worse than the current situation, but I have to run now, and cannot confirm that belief.  Anyone want to volunteer information?]
He co-sponsored an extreme and dangerous "personhood" bill.  Here's what Ryan's co-sponsored bill states in relevant part:
(1) the Congress declares that–

(A) the right to life guaranteed by the Constitution is vested in each human being, and is the paramount and most fundamental right of a person; and

(B) the life of each human being begins with fertilization, cloning, or its functional equivalent, irrespective of sex, health, function or disability, defect, stage of biological development, or condition of dependency, at which time every human being shall have all the legal and constitutional attributes and privileges of personhood; and

(2) the Congress affirms that the Congress, each State, the District of Columbia, and all United States territories have the authority to protect the lives of all human beings residing in its respective jurisdictions.
"Extreme and dangerous"?  Really?  What the bill states is a biological truth.  The real question isn't when life begins, it's when each citizen has the power to end another person's life.  For the most part, we all agree that, once someone is born, a fellow citizen cannot arbitrarily and without government due process, terminate that born person's life.  The question is whether an individual can act to terminate a pre-born person's life and, if so, when.  As long as Roe v. Wade exists, does it matter that Congress symbolically affirms that government entities have the right to protect life on their soil?  No, because  Roe v. Wade gives the faux-constitutional final word to the woman.  And if Roe v. Wade is overturned, all that the bill does is say what the Constitution already implies, which is that the individual states have the power to make such laws.  So I ask again — "Extreme and dangerous"?  Really?  Symbolic, maybe; but practically meaningless.
He has repeatedly tried to repeal the "Affordable Care Act," which banned insurance companies from charging women more than men.  Okay, in item one, above, Planned Parenthood implicitly conceded that women's healthcare is more expensive than men's, which is why the government (in Planned Parenthood's view) should subsidize it.  So Planned Parenthood is either saying legal businesses should operate at a loss, or that they should arbitrarily increase men's insurance rates to subsidize women's.  In that vein, I think Congress should also pass a law saying that teenage drivers shouldn't pay any more for car insurance than a 40-year-old woman.  Never mind the statistics showing which driver is more likely to cost the insurance company money.
But while I'm talking about laws, if Planned Parenthood's only concern about ObamaCare is those "equal" insurance rates, why not repeal ObamaCare, which is a 2,700 page monstrosity that adds an enormous amount to America's debt load and has seen substantial cost increases for currently insured Americans, and in its place enact a very simple bill?  The new bill could say "Women must be charged precisely the same for health insurance as men.  Insurance companies may achieve this goal by raising men's rates or lowering women's, whichever they prefer.  There.  That was easy.
If we're looking for serious government subsidies, I think the federal government should create a subsidy for reason-challenged Progressives.  It could fund emergency six-week long classes on Socratic-based logic and reasoning.