The elusive quality of heroism rears its head in the Nanny State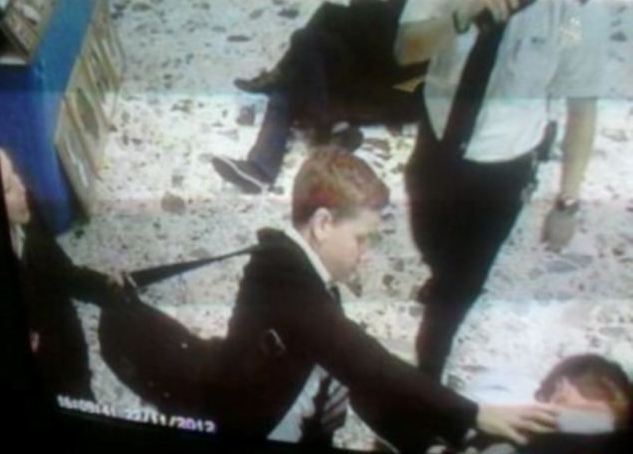 In today's Britain, when something bad happens, all people of good will are trained to stand by.  They watch and hope that the omnipresent CCTV will alert the authorities that someone needs help.  Indeed, they're so well-trained that, sometimes, even the authorities stand aside in order to take a break or follow department rules.  That's why it's rather surprising to read about a 14-year-old boy who threw himself into a wild fight in order to help four security guards who were being assaulted by thugs (emphasis mine):
A teenager in his school uniform dived in to stop a fight which saw four security guards punched, kicked, head-butted and bitten.

Have-a-go-hero Jack Slater, 14,  did not spare a thought for his own safety until after he saved the security man from four attackers.

[snip]

Dozens of adults gathered to watch the  spectacle, but only Jack jumped in to help.

[snip]

Jack, who saw one of the four guards pinned to the ground, jumped onto the back of the assailant and pulled him away.

[snip]

The teenager, from Maidstone, Kent, said today: 'The security guards were getting flung around a bit and one of them looked like he was getting overcome.

'I ran over and grabbed the shoulders of the person he was struggling with and pulled him away.

'I've never done anything like this before and it was only afterwards I thought, "I could've been hurt there".

'My friend tried to stop me and said I was stupid for getting involved but it was a spur of the moment thing.'

[snip]

His mother Michelle Slater, 42, said: 'I told him off at the time for getting involved, but I'm very proud of him.

'He won't do anything like that again, hopefully.'
The salient points in that story are as follows:  British grown-ups, trained by the state into passivity, watched hooligans attack innocent people.  A young boy, whose state training clearly hadn't taken hold (although it had taken hold in his peers), would not stand idly by but, instead, immediately helped, at no small risk to himself.  His mother was angry at him for taking the risk.
Wow.  Just wow.  That's what the mighty British empire has dwindled to:  a single young boy who still has fire in his belly and courage in his heart.