Washington's stoners celebrate the triumph of dishonest debate and public misinformation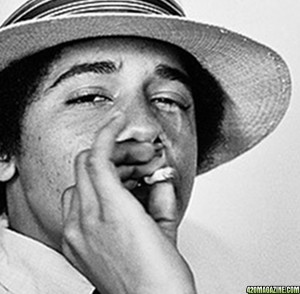 A lot of people who showed up at the polls this past November actually had very parochial concerns.  They weren't worried about the economy, or national security, or illegal immigration.  Blacks were concerned with racial solidarity, unions were concerned about union strength (and to hell with the economy on which that strength feeds), gays and other Progressives wanted gay marriage, and young people and stoners were concerned about getting stoned.  Almost all of these parochial issue voters also support Obama.
The stoner vote for Obama was a bit ironic, because it ignored the fact that the Obama administration has a nasty record when it comes to marijuana prosecutions.  As far as stoners were concerned, Obama is young, hip, and was once a stoner himself.
In Washington, having successfully made marijuana legal at a state level (although it's still illegal under federal law), those who supported this new policy had a smoke-infused party:
The crowds of happy people lighting joints under Seattle's Space Needle early Thursday morning with nary a police officer in sight bespoke the new reality: Marijuana is legal under Washington state law.

Hundreds gathered at Seattle Center for a New Year's Eve-style countdown to 12 a.m., when the legalization measure passed by voters last month took effect. When the clock struck, they cheered and sparked up in unison.

A few dozen people gathered on a sidewalk outside the north Seattle headquarters of the annual Hempfest celebration and did the same, offering joints to reporters and blowing smoke into television news cameras.

"I feel like a kid in a candy store!" shouted Hempfest volunteer Darby Hageman. "It's all becoming real now!"

[snip]

"This is a big day because all our lives we've been living under the iron curtain of prohibition," said Hempfest director Vivian McPeak. "The whole world sees that prohibition just took a body blow."
My personal suspicion is that this must have been the world's most boring celebration.  Stoners are not known for being able to muster a vast amount of enthusiasm for anything.  Being stoned equals being boring.
In keeping with my small government philosophy, I support legalizing marijuana for adult use.  I strongly agree, though, with Steve Crowder that the public debate about marijuana is predicated on a vast amount of misinformation and outright lies.  Marijuana is a dangerous and damaging drug, one that interferes with adolescent brain development and contributes to myriad ills in adults who use it regularly. In other words, Americans' increasingly strong support for its legalization doesn't result from a belief in a free society and individualism but, instead, from massive amounts of magical thinking about the drug's supposed harmlessness.
Of course, the fundamental nature of our supposedly "information rich" society is dishonest debate.  My pet peeve is the debate about abortion, which the Left approaches as if we're still in a pre-Roe v. Wade world, one in which single motherhood would result in a woman being ostracized, bastardy would taint a child's life forever, and birth control options were limited to nil.  Americans can have an honest debate about abortion only if we recognize that the world didn't stop in 1955.  The same holds true for the gun debate, with the MSM (which still controls the loudest bully pulpit in America) pretending that guns have no useful purpose and regularly recycling the canard that America is the most deadly society in the Western world.
It is ironic that, as Americans have more information available to them than ever before in human history, they are prone to believing fallacies as people ever were.  Proof is irrelevant when people are happy with their belief system.