Demolishing one of the more ridiculous arguments regarding the Second Amendment
My fellow Watcher's Council member, Greg, who blogs at Rhymes with Right, has put together the ultimate smack-down for those (especially those journalists) who argue that the Second Amendment extends only to muskets and other weapons in use when Congress enacted the Bill of Rights: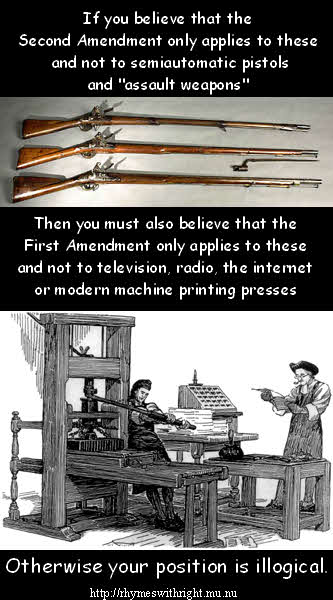 Carrying this irrefutable logic over to the First Amendment means that the modern media has utterly forfeited its Freedom of Press protections. Unless those Democrat cheerleaders are willing to go back to hand-operated printing presses, they are fair game for government censorship and journalist imprisonment.
Please spread this poster around to those who need a few more weapons in their rhetorical arsenal supporting the Second Amendment.