Sweden fiddles while Stockholm burns
When multiple people send me a link to the same story, it's obvious that I must talk about it.  The story, which seems impossible to believe but is in fact true, concerns the Swede's creative approach to dealing with those "youths" who are currently entering their sixth (or is it seventh) day of rioting in Stockholm.
Before I focus on the Swedes, I should say here that it seems downright cavalier for me to remind anyone that these "youths" are Muslims who refuse to assimilate.  After all, Sweden doesn't want to talk about it, and those of us with a few non-PC brain cells left have figured it out anyway.
In this regard, the PC crowd has managed to turn Muslim "youths" into the Victorian equivalent of piano legs.  Victorians, horrified by the crude honesty of the word "leg," are reputed to have referred to these piano appendages as "limbs" when they referred to them at all, and some are believed to have gone so far as to cover them with skirts.  Some realities are just too dreadful to contemplate.
As with those piano "limbs," we know that Muslim rioters are there, but the reality is so devastating for delicate sensibilities that the fine minds on the PC side of the spectrum have concluded that we must refer to them as "youths," if we have to refer to them at all.  They understand that those with dirty (or racist) minds will know what lurks beneath these gauzy, veiled allusions,  while the pure will be protected from ugly truths.
Now back to Sweden's creative approach to these euphemistically named "youths":  Swedish law enforcement is doing nothing at all.  Rather like the Londoners who just milled about aimlessly when the Woolwich murderers slaughtered and then butchered Drummer Lee Rigby, and then trolled the streets for attention and applause, the Swedish police are merely "monitoring" the riots:
But while the Stockholm riots keep spreading and intensifying, Swedish police have adopted a tactic of non-interference. "Our ambition is really to do as little as possible," Stockholm Chief of Police Mats Löfving explained to the Swedish newspaper Expressen on Tuesday.

"We go to the crime scenes, but when we get there we stand and wait," elaborated Lars Byström, the media relations officer of the Stockholm Police Department. "If we see a burning car, we let it burn if there is no risk of the fire spreading to other cars or buildings nearby. By doing so we minimize the risk of having rocks thrown at us."
The Swedes seem to operate under the peculiar belief that Muslim rage will burn itself out.  In fact, Muslim rage may be the one thing that can refute those who rely upon the non-Prophet-approved laws of physics to claim that there is no such thing as "perpetual motion."  We now know that there is definitely such a thing as "perpetual emotion," with the laws of physics falling before the reality of Muslim rage.
Muslim rage is a perpetual fire that has burned untamed for more than 1,500 years.  The closest analogy is probably to those burning mountains of tires one reads about periodically.  They, by the mere act of burning, release ever more fuel to stoke their own perpetual flames.
However, even as the Muslim rage caravans passes by, once the dogs of war stop barking, life go on.  In Sweden, while the rioters get a pass, law-abiding Swedes are still in the line of fire.  The Swedish equivalent of "lovely Rita, meter maid" is undeterred by snow, sleet, rain, dark of night, or riot in the streets.  Car owners who were unlucky enough to see their cars go up in flames are getting one more grain of salt rubbed into their still smoldering wounds: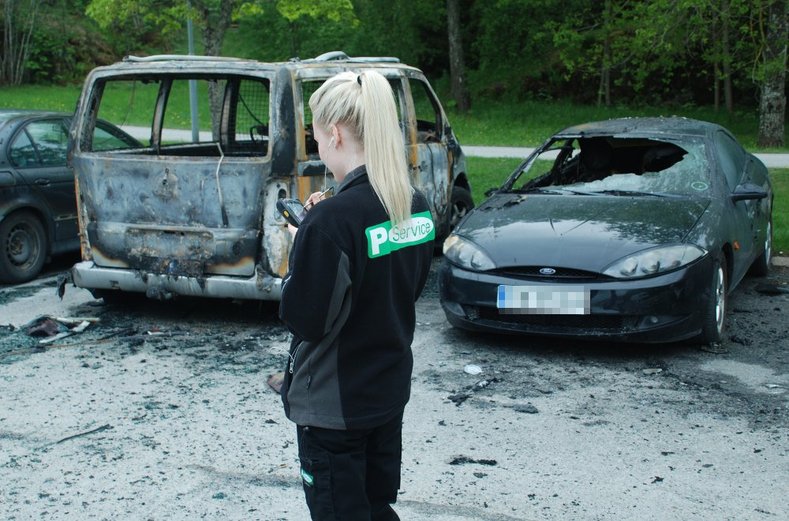 Swedish parking laws, however, continue to be rigidly enforced despite the increasingly chaotic situation. Early Wednesday, while documenting the destruction after a night of rioting in the Stockholm suburb of Alby, a reporter from Fria Tider observed a parking enforcement officer writing a ticket for a burnt-out Ford.

When questioned, the officer explained that the ticket was issued because the vehicle lacked a tag showing its time of arrival. The fact that the vehicle had been effectively destroyed – its windshield smashed and the interior heavily damaged by fire – was irrelevant according to the meter maid, who asked Fria Tider's photographer to destroy the photos he had taken.
Everyone who sent me an email telling me about this story alluded in some way or another to Nero, who was widely reputed to have set Rome on fire so that he could rebuild it as a city worthy of his magnificence, and then to have serenaded himself with the fiddle as the city burned around him.  While that story is almost certainly untrue (the city probably burned because it had a lot of wood, a lot of refuse, and a lot of open flames, and Nero couldn't have "fiddled" because fiddles didn't exist), Sweden's feckless behavior is a reality.
Nero is a cute analogy, but not a useful one.  I find Sydney Smith's tale of Dame Partington's battle with the Atlantic a little more on point, except that Sweden, rather than doing battle against the jihadist storm gathering against her, is issuing citations against those who aren't wearing proper swim attire:
In the midst of this sublime and terrible storm [at Sidmouth], Dame Partington, who lived upon the beach, was seen at the door of her house with mop and pattens, trundling her mop, squeezing out the sea-water, and vigorously pushing away the Atlantic Ocean. The Atlantic was roused; Mrs. Partington's spirit was up. But I need not tell you that the contest was unequal; the Atlantic Ocean beat Mrs. Partington.
At the end of the day, Sweden (and the rest of Europe) lacking Dame Partington's fighting spirit, will be inundated more quickly even than she was, and will discover that the real problem was never the missing swimsuits.
One more thing.  On the subject of "youths":