The continued African-American death wish
Here's a concept to keep in the back of your mind as you read this post:  Black people — especially black men — in America are murdered at a rate far greater than their representation in the American population.  While blacks make up less than 13% of the population, more than 50% of those murdered in America are black (and, if you drill even further down, you'll see these murders happen primarily in Democrat-run cities).
And now to my post….
Ebony magazine has hopped on the Trayvon Martin bandwagon by using four different covers for its current edition, all of them showing famous black men wearing hoodies.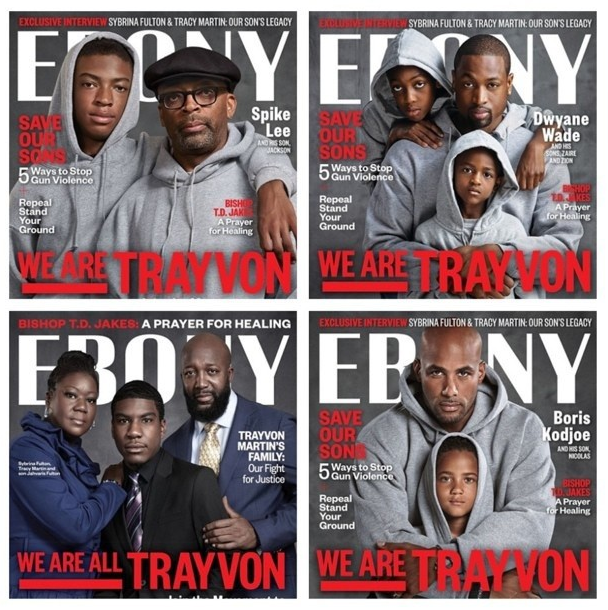 Trayvon, of course, was wearing a hoody the night he attacked George Zimmerman and died as a result of that attack.  The jury concluded that, given the undisputed evidence that Trayvon was attacking him, Zimmerman was acting in self-defense.  Importantly, Florida has a self-defense law called "stand your ground," which means that, if someone is threatening your life, you don't have to try to run and hide — you can fight back, even if it means you kill the attacker. Neither the prosecution nor the defense referenced that law, but it existed as a subtext to the case.
On the right hand side of each celebrity cover, you can see the phrase "Repeal Stand Your Ground."  This reflects the fact that the race hustlers latched onto "stand your ground" as an inherently racist doctrine.  In the world view they're selling to American blacks, "stand your ground" laws are actually official permission to lynch black people.
Logical minds (that would include mine, of course), see a problem with the race hustlers' world view:  given that black man are proportionately more likely to be killed than any other group in America, it makes sense to give them the optimal ability to defend themselves against attempted murder.  Absent that right, they are sitting ducks.  The perpetrator thinks, "Hah!  I'm going to shoot you regardless of any laws, because I don't give a flying f*** about the law.  But you — well, you might care about the law.  That means that there's a good chance that, if you're even marginally law-abiding, you either won't be armed to defend yourself or, if you're armed, you'll hesitate to act for fear of getting in trouble yourself — which gives me enough time to shoot you dead."
When we refuse to give law-abiding citizens arms, and we ensure that the laws fail to give them an affirmative right of self-defense, we're committing a peculiarly Darwinian experiment, one that sees us, as a society, do whatever we can to stamp out the genes of law-abiding citizens in favor of those people who engage in feral, murderous, amoral, and immoral behavior.
I posted it yesterday, but I'm going to post it again today.  Please watch Elbert Guillory's video on behalf of his Free At Last PAC, and please consider donating to the case.  It's time to counter the racist Leftist Darwinism, one that sees African-Americans a helpless, albeit periodically murderous subspecies, with tidal waves of well-founded faith in the brotherhood and equality of all people, regardless of race, color, creed (if their creed rejects religious totalitarianism), or national origin:
Please consider contributing to the Free At Last PAC.