Why Americans aren't buying into Obama's economic inequality shtick
For Barack Obama, Nelson Mandela's death came like manna from heaven.  After all, until Mandela's passing sucked all the oxygen out of any other news stories, the headlines, even from Obama's staunchest cheerleaders, were about Obamacare.  The cheerleaders printed stories bravely admitting that the exchange is still bedeviled with problems, but assuring Americans that it's way much, super-de-dooper, extraordinarily, wonderfully better and will soon be functioning perfectly.  The naysayers not only pointed out flaws in the system, and told heartrending stories about on the people consigned to death because of those flaws, but also warned that the worst is yet to come.  Newspapers and TV news stories were no longer happy places for our president.
Before Mandela's timely passing, Obama attempted to change the subject by pivoting, yet again, to "economic inequality."  (Or as Ed Driscoll nicely said, "It's Deja Pivot All Over Again.")  Boiled down to its essence, this Progressive (read: communist) world view says that there are poor people in America and there are rich people in America, and that's simply not fair.  All people should be poor!!  Okay, the Progressives don't actually say that last sentence, but one only has to look at every communist experiment in the history of the world to know that this is the reality behind heavy-handed government "correction" of "economic inequality."
The Occupy movement, which nobody remembers now, was supposed to be the protest to end all protests when it came to economic inequality.  Americans were expected to rise up against the evil one-percent.  Only that didn't happen.  Too many Americans were unimpressed when they saw computer-toting Ivy League students making common cause with drug addicts, felons, rapists, all of them complaining that a tiny percentage of Americans are very, very rich.  This cavalier response worsened when Americans realized that the Progressive/Democrat party is rife with one-percenters (Obama, Kerry, the Clintons, Pelosi, Reid, etc.), and reached a peak of disgust when the Occupy camps become rat-ridden cesspools that cost cities tens of thousands of dollars to clean up.
While a certain percentage of Americans, when polled, will reliably say they hate that the rich are so rich while their incomes are stagnating (although too few realize that Obama's statist economic policies cause this stagnation), the reality is that, to Progressives' (and Obama's) despair, Americans just can't get all that worked up about "economic inequality."  This reality lies in the fact that Americans know something Obama, Democrats, Progressives, and other Leftists refuse to recognize:  America does not have a roach motel economy and that's despite the Left's best efforts to turn it into one.
What's a "roach motel economy," you ask?  It's one in which people are frozen in place, with minimal economic or social movement.  That is, they check into an economic stratum, but they don't check out.  Or, as a spoiled prince says to Aladdin in the eponymous movie, "You are a worthless street rat. You were born a street rat, you'll die a street rat, and only your fleas will mourn you!"
One doesn't have to look to Disney to see what a roach motel economy looks like.  In all non-free market societies, whether we're talking ancient Mesopotamia, medieval Europe, or Castro's Cuba, it's not just that, as the Bible says, "the poor you always have with you."  What's common to all these societies is that the same people are always poor.  Check into Mesopotamia, 16th century France, or Cuba, and you'll see that if the father was poor, then his father was poor, and his father was poor . . . going back to time immemorial (or the Cuban revolution).  In each of these stagnant, stratified societies, there were always a few who managed to claw their way up the hierarchy, and another few who carelessly squandered their way down the hierarchy, but class and economic status were fixed.  Likewise, in communist countries, everybody's poor together, world without end, amen.
Just like Black Flag's famous "Roach Motel," poor people check in, but they don't check out, nor do their children or grandchildren.  Economic status (and class status) are fixed: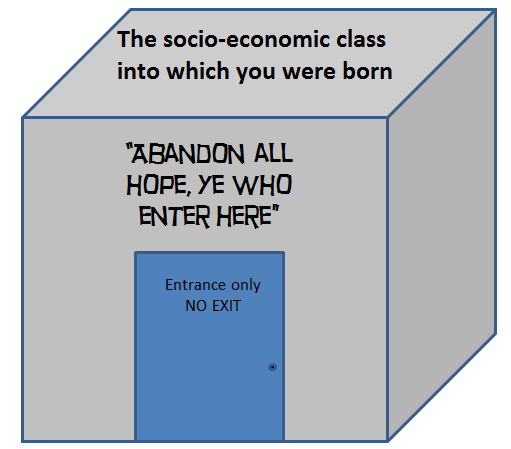 Up until Obama and his cohorts came along, the American view was very different. Class was mostly determined by economic status, and economic status was open to anyone who had the discipline and wits (and sometimes the gambler's instinct) to make it happen. As the wonderful Tenement Museum in New York shows through census studies, immigrants lived in poverty, their children became working class, and their grandchildren were middle class or beyond.  If you're born into poverty in America, neither you nor your descendents are likely to become Bill Gates, but in a generation or so, unless you've become hooked on Welfare-crack, you'll have left the slums behind.  In a free-market society, with maximum individual freedom, social and economic mobility are a reality: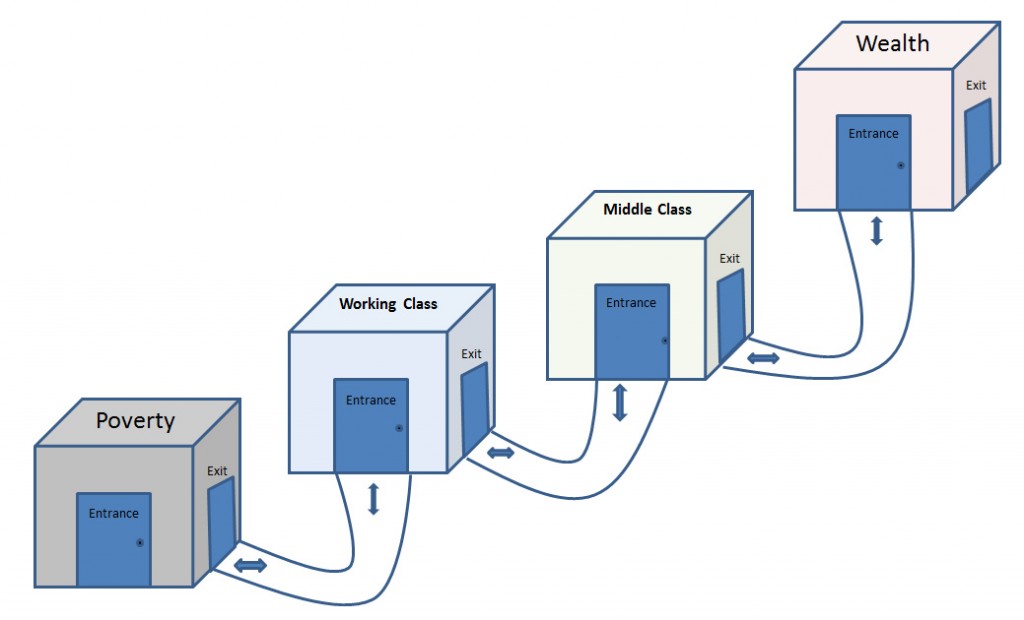 America hasn't had a revolution because, Leftist propaganda to the contrary, the socio-economic boxes are not roach motels from which no one escapes. Instead, they're stops along the road of one person's life, or a family's generations. People can check in and they can leave. Sometimes they move up and sometimes they move down, but movement is constant.
Of course, Obama and his crew are doing their damndest to halt this free flow of socio-economic movement. With true leftist instincts, through economic leveling, they want to consign this entire nation to the poverty box, subject to a few overlords who get to enjoy the nation's vast resources. What these leftists don't realize, though, is that America's greatest resource has always been her people. Imprison them in poverty, and the overlords' wealth will quickly vanish.