Why Phil Robertson won't apologize *UPDATED*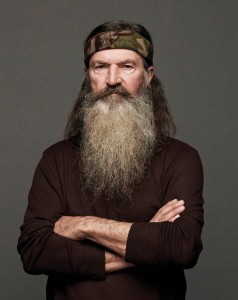 If Phil Robertson continues his refusal to bow down to the gods of political correctness, Lee Habeeb will have explained why:
It had never happened before. When big, powerful TV executives ask a star to apologize for what they deem inappropriate comments or behavior, the star simply complies. A team of publicists is assembled, the star does the obligatory apology tour for the press and promises never to do or say what he did or said again. Ever.

But the TV gods never met a man like Phil Robertson. Or his family. When they decided to place the patriarch of the Duck Dynasty clan on a non-suspension suspension for his comments to a GQ magazine writer about homosexuality, the executives at A&E created a problem.

Because this family believes in a bigger God. The same God that roughly 70 percent of Americans believe in. The Robertsons take their faith seriously, and one of the more important elements of that faith involves putting no god before theirs. Not even the suits at the big network.
Read the rest (and all of it is worth reading) here.
I don't know about you, but I am entranced by the notion of someone who won't be bullied into apologizing for something he believes.  Social bullying has never appealed to me.  And if you want to see how bad that bullying is, you can see that GLAAD makes old Joe McCarthy look like an amateur.
UPDATE:  A&E caved.  Let's hope other conservatives will learn to stick to their guns.