A little gadget to confuse government spies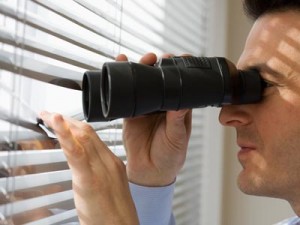 A long time ago, I became friends with a man who worked as an electrical engineer in the aerospace defense industry.  Beginning in the 1980s, he told me that the government was spying on us — and he knew, he said, because he worked on the technology that made it possible.  I assumed that he was (a) paranoid and (b) boasting about a skill set I wasn't sure even existed back in the day.  Over the years, he continued to tell me that the government was monitoring my land line and my cell phone.  I scoffed.  My attitude changed after 9/11, when it became a reasonable certainty that the DHS was indeed monitoring people's calls.  With revelations about NSA spying, I've finally come full circle and believe everything this guy was telling me thirty years ago.
Let me say here that I don't think governments should never spy.  If our government thinks that bad actors are planning to do bad things against America, it should be all over the situation, like white on rice.  What I find disturbing is the completely indiscriminate net that the NSA has spread.  It's spying on everyone.  Since there's no way it can monitor all that information in real time, the likelihood of the government using this data to stop a terrorist attack is small.
Look at England, for example.  The prevalence of CCTV's means that England is the most heavily monitored First World country in the world — and yet its crime rates climb higher and higher.  The cameras do nothing to prevent crime.  Their utility, which is limited, is to try to catch criminals after the fact.  They don't always catch the criminals and, when they do, their multiculturalist, PC values are so warped, they can't adequately punish them anyway.  The result is that criminals don't care that they're being watched, while people of good will are afraid that anything innocent they do today can be used against them tomorrow.
In any event, my understanding is that the best way to stop terrorism is still the old-fashioned way, beginning with human intelligence and common sense.  To the extent our government is indiscriminately collecting everyone's data, it is doing so not to prevent future crimes, but to prosecute past crimes — including words and activities that weren't actually criminal at the time people acted or spoke.
This knowledge is why I'm intrigued about something that's being voted on at Quirky.  If you watch Jay Leno, you know what Quirky is.  People submit ideas for inventions and the public gets to vote on whether they think it's a good idea or not.  Some of the ideas are brilliant and some are goofy.  If enough people like an idea, Quirky will work with the inventor to bring it into being, from the patent process to the manufacturing to marketing.  Quirky naturally takes a cut, but the Quirky people claim that some people have become millionaires.
The idea at Quirky that intrigues me is one that my friend's acquaintance came up with.  The Yosemite Box is a device that, when you turn it on, instructs your cell phone to say that your GPS coordinates are in Yosemite:
The Problem

Many governments are spying on peoples' cellphone metadata, and this makes many people feel that their rights to privacy have been invaded. They object to having their movements and location recorded by the government, 24 hours a day (perhaps from a lovers house?). This device makes their spying incapable of tracking peoples movements through their GPS location on their cellphone – a service which cannot be turned off. If all cellphones sent the same constant address, then no one could be tracked. If you do need the GPS service, turn off the Yosemite Box.
The Solution

The Yosemite Box emits a GPS signal that gives the GPS coordinates of Yosemite National Park, maybe at the top of Half Dome. You simply keep the device near your cell phone when you do not wish to be tracked. If all cellphone metadata had the same address it would make the collection effort worthless. It would be low power so as to get under FCC regulations. Yosemite of course is just a random choice but a nice place for people to think you are visiting and besides you can say that you climbed Half Dome.
What an elegant solution to a 1984-ish government.  If you think it's a good idea, head on over to Quirky and vote for it.  When it receives 200 votes in this preliminary round, it will go up to the next round.