Yes, the SEALS' sacrifice during Operation Red Wings was a waste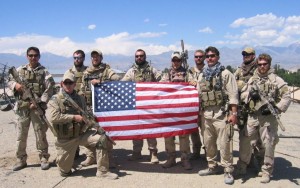 Before you start hammering away at me, let me explain what I mean about my claim that the sacrifice the SEALS and their rescuers made during Operation Red Wings was indeed a waste.  I am referring, of course, to Jake Tapper's asking Marcus Luttrell whether  his comrades died in vain.  That was a foolish and tactless question to ask Luttrell, and Luttrell couldn't and wouldn't give the real answer in any event.  There is an answer, though, and Tapper was right.  Here's why:
There are three types of wasted battle deaths, two of which are familiar to all, and one of which is a brand new one.
The most obvious wasted death is the one that occurs because of terrible command decisions.  One could argue that the entirety of WWI, with Brits throwing themselves into No Man's Land for four years at their generals' commands was that type of wasted death.  The British had appalling tactics and, rather than changing them to avoid a bloody stalemate, simply redoubled their failed approach.  Likewise, in the case of Operation Red Wings, the SEALS were fatally hampered by rules of engagement so restrictive that, after lengthy debate, they decided that they were safer releasing potential spies than they were killing or otherwise disabling them.
The men in Operation Red Wings might still have died in other places, at other times, during the war in Afghanistan.  Their deaths in that time and at that place, however, flowed directly from a foolish policy that gave (and still gives) greater respect to the enemy's safety than to that of our own troops.
Still, despite a foul policy, when he answered Tapper's question Luttrell spoke a greater truth, reflecting his understanding that no war is every perfectly carried out at either a strategic or tactical level.  As long as you're still fighting, you can still win:
I don't know what part of the film you were watching, but hopelessness really never came into it. I mean, where did you see that? Because there was never a point where we just felt like we were hopelessly lost or anything like that. We never gave up. We never felt like we were losing until we were actually dead.
What Luttrell left unsaid at the time was that his team still believed in the fight.  More importantly, so did America's then-Commander in Chief, President George W. Bush.  Bush never doubted the righteousness of trying to destroy al Qaeda and the Taliban in their Afghani stronghold.  As far as all who were then concerned believed, Afghanistan was an important war that would benefit America.  In that regard, therefore, when troops die in a righteous (and, one hopes, victorious) war, their deaths have meaning regardless of the success or failure of any single engagement.
Which brings us to the second type of wasted death in war:  deaths that occur because the war's supporters fail to understand that they are supporting a bad or lost cause.  In every case where a country's military is the aggressor, only to lose dramatically to a better prepared, more ferocious fighting force, many on the losing side are going to have to ask "Why the heck did we start this?  What a waste of lives and resources."  Even if you have the best cause in the world, if there's no way you can possibly win, those who die have wasted their lives.
The caveat to this view is that one only realizes after the fact that a war was a waste.  During the American Revolution, many might have said that the revolutionaries' stand against the most powerful military in the world was bound to be a waste . . . except that it wasn't.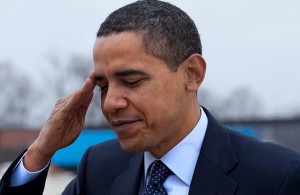 The above examples of wasted deaths in war are familiar to any history student.  Barack Obama has added an entirely new category to "wasted war deaths," one that I don't think has ever before occurred in recorded history:  Deaths that are a waste because the Commander-in-Chief couldn't care less about victory or the troops.  Instead, merely wants to give the appearance of fighting for short-term domestic political advantage.
"As I sat there, I thought: The president doesn't trust his commander, can't stand Karzai, doesn't believe in his own strategy and doesn't consider the war to be his," Mr. Gates writes. "For him, it's all about getting out."
Except that Obama didn't get out of Afghanistan, because it would have looked bad politically given his campaign claim that Afghanistan was a good war. (He probably didn't believe that either.) Both he and Hillary agreed in Gates' presence that they were determinedly opposed to the Iraq War merely out of political expediency, without any regard for America's best interests:
"Hillary told the president that her opposition to the [2007] surge in Iraq had been political because she was facing him in the Iowa primary. . . . The president conceded vaguely that opposition to the Iraq surge had been political. To hear the two of them making these admissions, and in front of me, was as surprising as it was dismaying."
Given this cavalier attitude, it's no surprise that the President did nothing to secure Iraq.  To the contrary:  he sat (and has long been sitting) idly by as al Qaeda has retaken city after city in which American men fought and died. By deliberately turning victory into defeat, Obama has taken every single American death in Iraq and wiped it of meaning. While our troops once died in a just cause to bring democracy to a benighted land —  thereby decreasing the risk of devastating terror attacks against America — now those same deaths have become pointless.  Obama didn't just allow the status quo to reappear, he fomented an even worse situation than before. (Saddam Hussein was bad; al Qaeda is worse.) Somehow it's perfectly symbolic of Obama's "man-created" travesty that the military's last act with regard to Fallujah has been to persecute Marines.
Not only was Obama uninterested in our nation's security or our military victories, he was singularly uninterested in the troops:
One quality I missed in Obama was passion, especially when it came to the two wars,' Gates wrote.

'In my presence, Bush — very unlike his father — was pretty unsentimental. But he was passionate about the war in Iraq; on occasion, at a Medal of Honor ceremony or the like, I would see his eyes well up.

'I worked for Obama longer than Bush, and I never saw his eyes well up.'
Again, no surprise there.  To Obama the narcissist, the men and women in the military are merely objects serving his ego. For that reason, it's also unsurprising that the only subject regarding the military that excited him was getting gays into it, a passion with interesting Freudian implications:
Gates wrote that 'the only military matter, apart from leaks, about which I ever sensed deep passion on his part was 'Don't Ask, Don't Tell.'
Just as disturbing as Obama's warped values is his complete disinterest in even a simulacrum of competence:
President Obama is "chronically incapable" of military strategy and falls far short of his predecessor George W. Bush, according to one of Britain's most senior military advisors.

[snip]

[Sir Hew] Strachan, a current member of the Chief of the Defense Staff's Strategic Advisory Panel, cited the "crazy" handling of the Syrian crisis as the most egregious example of a fundamental collapse in military planning that began in the aftermath of 9/11. "If anything it's gone backwards instead of forwards, Obama seems to be almost chronically incapable of doing this. Bush may have had totally fanciful political objectives in terms of trying to fight a global War on Terror, which was inherently astrategic, but at least he had a clear sense of what he wanted to do in the world. Obama has no sense of what he wants to do in the world," he said.
So, yes, Operation Red Wings was a waste, not at the time, but in retrospect — and this is so because we have a president who views war solely in terms of his own self-aggrandizement and political objectives, without any regard for America's national security or strategic interests, or for the troops who have served and are currently serving in our American military.  Obama has managed to negate any good the troops did before he became President and, since he became president, they are merely objects on his own personal chessboard.  Like some spoiled potentate, he moves them around for his pleasure and views their deaths with clinical dispassion.
(See also this article, from Foreign Policy.)