I've finally figured out why I dislike the gay rights' movement — and it has nothing to do with my support for gay civil rights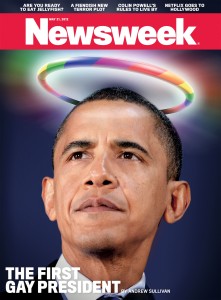 I've always thought of myself as someone who's cool about gays.  For many years, I could honestly say that many of my good friends, and some of my best friends, were gay.  I didn't appreciate their lifestyle excesses (especially because I lost a lot of friends to AIDS because of those lifestyle choices), but I appreciated the qualities that made them my friends.  These were the same qualities I looked for in any friends, female (straight or gay) or male (straight or gay):  humor, kindness, intelligence, loyalty, etc.
Lately, though, I find myself increasingly uncool about gays and I haven't been happy about that feeling.  I kept asking myself, "Am I a homophobe?"  My answer was, "I don't think so, because I wish all American citizens well, and I pray for the well-being of all victimized people at home and abroad.  I don't see where homophobia fits into that world view."
It was Ben Shapiro's article about the failed Sochi Olympics that made me realize what was bugging me.  It's not the gays that bother me; it's the way the Democrat establishment, from the White House down, is hiding behind gay rights to avoid being called upon for the Obama administration's myriad failings in every area of domestic and foreign policy.
Here (in no particular order) are just some of the headlines that should concern the President:
Venezuela is teetering on the brink of revolution.
America is completely reliant on China and India for prescription drugs — countries that frequently provide tainted or defective medicines
Syria peace talks have failed, leading to increased tension between Russia and the United States
Islamist rebels in Africa are attacking Christians at an accelerated pace
Obamacare is proving to be a costly, destructive train wreck (no link needed for that, right?)
America's debt now stands at $17 trillion, and that number is growing at an exponential rate
Our jobless rate is artificially low, because many people have just given up
Obama is paving the way for a nuclear Iran
The routine persecution everyone (including gays) in Muslim countries.
America is running out of clowns
Those are some pretty damn significant issues, and all of them fall within the purview of a President who owns half of Congress and who, for two years, owned all of Congress.  Moreover, this is a president who came into office with all the goodwill in the world to give him a head start on tackling big issues.
Obama and his friends, however, are not interested in big issues.  Instead, here is what the administration and its spokespeople are talking about:
Climate change, despite the fact that there's ever-increasing evidence that the earth's temperature hasn't risen in almost two decades, that any change is natural and cyclical, and that we're losing the benefit of the lovely warming period that's made the earth so fruitful for the last few centuries.  In other word's, climate change is a con.

Gay rights as the "unfinished business of the 21st century."

Gays in Uganda (when the administration should be talking generally about the dysfunctional, corrupt Ugandan political scene)

Transgender bathrooms in California's public schools

Gays at the Sochi Olympics

Persecution of gays in Christian countries (although persecution of gays in Muslim countries and societies continues to be the persecution that dares not speak its name)

And, of course, gay marriage, gay marriage, gay marriage
Just about the only thing lately that gets the Obama administration excited is a report of discrimination against gays anywhere in the world.
Let me be clear:  It's morally right to take a stand against discrimination against gays, whether in Russia or the NFL or Uganda or the entire Muslim world.  No one should ever be imprisoned, murdered, beaten, fired, barred from employment, harassed, or otherwise accorded violent or oppressive treatment at the hands of the state or of fellow citizens simply because that person does not embrace heterosexuality.
My complaint, therefore, isn't that the administration regularly takes a principled stand for gay civil rights.  My complaint is that, in addition to Obamacare (a terrible, destructive failure), and anthropogenic climate change (a non-falsifiable theory that is almost certainly a con), LGBTQ rights are the only things that excite the administration and its base. In that context, gay rights are a shell game, meant to distract the American people from the fact that the administration is routinely failing in its responsibilities to ensure that all Americans, not just gay Americans, can thrive at home.  It's also failed to fulfill America's traditional role (since WWII) of keeping the world a safer, more democratic place, something that benefits all people regardless of race, religion, gender identity, or sexual orientation.
The whole gay rights thing puts me off, not because I hate gay rights, but because the administration uses it as both shield and sword to ignore much more pressing matters, some of which, if they were addressed (such as rising Islamism or increasing Russian oppression), would benefit gays along with everyone else.  I don't hate gays or gay rights; I hate false flag operations that hide policy failures with real world consequences, not just for gays, but for everyone.
As long as the Democrat establishment cynically uses gay rights as a way of avoiding the real issues, I'm going to have a negative visceral reaction every time I see yet another Democrat talking head or media figure (but I repeat myself . . .) mouthing off about gay rights issues at home or abroad.