When it comes to same-sex marriage, the Civil Rights Act cannot trump the First Amendment *UPDATED*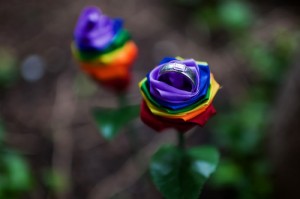 I find irritating gay marriage supporters' reliance on the Civil Rights Act of 1964 to justify their contention that religious individuals cannot opt out of actively participating in gay marriage ceremonies.  They contend that the Act mandates that (1) a Christian baker, who welcomes gays seeking all other baked goods, must bake a gay-themed wedding cake; (2) a Christian photographer, who would happily take pictures of a gay birthday party, must photograph a gay wedding; (3) a Muslim florist, who would be delighted to sell bouquets to a gay couple, must bedeck a church with flower arrangements for a gay wedding; and (4) an orthodox Jew who owns a small hotel, and who doesn't quibble at all when same-sex couples check into a room where they have privacy, must host a gay wedding in his reception hall.
I contend that these activists are dead wrong about the scope of the Civil Rights Act.  While, the Civil Rights Act s a virtuous law, it cannot trump the First Amendment.  I've made a handy-dandy chart outlining why I believe this to be the case (click on image to enlarge):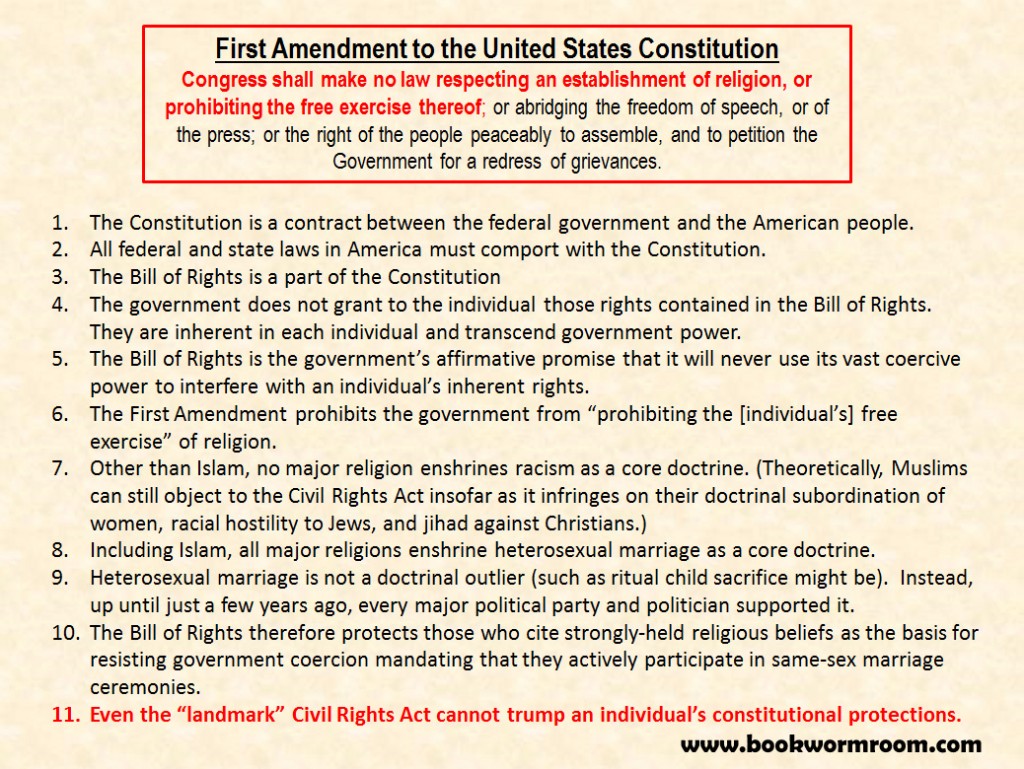 My usual disclaimer about my views regarding same-sex unions:  It is not semantic quibbling to say that I support civil unions but do not support same-sex marriage. While a religious organization can perform a marriage, it cannot perform a civil union. Civil unions are solely the state's provenance. Leaving civil unions to the state and marriage to religion perfectly preserves the separation of church and state. (And as always, irony abounds here, because it is the Left that routinely sets up a hullabaloo about even the most minute intersection between church and state.)
If I had my way, I would remove marriage from the government's vocabulary and make all unions — whether they are heterosexual or same-sex relationships — "civil unions." States can then promote whatever unions they deem most beneficial for individuals, for children, and for society as a whole, while religious individuals and institutions need not worry that they will be targeted because they hew to the traditional definition of marriage as a union between a man and a woman (or women).
People running the entire gamut of the gender-orientation spectrum — as recently defined by Facebook — manifestly believe that it's important to get the state's imprimatur on their relationships.  (This makes sense, since most of them are Left-leaning statists, who worship at the Big Government shrine.)  Civil unions joining together various sexual identity configurations (opposite sex, same sex, etc.) would give every American equal access to the benefits and burdens (economic, legal, and social) of a state-sanctioned relationship.  What civil unions would not do is force a direct confrontation between church and state.
The recent Obamacare abortion kerfuffle should warn people that a Progressive government won't have second thoughts about forcing such a confrontation.  In 2008, when California had its Prop. 8 gay marriage referendum, I first raised my concern that gay marriage would result in a head-on collision between church and state.  A Progressive scoffed at this, telling me that, even though abortions are legal, the government has never gone toe-to-toe with the Catholic Church.  He was taken aback, and had no response, when I pointed out that the Catholic Church doesn't provide, or withhold, abortions; it simply speaks against them doctrinally.  The Church does, however, marry people, and that leaves open the possibility that a gay couple will sue the church for refusing to perform a marriage service.
Mine was a good argument then, and it's a better argument now.  With Obamacare, our Progressive-run federal government is forcing religious institutions and organizations be actively complicit in abortion by mandating that they fund abortifacients (and birth control) through "health" insurance.  (It's "health" insurance, of course, only if the very act of becoming pregnant is a disease — which is funny when you think about it, because feminists in the 1960s and 1970s were outraged at a male patriarchy that treated pregnant women as if they were fragile and sick.)
I welcome your comments regarding this post.
UPDATE:  A lawyer I know commented that the Commerce Clause gives the federal government the power to legislate any type of commerce related activities.  (Sounds like a familiar argument, right?)  My response was a simple one:  The Commerce Clause represents a power that the People granted to the federal government.  The First Amendment represents an right inherent in each individual that the federal government (in theory) may not touch.  It seems to me that, especially when a law is narrowly drawn, the First Amendment, which states the People's inherent rights, must trump the Commerce Clause, which merely reflects a power the People granted the government under contract.