The fallacy in likening climate change deniers to Holocaust deniers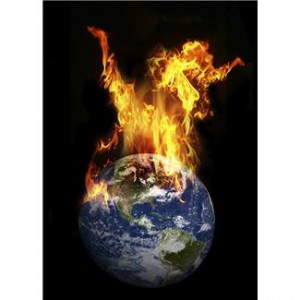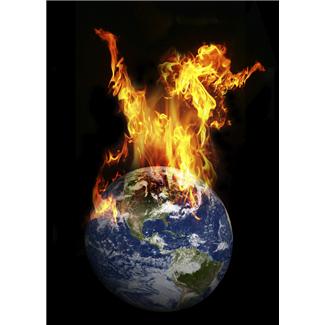 I'm someone who knows the Holocaust happened and who believes strongly that anthropogenic global warming ("AGW") or "climate change" is a scam driven by greed, hostility to western accomplishments, and Gaia-worship run amok.  I've therefore found deeply offensive the repeated charge over the past several years from the AGW crowd insisting that denying climate change is he same as Holocaust denial.
This is a charge with punch and one that is meant to shame and silence opposing views.  The Los Angeles Times, for example, refuses to print anything that challenges the AGW doctrine.  The scientific debate is over, says the LA Times, an unintentionally ironic statement that is the essence of anti-science.  In true science, of course, the debate is never over.
It was the UK's Guardian, however, that made the light bulb go off in my head, and that helped me hone in on the central fallacy underlying the "Holocaust denial = AGW denial" school of speech suppression.  My epiphany arose when I read Nick Cohen's recent article commenting on the fact that British politicians refuse to continue to fund "green" initiatives.  His Kübler-Ross-ian anger and heartbreak are palpable.  It was in this context that Cohen, using a punchy combination of ignorance and insult, said the following:
All of which is a long way of saying that the global warming deniers have won. And please, can I have no emails from bed-wetting kidults blubbing that you can't call us "global warming deniers " because "denier" makes us sound like "Holocaust deniers", and that means you are comparing us to Nazis? The evidence for man-made global warming is as final as the evidence of Auschwitz. No other word will do.
Contrary to Cohen's certainty that Holocaust denial is the same as AGW denial, there's actually an easy way to see that the two are quite different, rather like comparing rotten apples to refreshingly stringent oranges.  It's the difference between past fact and future possibility.  The one has happened, and to deny it is the work of a knave or a fool; the other might happen, but can be refuted by actual, not hypothetical, events as they unfold.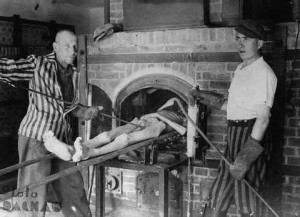 The Holocaust is a done deal.  Between 1933 and 1945, 6 million Jews vanished from the face of the earth.  The Germans who effectuated this vanishing act kept meticulous lists, wrote boastful letters, took gloating photographs, and built gigantic necropoleis, all testifying to the bullets, gas, starvation, slavery, torture, and flames they used to make their dream a reality.
Faced with this mountain of data, which is occasionally augmented by new discoveries but is never refuted, the only way to maintain denial is to deny the immutable effect of time past.  As Shakespeare said, "What's done cannot be undone."  The book of the Holocaust has been written, and only those who refuse to read its pages can deny its existence.
Unlike the Holocaust, AGW is a theoretical work in progress.  It arose from predictive computer models that, so far, have been wrong in every prediction made.  It's buttressed by weather phenomena that, rather than being unique, have happened before in cyclical historic patterns.
Take for example, Greenland, an icy island that has, for centuries, been woefully misnamed.  Now, though, Mother Nature is helping Greenland putting the truth back in its advertising, since it's turning green.  The horror!  Or wait . . . .  It's only "the horror" if you ignore the fact that this isn't Greenland's first verdant period.  It got its lush name during another global warming era, which was a time of great plenty around the world.  In other words, Greenland's re-greening is a "horror" only if you ignore the fact that a warmer earth supports more, not less, life as has been the case with Greenland over its known history.
Unlike the Holocaust, which happened in a specific place, during a specific window of time, AGW isn't a fixed target backed by unassailable (at least, if you're sane) facts.  Instead, it's a constantly moving future possibility.  No matter what happens, it can never be denied, but can only be affirmed.  In the faux-scientific AGW universe, all new data is subject to a single question:  Can this data, either served straight up or molded, twisted, and obscured, be used to support AGW?  If yes, AGW is undeniable.  If no, the data doesn't exist.  That's not science, that's blind faith.
Holocaust denial is an evil act, by which one ignores the past in order to justify modern antisemitism and hostility to Israel.  AGW denial is a logical response to past predictions about future possibilities that, when compared to unfolding facts in real-time, have consistently been proven wrong.
If you want more actual data, rather than faith-based nonsense, supporting the fact that AGW's future possibilities are becoming increasingly unlikely, please read this article and this one, both from American Thinker.