The view from the trenches puts the lie to the media's gloating about 7 million Obamacare new enrollments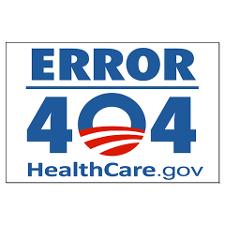 Rush opened his show today by focusing on the mainstream media's joyous assertion that, overnight, Obamacare went from a mere 26% in support to plurality support and that, within two weeks, it went from 5 million to 7 million enrollments (with that 7 million number coming from two "anonymous" White House sources).  Rush asserted, and I agree, that this is lies and damn lies, powered through by falsely derived statistics.
Even assuming solely for the sake of argument that there's any truth to the dramatically increased poll and enrollment numbers, the numbers are still meaningless because the law has failed resoundingly at effecting its primary purpose:  to insure the uninsured.  As of yesterday, based upon the limited data the Obama administration has reluctantly released, only 1.7% of the previously uninsured have enrolled in Obamacare.
If the uninsured aren't enrolling in Obamacare, who is?  It seems that new enrollees consist primarily of (a) those who were insured but wanted subsidies and (b) those who lost pre-existing coverage because of Obamacare.  Moreover, analyzing enrollment data, it appears that the new enrollees are weighted heavily in favor of those requiring subsidies, as opposed to those paying full fare and funding the subsidies.  Even math-illiterates (i.e., the Democrat party and its MSM mouthpieces) will eventually figure out that this is unsustainable.
The statements I made above are data-based, although the administration's death grip on actual numbers leaves one unsure even about the accuracy of that information.  Now let me throw in some anecdotal information.  I know that anecdote is not data but, to the extent this anecdote tracks the available data, it's worth noting.
I have mentioned before that I have a friend who has pursued a very different life path from mine.  We both come from extremely middle class backgrounds, but while I was able to stay economically middle class, my friend made life decisions that saw her sink lower and lower economically.  She now lives in a community where, as she jokes, she and her husband are the only ones she knows who don't have a parole officer.  (A fact that relates in part to substance abuse problems rife in her community and in part to draconian prosecutorial abuse.)
What distinguishes my friend from her neighbors, aside from her lack of a criminal record, is her middle class values.  She may not live the middle class life, but she still follows middle class rules, one of which is her belief that you pay your bills and you carry health insurance.  Unfortunately for her, she reached a point a few years ago at which she could no longer pay health insurance bills.  Quite reluctantly, she let her insurance lapse.
My friend was therefore delighted when Obamacare finally went into effect.  Because her state's exchange was dysfunctional, she had to sign up the old-fashioned way (by mail), but sign-up she did.  Moreover, given her dire finances, she qualified for a subsidy.  I don't have the details, but I believe she pays $50 a month for a Gold plan.  The moment her plan vested, my friend went on an orgy of doctor's visits to catch up on all the health care (mostly standard tests and procedures) that she missed in the last few years.  While I disapprove of Obamacare, she's my friend and I'm happy for her.  At least someone's benefiting from the law.
I was speaking to my friend just yesterday about her healthcare and she offered a very interesting observation:  She and her husband, the only middle class people in a sea of poverty, are the only people she knows, amongst both friends and acquaintances, who have signed up for Obamacare.  The others have no interest in getting health insurance.  Even with a subsidy, they don't want to pay a monthly bill for health insurance.  Even a subsidized rate is too onerous when they can get all the free health care they need just by showing up at the local emergency room.  Additionally, the ER docs are usually better than any doc who's willing to belong to whatever plan they can afford.  Nor are these people worried about the penalties for refusing to buy Obamacare, since none of them pay taxes.
Not only are the people in my friend's world refusing to buy Obamacare, they resent it.  According to my friend, someone she knows abruptly announced that she's getting involved in local politics, something she's never done before.  Until recently, this gal was one of those people who just floated along, getting by.  Now, though, she's fired up.
The reason for the sudden passion is unexpected:  She's deeply offended by a law that forces people to buy a product they don't need — never mind that she might benefit from the product, that she would pay far below market value for the product, or that she's too poor to be penalized for ignoring this government diktat.  The mere fact that the diktat exists runs counter to her notion of individual liberty.  Her view of government is that, while it's fine if it hands out welfare checks and food stamps, it goes beyond the pale when the government uses its power and wealth to coerce activity.