We don't have a "gay mafia," we have a "gay Soviet"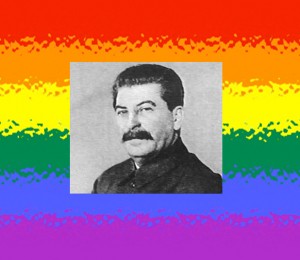 I'm not a Bill Maher fan, but he occasionally shows an intellectual honesty that makes it worthwhile to keep an eye on him.  Last week, he exposed Leftist hypocrisy about racism, when he got Leftist guests to denounce "racist" pronouncements from Paul Ryan, only to reveal that he was quoting Michelle Obama.
On Friday, in the wake of the Mozilla scandal (firing its brilliant and effective CEO for the fact that, in 2008, he supported the same view of marriage that Obama and the Clintons claimed to support), Maher once again went off the reservation.  In discussing the furor against Eich, he came out with what must be, to the Left, an unpleasant truth about the strain of thuggery that runs through the gay professional class:
During the online-only post-show segment, Maher, 58, asked his panel of contributors about their thoughts on the tech wizard's decision to step down as Mozilla's CEO after facing backlash for supporting a California same-sex marriage ban effort in 2008.

"I think there is a gay mafia," Maher said. "I think if you cross them, you do get whacked. I really do."
Let me add some specificity to Maher's thought.  We already know that organized ideological thuggery took Eich down, but I'd like to focus on the mentality that drove the anti-heretic hunt.  CNET, which covers the tech world, has a post about the Eich resignation.  What struck me about the CNET article was a comment from the man who started it all — a man who said that, if only Eich had announced that the re-education had been successful and then kept his mouth shut, then everything would have been okay (emphasis mine):
The wildfire that brought Eich down was sparked in part by Rarebit developers Hampton Catlin and Michael Lintorn Catlin, who as married gay men took Eich's politics very personally, removed their app from the Mozilla Marketplace, and called for Eich to apologize or resign.

Hampton Catlin on Thursday, though, called Eich's resignation "the worst kind of victory."

"We never expected this to get as big as it has, and we never expected that Brendan wouldn't make a simple statement. I met with Brendan and asked him to just apologize for the discrimination under the law that we faced. He can still keep his personal beliefs, but I wanted him to recognize that we faced real issues with immigration [sic] and say that he never intended to cause people problems," Catlin said in a blog post Thursday. "It's heartbreaking to us that he was unwilling to say even that."
Translated:  If only Eich had recanted, publicly apologized for all gay suffering throughout America (because up until a decade ago, no one had even thought of gay marriage), and then kept his mouth shut , our kapos would have released him from the gulag and given him tacit permission to hold his beliefs, as long as he never acts on them in any way in the future.
Keep Catlin in mind as I walk you back about 70 years in time, to the mid-20th century in the Soviet Union at the height of the Cold War.  Boris Pasternak, a truly courageous intellectual (unlike America's modern "intellectuals" who march in lockstep with the powers that be), lived his life with incredible bravery under Soviet tyranny.  That bravery included writing Dr. Zhivago, an indictment of the Soviet system.  The Soviets, naturally, refused to publish the book, but it did get published in Italy and, from there, spread throughout the West.
The CIA, in one of its more intelligent moves, decided to smuggle the book right back into the Soviet Union believing, correctly, that it would enable Soviet citizens to see what their government withheld from them, both in terms of reading material and in terms of a free society centered on the individual, not the state.
That's a fascinating piece of Cold War history, isn't it?  I know about it because the WaPo has written an article about the CIA's Zhivago operation.  And in the WaPo article, I found this (emphasis mine):
In Washington, Soviet experts quickly saw why Moscow loathed "Doctor Zhivago."

In a memo in July 1958, John Maury, the Soviet Russia Division chief, wrote that the book was a clear threat to the worldview the Kremlin was determined to present.

"Pasternak's humanistic message — that every person is entitled to a private life and deserves respect as a human being, irrespective of the extent of his political loyalty or contribution to the state — poses a fundamental challenge to the Soviet ethic of sacrifice of the individual to the Communist system," he wrote.
Once, we were a country that used its government to advance the notion that "that every person is entitled to a private life and deserves respect as a human being, irrespective of the extent of his political loyalty or contribution to the state."  Now, we're a Soviet nation, in which private citizens are told that they must publicly recant their heresies or be destroyed.
So, while Maher's on the right track, he picked the wrong organization.  Yes, there's thuggery involved, which is a mafia tactic.  But unlike the mafia, which was just in it for the money, the new Soviet is in it to subordinate the individual and his beliefs entirely to the will of the Leftist state.
Nor is this thuggery a fringe movement.  While I am very honored here at the Bookworm Room to have gay readers who understand that the safest place for all individuals (regardless of race, color, creed, gender indentification, sexual orientation, etc.) is in a nation that leaves the individual alone, I can tell you that every one of my Leftist friends on my "real me" Facebook, gay or straight, applauds the gay Soviet's successful thuggery against Eich.  These Facebook friends are, without exception, affluent, educated, successful, and vocal, and they think it's a great thing that a productive man who has never once been accused of fomenting any discrimination in the workplace was the target of an attack aimed at destroying his livelihood.
This time, it was the non-governmental Leftist collective that acted, but you know they were thinking how much better it would be if they could just outlaw opposing thought. Why convince someone that your position has merit when you can more easily destroy them, which has the useful feature of sending a strong message to any other heretics out there?
Let me end this post as I always do:  I think the state should get out of the marriage business, leaving it for religious and private organizations to determine what meshes with their doctrine and values.  The state should recognize civil unions in whatever way the state believes will best suit its ends.  And when I speak of the state, I don't speak of a grand Soviet, centralized state, run by Barack Obama, Valerie Jarrett, and Eric Holder.  I mean the state speaking through the ballot box, both in direct citizen initiatives and through elected representatives.
Traditionally, the state's ends included children and economic stability.  In a greenie run world, where humans are the devil, maybe the state would do best to encourage only those unions that are incapable of producing even more environmentally destructive children.  Then, it'll be the heterosexuals struggling for legal recognition of their evil child-producing mating.