Latest military officer under investigation: Are we looking at necessary housecleaning or a purge?
Conservatives have noticed that the Pentagon is firing officers left and right, with many leaving under an embarrassing cloud.  The question they ask — and I don't know that anyone has an answer — is whether these firings are the legitimate and appropriate housecleaning that a sclerotic bureaucracy needs or whether they're a purge, with Obama's New Age, gender flexible, fighting optional military getting rid of people in command positions who actually think that the military's job is to wage war in America's defense.
All I know is that the latest person being investigated as a predicate to an inevitable firing is someone I've actually met.  Back in October 2009, I got the opportunity to attend a party that had, as its guests, members of the Blue Angels.  I wrote about it here.  I also included a photograph I took of all the guys (plus two gals) lined up: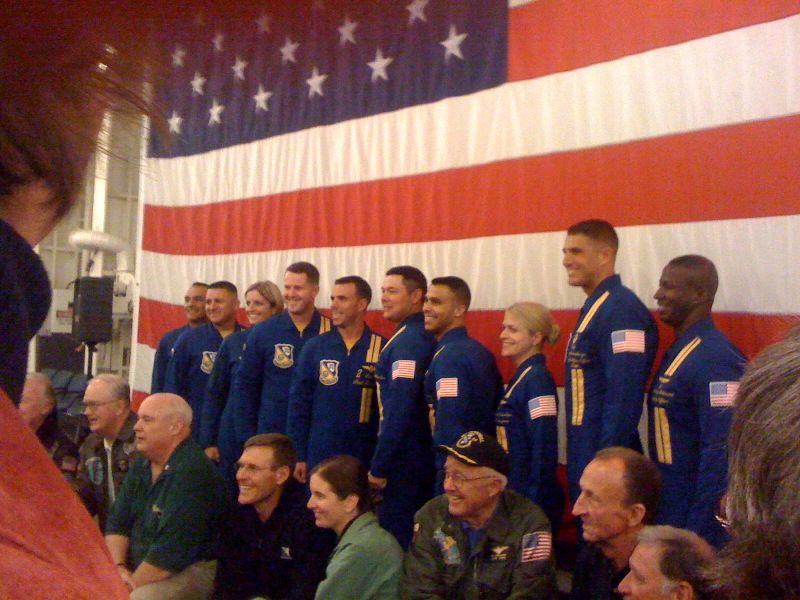 Please take special notice of the guy in the center (or more accurately, sixth from the left). We spent a few minutes speaking with him and found him to be — as all these officers were — personable, intelligent, and respectful.
Now, though, a debate rages about just how respectful this specific officer actually was:
A former commanding officer of the U.S. Navy's flight demonstration squadron, the Blue Angels, has been removed from his current post after accusations that he 'tolerated an inappropriate work environment.'

Capt. Gregory McWherter allowed, and in some cases encouraged, sexually explicit humor and inappropriate comments among members of the famed precision flying team, the U.S. Navy contended on Wednesday.

McWherter was relieved of duty as executive officer of Naval Base Coronado on Friday after a complaint was filed with the Navy's inspector general about an 'inappropriate command climate' at the Navy Flight Demonstration Squadron based at Naval Air Station Pensacola, Florida.

During his two stints as Blue Angels leader between 2008 and 2012, McWherter 'tolerated an inappropriate work environment within the squadron which may have violated the Navy's sexual harassment, hazing and equal opportunity policies,' a Navy statement said.

'The complaint alleges that lewd speech, inappropriate comments, and sexually explicit humor were allowed in the workplace and in some case encouraged by the commanding officer,' and that 'pornographic images were displayed in the workplace and shared in electronic communications,' the statement said.
Significantly, McWherter got a strong vote of support from a woman who served under his command:
'At one point there was a command survey and one came back that men didn't treat women fairly,' Melinda Cary, who served under McWherter during 2006 to 2008, told The News Journal.

'The first thing he did was bring us to talk about who was telling jokes. And he went out, and, I guess, set them straight. He followed up and made sure we weren't still having trouble.'
Maybe McWherter is a sexist pig who ought never to have been allowed a command. Or maybe he's an old-fashioned warrior who is making too much trouble in a modern military determined to serve as a giant Leftist social experiment, rather than hewing to its traditional responsibility as America's protector.
(To see a better picture of McWherter, click on over to the Daily Mail article.  For some reason, I'm  not able to upload new photos to my site this morning.)
UPDATE: I was finally able to upload a picture of McWherter.