A petition asking John Kerry to get Sgt. Andrew Tahmooressi (USMC, Ret.) released from a Mexican jail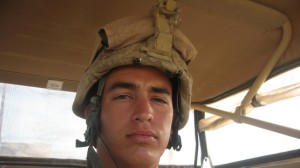 Jill Tahmooressi is asking John Kerry to get excited about pushing for the release of her son, Andrew Tahmooressi, a decorated retired  USMC sergeant, who is in a Mexican jail on gun charges after he got lost and inadvertently crossed into Mexico with legal American guns.  Right now, of course, the Obama administration's excitement is reserved entirely for bringing home a deserter, and possible traitor, who was worth five deadly killers who will undoubtedly return to fight against those Americans remaining in Afghanistan (not to mention American civilians and troops around the world).  Priorities, priorities.
If you'd like to help Mrs. Tahmooressi bring her son home, consider signing her petition asking for just that.  It's a polite petition, one that doesn't castigate the administration for valuing deserters/possible traitors over honorable members of our armed services.  She's right, too.  When petitioning your government to act on your behalf, it's no use stirring up that particular pot by suggesting that this particular administration prefers traitors/deserters to honorably serving members of the military as a matter of principle.