The USS America commissioning ceremony
I was fortunate yesterday to attend the USS America commissioning ceremony (along with several thousand other guests). It was a wonderful experience. Indeed, when I ran into a friend of mine who is a retired admiral, and asked him if this wasn't just old hat for him, he replied that it was exciting for him too. Ships don't get commissioned that often, and there's seldom a guarantee that one will be in the neighborhood when it happens.
Here's the USS America as we first saw her, while walking to the pier: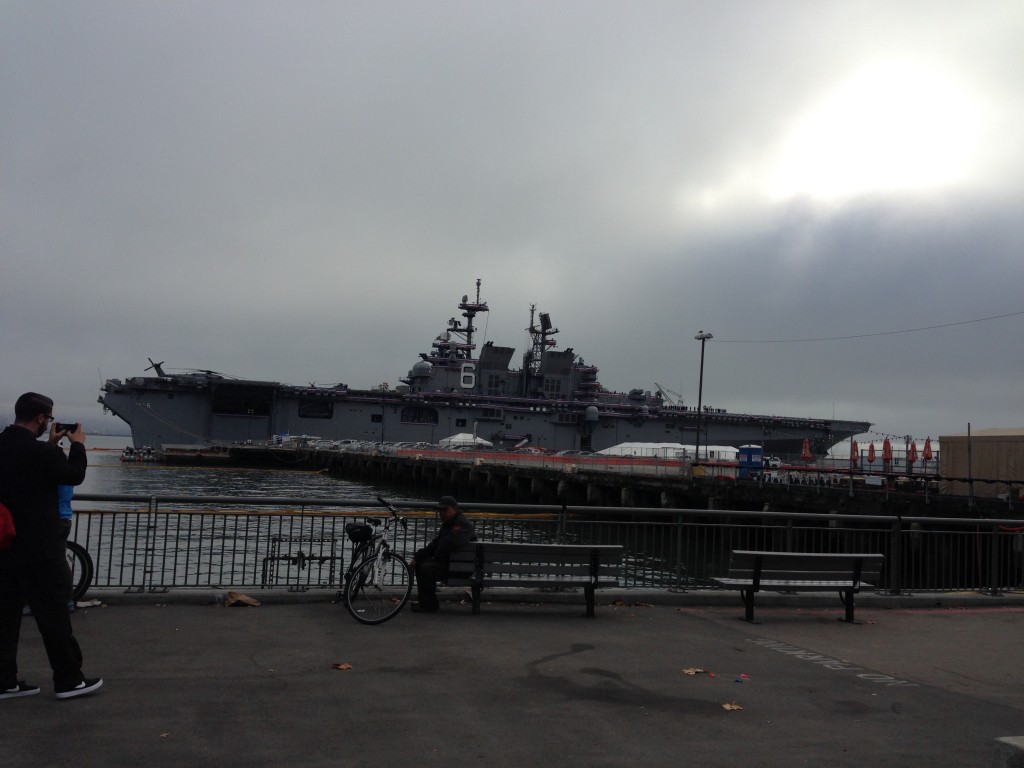 The event can be broken down into four parts, with the first two being rather dull, and the second two being wonderful. Part 1 was simply getting in and getting seated. We were among the more than 9,000 people who attended the ceremony, so the process took about an hour. We showed our tickets, passed through security, found our seats, and waited.
Part 2 was speeches. San Francisco Mayor Ed Lee gave a happy, enthusiastic speech that managed to reduce the US Navy to the role of San Francisco guardian in the event of an earthquake. I couldn't fault him for missing the whole bit about defending the nation and fighting wars. He's a San Francisco politician, after all, and he was just so gosh-darned radiantly happy. Although I didn't take notes, the other speakers were, I believe, Secretary of the Navy Ray Mabus (his speech was okay); Assistant Secretary of the Navy Sean Stackley (a speech that started off political, and then came from the heart); Commander of the Pacific Fleet Adm. Harry Harris (a fun, enthusiastic, good ol' boy speech); Marine Lt. General David Berger (a lively, interesting speaker); an executive from Huntington Ingalls Industries which built the ship (I think it was Mike Peters, who gave a surprisingly heartfelt, moving speech); and, of course, Capt. Robert A. Hall Jr. himself, who was so very proud of his ship, his crew, his family, his Navy, his country, and his God.
Part 3 was the magic part. Once the ship was duly commissioned, the command came down: "Man the ship and bring her to life." Behind us, the Sailors and Marines who had stood so still throughout the speech suddenly started moving. One after the other, they ran down the center aisle towards the ship. Since I'm short, I didn't try to film that, since I got only glimpses of them: very young, more mature, male, female, white, Asian, Hispanic, black . . . all of them running purposefully to the USS America.
Suddenly, a cry went up from the crowd, and I looked towards the ship. This is what I saw:
Here's a primitive panorama I captured (click to enlarge):

The whole thing was magical as the crew, entering at the ship's lowest level, poured out on top and arrayed themselves along the ship's port side, all standing at attention. Next (and I didn't record this), the radar started turning, the flags were raised, the horns and the whistles sounded and, as the pièce de résistance, two Ospreys zoomed overhead. (This actually wasn't quite as exciting for me, because the day before, they'd been circling over our house for about an hour, which was awesome, but left me a little immune to their charms.)
As for Part 4, that was just plain fun, as we got to be among the first in San Francisco to tour the ship's flight deck.  Here's a lovely iconic photo for you: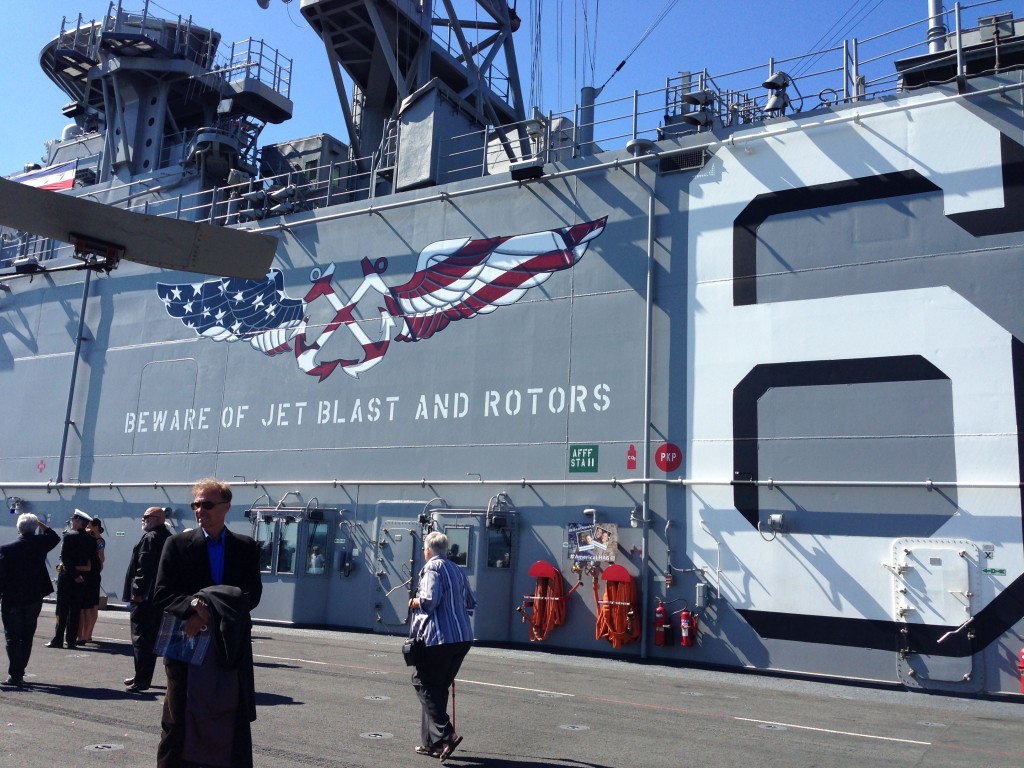 And of course, since this is a 21st century, here's your assurance that the ship is as green as green can be. (I didn't hear anyone assure me that a green ship is a safer ship or a better fighting ship, but I might have missed that part.)
(Sorry for the brevity of this post but, owing to family demands, it's taken me 36 hours to put together even this abbreviated offering.)