Thinking through Ebola at both medical and political levels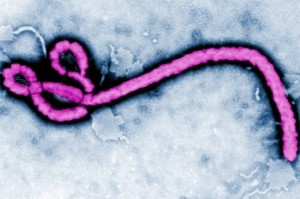 In the ordinary course of things, I'm a rather high-strung, worrying type of person. When it comes to Ebola, however, I find myself more less stressed than I thought I would be. I think part of it is sheer denial. Intellectually, I can envision a pandemic, but emotionally I can't process something that big. Part of my unusual calm is also due to the differences between the United States and West Africa. In terms of medicine and infrastructure, we at our worst are still better than West Africa at its best.
Calm or not, I still have opinions about what's going on. First and foremost, for those conservatives who think they're betraying the faith by calling for stronger government action, my advice would be that they should stop beating themselves up. Even libertarians, who are the people most hostile to government intervention, should acknowledge that one of government's core functions is to protect people from epidemic illnesses.
Closing borders, monitoring the health of people entering the country, creating no-fly countries, and putting health protocols in place are all features of good government in time of crisis, not bad government. The government becomes bad only if the crisis goes away but the controls stay. (Although I wouldn't mind continuing to keep our border sealed against illegal aliens, if it ever could be sealed in the first place.)
In other words, acting responsibly to stop a pandemic in its tracks isn't Big Government overreach; it's good government's job.  Which leads me to the second thing I wanted to discuss….
We're all used to it by now:  When there's a good government job to do, Obama's not doing it. The Obama government's response to Ebola is just more of the same, except this time around the consequences aren't a flabby economy, porous border, or disordered Middle East but are, instead, an American population that could die by the millions in a welter of blood.  It is unconscionable that the administration is allowing its reflexive anti-Americanism to guide its decisions regarding a potential pandemic.
Aside from the government missteps to date, which could be due simply to inefficiency, how do we know that the administration's calculus doesn't include doing what's best for the American people?  We know because an administration spokesman, Dr. Tom Frieden of the CDC, said as much.  Speaking before Congress, he contended that protecting Americans would be bad for Africa's "fledgling democracies." He refused to say who told him to prioritize Africa's fledging democracies against American's health and well-being, but I doubt that our educated guesses would be wrong.
Obama tried to overcome the mess Frieden created with his own statement about flight bans and screen. What emerged from his mouth was a swirl of gibberish that seems to boil down to this: if we bar flights from West Africa, West African travelers will just hop other flights to get to our country and we won't be able to figure out who they are. What Obama really means is that, if we disallow flights from West Africa, we're going to have to screen all people with African passports more closely to make sure that they didn't somehow circumvent the West African travel ban while carrying the virus.
Obama's not afraid of the inconvenience banning flights and interviewing passengers will cause.  Little details such as inconvenience (for example, forcing millions of Americans to give up their health insurance and buy new health insurance) have never bothered him much.  What Obama really fears is that, because a flight ban means that airports can't just sequester passengers from West African flights, they're going to have to screen lots and lots of blacks, since there's no way of knowing whether a black person getting off a foreign flight had contact with West Africa, a part of the world filled with black people. Talk about racist (as MSNBC already has)!
It doesn't seem to occur to the usual squawking heads (let alone our President) that people of all races, colors, creeds, country of national origins, sexes, and sexual identities would prefer that Ebola stay outside of the US. In this regard, it's worth remembering that, following 9/11, American blacks were all in favor of profiling Muslims in order to ensure everyone's safety.
Post-flight screening at airports is, at best, a laborious, time- and labor-consuming job (and at worst, a minimal preventative for contagion).  What's certain is that it cannot possibly be done as Obama envisions it with all the passengers from West African flights going through the process in every airport. However, it probably can be done at least somewhat better if we substantially decrease flights coming from West Africa, and if we require all passengers carrying African passports, no matter their original point of departure, to prove that they were anywhere but West Africa in the last month or, if they were in or near West Africa, to get screened.  (Giving airport screeners some basic geography lessons would probably help the process.)
That's my two cents. Here are a few other issues:
Our public institutions, from WHO, to the CDC, to the NIH, have utterly failed. (WHO, to its credit, has admitted its failure, which theoretically enables it to correct its behavior.) Indeed, it turns out that Amber Vinson, the nurse who was carrying Ebola when she got on an airplane called the CDC repeatedly to ask if she should fly despite have an elevation and the CDC just as repeatedly gave her the go-ahead.
Our Western health institutions have been so busy with their studies about tobacco smoke, parrots, hookers, and gender identity (and God alone knows what else) that they've rendered themselves incapable of handling their primary responsibilities. The Wall Street Journal says we're seeing the twilight of these institutions. James Longstreet expands on that, saying that the whole Ebola fiasco generally shows the limits of "liberal fascism" (which he calls "liberalism") when times are tough. During the fat times, you can obsess about lesbian diets all you want, but you better keep some resources for the lean times.
Meanwhile, even as no Americans have died from Ebola, people are dying from Enterovirus D-68. That's bad. What's worse from a political perspective is the way these deaths track so perfectly the path taken by all of those illegal alien children that Obama first admitted into the United States and then, without bothering with silly things like health checks and quarantines, shipped into America's heartland.  Careless?  Evil?  Cloward-Piven?  Who knows.  But Obama's beginning to take on the aspect of the Grim Reaper when it comes to letting disease across America's borders.
To the extent Obama pays lip service to limits on his power ("Little old me? Stop flights from Africa? That's too hard, so just ignore my whole thing about banning flights to Israel"), George Mason University Law School Assistant Dean Richard Kelsey has an interesting statement about Obama's schizophrenic approach to the limits of his executive power. Let me just add once again that protecting ones country from pandemic disease isn't some Leftist dream of Big Government. It's right there on the top of the list of things that even the most libertarian governments are expected to do.
Peggy Noonan sees the administration's behavior as just more evidence of the great disdain Obama and his team of experts have for the American people.
And speaking of experts, Ace has nothing but disdain for proto-government media outlets such as NPR coming along with half-baked understandings of cavalier "expert" explanations about things that are very, very important — and Ace carefully explains those important things. It's an epic, informative rant, and well worth your time.
Stephen Green isn't getting all twisted up about Ebola. In addition to his faith in American medicine on its worst day being better than West African on its best, not to mention the fact that Ebola's own virulence is its worst enemy, Green also points out that the real worry is the way in which political calculations and political fear constantly overwhelm common sense.
Oh, and one more thing about America: We don't have West Africa's Muslim-based burial rituals, which involve whole families cleaning a corpse, both inside and out.
While I'm on the subject of Obama's deadly racial calculations, even Key & Peele, who like Obama, are beginning to notice something about him: