The Bookworm Beat (10/30/14) — Gathering clouds edition (and Open Thread)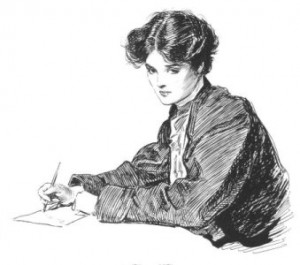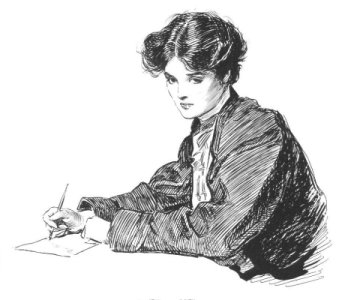 I am not using the phrase "gathering clouds" as a metaphor for the darkness that seems to be washing over the world. My statement has nothing to do with Ebola, amnesty, Iran and Russia ascendant, polio-like viruses, recession, racial tension, or any of the other blessings in Obama's America. Instead, I'm talking about actual clouds and I mean that in a good way: We're expecting more rain in the Bay Area tomorrow.
When you live in a drought-stricken region, every drop of rain counts. And while it looks as if the hoped-for El Nino has vanished, there's a possibility that, at least in the Bay Area, we're going to have a normal rainy season. Woo-hoo!!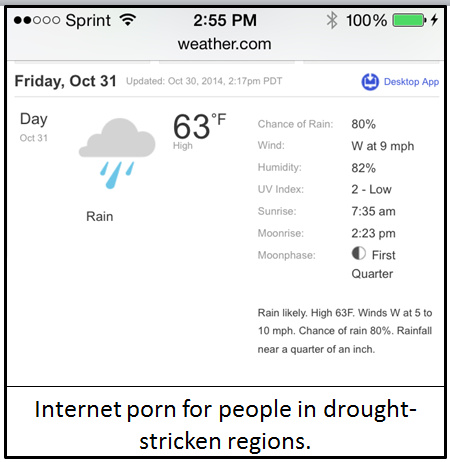 The common sense behind quarantines
Back around the turn of the last century, an Irish-born New York City cook named Mary Mallon (aka Typhoid Mary) was diagnosed as an asymptomatic typhoid carrier. That she was a cook matters, because handling food is one of the vectors for typhoid fever. Even as Mallon was feeling healthy, she managed to infect multiple people around New York with typhoid fever, killing three. Mallon refused, however, to give up cooking. Eventually, New York locked Mallon away for good. She spent almost 30 years in isolation before dying.
Kaci Hickox, the nurse who worked with Ebola patients, is trying to position herself as a due process/civil rights martyr. I would be sympathetic to her cause if, like Typhoid Mary, the state were to lock her away for life on an Island. But Hickox isn't getting dragged away anywhere. Instead, she's being asked to stay home for a few weeks.
And lest you think this request is out of the ordinary, AJ Strata reminds us that school districts all over America routinely ask families to self-quarantine when their children are diagnosed with diseases or parasites that can be unpleasantly endemic in a school community, whether we're talking about pinkeye, flu, or lice.
It's not just school districts. In my mother's retirement community, the moment the norovirus shows up, the dining halls and recreation areas are closed, and residents are essentially locked up in their rooms, with food delivered to their doors. The thought of norovirus sweeping through an enclosed community of elderly people is too terrible to bear.
At least one California physician has the right idea:
"I'm California's most experienced Ebola physician. I won't take a single chance," said Dr. Colin Bucks in a New York Times interview. "My wife is away, my dog is away — there's no downside to a little personal convenience, 3 weeks will pass."
This is not about the end of civil liberties. This is about recognizing that pathogens have specific behaviors and that sensible humans who are truly altruistic, rather than being show-off altruists who are truly selfish,  accept that there are inconveniences that go along with their choices. (Maetenloch has a great discussion about Hickox's priorities, as demonstrated by his title for her: "Saint Kaci of the Order of Unique Snowflakes.")
Moreover, considering that the CDC keeps changing its story about Ebola (this time it's saying that, well, technically it's airborne in wet droplets, not just dry motes), it's no longer good enough to say that someone is non-infectious if they ride around in the subway, as long as they don't touch anybody. Frankly, with the CDC's constantly changing stories, I no longer believe that people are infectious only when they're symptomatic. I bet they're infectious when they feel fine, but have that first sneeze….
And while we're all looking at Ebola, another disease advances
Everyone is worried about Ebola — as well they should be — but the more imminent threat, to judge by the number of deaths, is Enterovirus D-68, which just claimed a 9th victim.
A few notes about Israel and the Palestinians
Yes, the Obama administration has alienated Israel and Jews the world over by referring to blooded warrior Bibi Netanyahu as a "chickensh*t" and a "coward."
And yes, considering that this was a full-on, administration interview with a respected reporter from a respected media outlet, the anonymous official's use of the "chickensh*t" insult could only have emanated first from President Obama.
And yes, the administration's vulgar antics highlight what happens when you drag people out of the perpetual adolescence of American academia and place them in positions of actual power.
And yes, our administration is working hard to pull America away from a stalwart friend that is the only free, thriving, pluralist, liberal democracy in the Middle East and throw us in the arms of a totalitarian theocracy that sponsors worldwide terrorism (including against American) and that takes to deadly levels misogyny, homophobia, antisemitism, and anti-Christian sentiment.
And yes, when a Palestinian tries to murder a rabbi who says that the Temple Mount should be open to all (recognizing Israel's ancient tie to the land), not just to the Muslims, the media immediately painted the rabbi as a rabid terrorist.
And yes, a New York Times reporter has admitted that, as long as the Israelis refuse to turn over half their land, including Jerusalem, to terrorists who seek to annihilate Jews, the paper's simply going to lie about Palestinians whenever it reports on them (as long as the lies make Palestinians look good).
And yes, the American relationship with Turkey, which is rapidly morphing from a modern, secular country into a backwards Islamic backwater is fragmenting. (I'd love to blame Obama for this too, and I probably could by pointing to the disaster of Obama's Syrian policy. The fact is, though, that Erdogan is Islamisizing Turkey and that's always going to go hand-in-hand with anti-Americanism — and that's true despite Obama's love for Erdogan.)
But there are still a couple of good things that have come along: First, even as Obama's America alienates Israel, the Arab world is starting to figure out that Israel is not the enemy. Arabs are still wedded to the usual ugly rhetoric, but at a policy level, Sunni states are realizing that the enemy is Iran. It's only Obama who hasn't figured that one out.
And finally, when Obama's out of office, Bibi Netanyahu will still be there, and much stronger too for having weathered Obama's childlike bullying. Not only that, while Obama is still in office, because the public recognizes that Israel is a friend and Iran an enemy, foreign policy may have a decisive effect on American elections and — for the Democrats — that's not a good thing.
Sen. Jeff Sessions on Obama's amnesty plans
I was going to write something about the fact that Obama, a very lame duck president who's soon to be even lamer, is by-passing Congress to invite as many as 10 million illegal aliens to become permanent residents in America. I don't have to, though, because Jeff Sessions already has:
The Wall Street Journal confirmed today that the President is planning to issue a massive unilateral executive amnesty after the election.

In its report, the WSJ certifies that this executive amnesty would provide work permits for illegal immigrants—taking jobs directly from struggling Americans.

Based on the USCIS contract bid and statements from USCIS employees, we know this executive immigration order is likely to be broader in scope than anyone has imagined.

Earlier this week, President Obama's former head of Homeland Security revealed that she overrode resistance from administration lawyers and law enforcement agents in implementing the President's earlier unlawful amnesty and work authorization program for illegal immigrants 30 and under. This was an open admission by one of the most senior people in government of violating one's oath of office in order to accomplish a nakedly political aim.

The President is assuming for himself the sole and absolute power to decide who can enter, work, live, and claim benefits in the United States. He has exempted virtually every group in the world from America's immigration laws: people who enter before a certain age, people related to people who enter before a certain age, adults traveling with minors, minors traveling with adults, illegal immigrants who are not convicted of serious crimes, illegal immigrants who are convicted of serious crimes but not enough serious crimes, almost anyone who shows up the border and demands asylum, the millions who overstay their visas, and, as was recently exposed, illegal immigrants with serious criminal histories. On and on it goes.

A nation creates borders and laws to protect its own citizens. What about their needs?

The President is systemically stripping away the immigration protections to which every single American worker and their family is entitled. He doesn't care how this impacts Americans' jobs, wages, schools, tax bills, hospitals, police departments, or communities.

But it gets worse still. The WSJ reports that the President is "expected to benefit businesses that use large numbers of legal immigrants, such as technology companies." Those changes include measures to massively expand the number of foreign workers for IT companies—measures aggressively lobbied for by IT giants like Mark Zuckerberg and Bill Gates. Yet we have more than 11 million Americans with STEM degrees who don't have jobs in these fields. Rutgers professor Hal Salzman documented that two-thirds of all new IT jobs are being filled by foreign workers. From 2000 through today, a period of record legal immigration, all net gains in employment among the working-age have gone entirely to immigrant workers.

And now, in order to help open borders billionaires, President Obama is going to deny millions of Americans their shot at entering the middle class and a better life.

The world has turned upside down. Instead of serving the interests of the American people, the policies of President Obama and every Senate Democrat serve the needs of special interests and global CEOs who fail to understand the duty a nation owes to its own people. But the citizens of this country still hold the power, and through their voice, they can turn the country right-side again.
Manchester has a child sex abuse culture. I wonder why?
When I lived in England 30+ years ago, Manchester was a dingy Midlands town, heavily populated with the British working class. Today, Manchester is a dingy, Muslim Midlands town, heavily populated by pedophiles.
A genuine sweet tooth is better than a fake sweet tooth
More evidence emerges that artificial sweeteners are bad for you. Your mom's advice was still the best: Simply limit your sugar intake. You don't need to knock out sweets entirely and you definitely don't need to load up your body with chemicals.
Russell Brand is a moron.
I have nothing more to add. He's a moron.
Methinks that Apple's Tim Cook protests too much
I couldn't care less about Tim Cook's sexual orientation. I do think, though, that the gentleman protests too much when he insists that "being gay [is] among the greatest gifts God has given me." Because compassion. Apparently you lack compassion if you're not gay or something. And because empathy. Maybe he's saying that only those blessed with gayness get empathy.
Whatever.
I think it's great if Cook's a compassionate, empathetic person. You don't have to be gay to get that way. And spinning your entire persona and value system around the blessing of your sexual orientation just strikes me as, well, kind of pathetic. Sleep with whomever you want. Follow where your heart leads. But please don't try to make a virtue out of your bedroom behavior.