Ted Cruz for President in 2016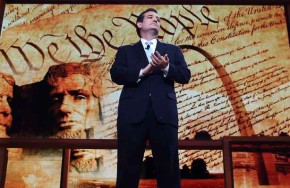 A temporary diminution in my overwhelming work load has finally given me a window to blow about Ted Cruz's candidacy. Briefly, I'm for it. Obama has taught us that, in today's world, it's not experience that matters, it is indeed being a standard-bearer for an overarching ideology.
Americans have now had six, going on for seven, years of Obama's ideology and they've seen the results:
a sluggish economy,
endless crony capitalism,
meaningless national borders,
a disastrous change for the worse in race relations,
the Middle East going down in flames,
Israel (America's long-time ally) abandoned and betrayed,
a White House that makes love to the nation that's slaughtered thousands of American troops,
the abandonment of Eastern Europe to Putin's depredations,
a spectacular rise in Islamic violence at home and abroad,
the steady transformation of our healthcare system into a European style system that provides access but minimal meaningful care,
a de-fanged and emasculated military,
the end of government transparency,
the rise of an unaccountable administrative branch that practices legislation, and
worst of all, a deliberate turn away from our most cherished constitutional principles, including the all-important separate of powers, our primary bulwark against tyranny.
In this, Obama has consistently been aided and abetted by the Democrat Party.  Worse, whenever it's been faltering, its received helpful boosts from the GOP.
Against this backdrop, running a neutered GOP candidate who, at home, stands, for everything Obama stands for, only with weaker sauce, and, abroad, lacks the backbone to fight against Islamic (and, inevitably, Chinese) aggression abroad, is a sure way to lose.
Finally, though we have an alternative, in the person of a man who liberal law professor Alan Dershowitz describes as one of the most brilliant Harvard law students he's ever had.  Briefly, Ted Cruz
has the ability to articulate conservative principles in clear and accessible language,
has a happy warrior manner as he toys with a media that's unaccustomed to a conservative who won't bow down,
enjoys a good fight,
energizes (one hopes) Hispanic conservatives who have been languishing, literally and figuratively, in Democrat ghettos, and
most importantly of all, holds pro-American views on every issue: he supports a free market, strong borders, standing against Islamic extremism and aggression, protecting our allies around the world, bringing the free market to America's healthcare system, shrinking government and (especially) the administrative branch of government, de-fanging the IRS's unlimited (and partisan) power, and in all other respects running a government consistent with the Constitution.
To those who say "Cruz can't win," I say "That's only true if you start with a defeatist attitude by buying into MSM and GOP slander."
Now is the time for the pendulum to swing far, far away from Obama. If the Republican pendulum apathetically droops in front of a Jeb Bush or Lindsay Graham, we will lose. This is the last chance, truly the last chance, for the American Constitution to take center stage in an election and in our lives. If Hillary or Jeb wins, America as a Constitutional nation is dead and gone.
Incidentally, Wolf Howling has pulled together a very useful collection of Ted Cruz articles.