Hillary "Carter" Clinton — or the story of a suitcase
The big banner headline on Drudge today told about Hillary making like the little people by flying coach back to her mansion and carrying her own suitcase.  Here's the tweet that started the story: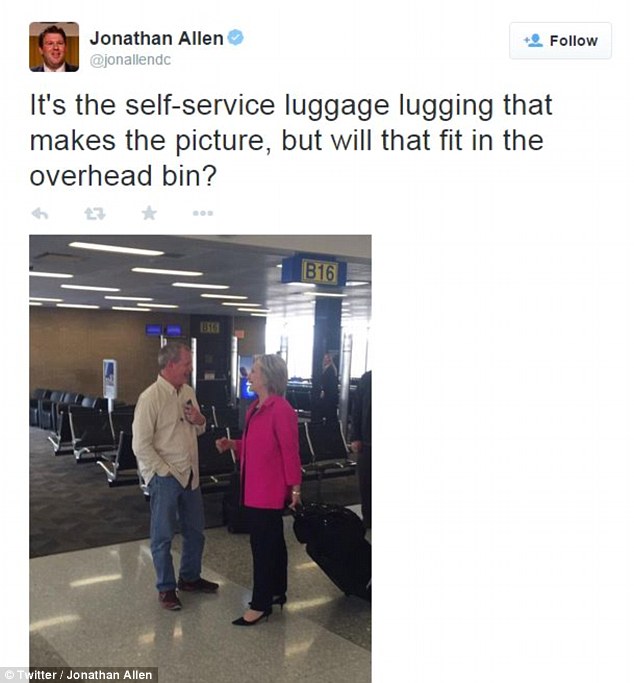 Hmmmm. Where have I heard that story before?  Oh, wait!  I know (emphasis added):
As outlined in my [Ronald Kessler's] book "In the President's Secret Service: Behind the Scenes with Agents in the Line of Fire and the Presidents They Protect," Democratic presidents who claim like Olbermann to be for the little guy often are the nastiest with staff and Secret Service agents. Jimmy Carter — codenamed Deacon — was a prime example.

[snip]

For three and a half years, agent John Piasecky was on Carter's detail — including seven months of driving him in the presidential limousine — and Carter never spoke to him, he says. At the same time, Carter tried to project an image of himself as a man of the people by carrying his own luggage when traveling. But that was often for show. When he was a candidate in 1976, Carter would carry his own bags when the press was around but ask the Secret Service to carry them the rest of the time.

"Carter would have us carry his luggage from the trunk to the airport," says former Secret Service agent John F. Collins. "But that is not our job, and we finally stopped doing it." On one occasion, says Collins, "We opened the trunk and shut it, leaving his luggage in the trunk. He was without clothes for two days."

As president, Carter engaged in more ruses involving his luggage.

"When he was traveling, he would get on the helicopter and fly to Air Force One at Andrews Air Force Base," says former Secret Service agent Clifford R. Baranowski. "He would roll up his sleeves and carry his bag over his shoulder, but it was empty. He wanted people to think he was carrying his own bag."
Even when Hillary tries to be one of the little people, she's a fake and a phony. I'm willing to bet that the suitcase she was carrying was just as heavily packed as the bag Carter slung over his shoulders back in the day at Andrews Air Force Base.