Obama administration's order to ignore Afghan pederasty is a new chapter in the smug racism of the neocolonialists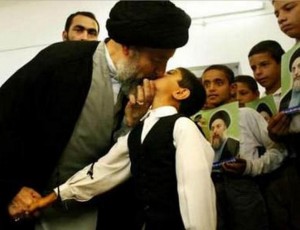 The news about the Obama administration's stand-down order to American troops when they are confronted with the Afghanis' culture of pederasty brought to mind a post I wrote almost exactly five years ago, entitled "The smug racism of the neocolonialists."  That post focused on the pass we give Muslims when they treat women in ways that we would consider intolerable here at home.
Our willingness to demand less of other cultures and races than we do of ourselves is framed as an enviable post-modern objectivity that refuses to acknowledge that our culture has any values better than any other culture (i.e., cultural relativism).  Despite deriding their own culture, it's clear that the relativists believe that people with darker skin color are incapable of moral, law-abiding, decent behavior.  In 2010, I compared this toxic sludge of an ideology unfavorably to that practiced by the Victorians — whom Leftists disrespect deeply based on the Victorian's deeply ingrained belief that theirs was a superior culture:
The exceptionally low standards we allow for Muslims and blacks are always phrased in terms of "respect" for the "other" culture.  "Respect," however, is a misnomer.  True respect is impossible if we consistently assert that the "others" (who invariably have skin darker than ours) cannot hold themselves to the normative behaviors of which we're most proud.

But I promised to tell you that the old colonialists were actually better than the neo-colonialists who inhabit our media airways and political space today.  Not all of them were, of course.  The ones who treated indigenous people with exceptional cruelty were as bad as could be.

Fortunately, though, there were other colonialists who looked at the less savory practices of the indigenous people under their rule, and said, "I don't care the color of these people's skin.  They are better than those grotesque practices, and I will hold them up to my standards, and not allow them to wallow down in theirs."

The easiest illustration of this true respect for the native people trapped in the colonial web is Lord William Bentinck's refusal to accept the common practice of suttee in India.  Suttee (or sati), for those of you unfamiliar with the term, is the old Indian practice of requiring a widow to climb onto her husband's funeral pyre and be burned alive.

In the late 1820s, faced with this barbaric practice, William Bentinck, Governor-General of the East India company, refused to bow to cultural relativism.  Instead, he insisted that, under British rule, suttee end.  The following passage may be written in the ornate, verbose, polysyllabic style of the 19th century, but the meaning is clear — Indians are people too and it is every moral person's obligation to steer them away from barbarism:

The first and primary object of my heart is the benefit of the Hindus. I know nothing so important to the improvement of their future condition as the establishment of a purer morality, whatever their belief, and a more just conception of the will of God. The first step to this better understanding will be dissociation of religious belief and practice from blood and murder. They will then, when no longer under this brutalizing excitement, view with more calmness acknowledged truths. They will see that there can be no inconsistency in the ways of Providence, that to the command received as divine by all races of` men, "No innocent blood shall be spilt," there can be no exception; and when they shall have been convinced of the error of this first and most criminal of their customs, may it not be hoped that others, which stand in the way of their improvement, may likewise pass away, and that, thus emancipated from those chains and shackles upon their minds and actions, they may no longer continue, as they have done, the slaves of every foreign conqueror, but that they may assume their first places among the great families of mankind? I disown in these remarks, or in this measure, any view whatever to conversion to our own faith. I write and feel as a legislator for the Hindus, and as I believe many enlightened Hindus think and feel.

Descending from these higher considerations, it cannot be a dishonest ambition that the Government of which I form a part should have the credit of an act which is to wash out a foul stain upon British rule, and to stay the sacrifice of humanity and justice to a doubtful expediency; and finally, as a branch of the general administration of the Empire, I may be permitted to feel deeply anxious that our course shall be in accordance with the noble example set to us by the British Government at home, and that the adaptation, when practicable to the circumstances of this vast Indian population, of the same enlightened principles, may promote here as well as there the general prosperity, and may exalt the character of our nation.

Call it enlightened colonialism, if you want.  In practice, it meant that Bentinck recognized the Indians' humanity, and demanded the elevation of their conduct.

In this regard, Bentinck was infinitely better than today's cultural relativists who refuse to speak out for the millions of women around the world brutalized by Islam's restrictions, whether those restrictions are the forced wearing of imprisoning clothes, the humiliation of polygamy, the limitations on movement, the imprisonment in homes, the denial of education, or the more extreme physical punishments of genital mutilation, beatings, acid burnings, nose and ear removals, stonings, torture, honor killings and hanging — all of which are routine practices against women across the Muslim world, whether meted out by Muslim governments or just by Muslim men.
My old post popped into my mind again this week when I read in the New York Times that U.S. soldiers are being told to ignore the Afghani cultural practice that sees grown men raping young boys and keeping them as their sex slaves.  Pamela Geller pithily fills in what it took the NYT three years to acknowledge:
This is Obama policy. And it's been going on for years. Last month I reported that the U.S. Army kicked out a decorated Green Beret after an 11-year Special Forces career, after he got in trouble for shoving an Afghan police commander accused of raping a boy and beating up his mother when she reported the incident.

Atlas readers are long familiar with the horrible murder of American hero Lance Cpl. Buckley. His murderer,  in one of a string of insider attacks, was Aynoddin, was the "tea boy" of Afghan District Police Chief Sarwar Jan. District Police Chief Jan, who supplied the assault rifle, most likely helped plan and certainly approved the attack was detained. Chief Jan was released and the Obama administration allegedly turned Aynoddin back over to the Afghans.  Buckley's killer got off scot-free. I reported on this back in 2012 and have spoken and appeared many times with Cpl Buckley's father several times. Watch the videos here and here.
What's happening is nothing new to those following the Left.  Indeed, my journey from Leftist to conservative got a big boost back in the 1990s, during the Rodney King riots.  Back then too, Leftists strongly believed that environmental and racial factors are so strong that people are incapable of exerting self-control or making moral choices, a belief that, in America, is routinely applied to African Americans. My focus then was Damian Williams, one of the young black men who savaged Reginald Denny during the Rodney King riots. Although there was no doubt that he had tried to kill Denny, Williams was still acquitted.
In a newspaper interview, Williams explained away his conduct by saying that he was "caught up in the rapture." Indeed, as the New York Times reported at the time, "Mr. Williams, a 20-year-old black man, was acquitted in October of most charges against him by a sympathetic jury."
I've always believed that, had Williams been a white man who killed gays or blacks, that statement and the verdict that preceded it would have been held up by the Leftist establishment as disgusting, horrific and vile. As it was, my memory (and I'm open to correction here) was that the media piled on with a bunch of stories about young men, black rage, and mob identity, etc. In other words, being caught up in the rapture was a pretty acceptable excuse for trying to beat a man's head in because he was the wrong color, in the wrong place. No one seemed concerned that a young man, a human being, had behaved like an animal, and no one seemed to expect better from him.
It seems that Leftists except no better from Afghans than they do from blacks.  Ironically enough, behind their pose of being the least racist people in the world, Leftists are instead the people most likely to advance policies premised on the theory that only Western whites are capable of higher moral conduct.