If you read one thing today . . . read about the Democrats' new totalitarianism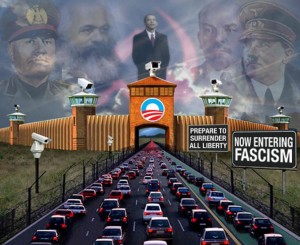 If you have time today to read only one thing, you must read Kevin Williamson's The Democrats' Theme for 2016 Is Totalitarianism. I'll get you started, and then you have to click on the link to finish:
At the beginning of December, Rolling Stone writer Jeff Goodell asked Secretary of State John Kerry whether Charles and David Koch, two libertarian political activists, should be considered — his remarkable words — "an enemy of the state." He posed the same question about Exxon, and John Kerry, who could have been president of these United States, said that he looked forward to the seizure of Exxon's assets for the crime of "proselytizing" impermissibly about the question of global warming.

An enemy of the state? That's the Democrats' theme for the New Year: totalitarianism.

Donald Trump may talk like a brownshirt, but the Democrats mean business. For those of you keeping track, the Democrats and their allies on the left have now: voted in the Senate to repeal the First Amendment, proposed imprisoning people for holding the wrong views on global warming, sought to prohibit the showing of a film critical of Hillary Rodham Clinton, proposed banning politically unpopular academic research, demanded that funding politically unpopular organizations and causes be made a crime and that the RICO organized-crime statute be used as a weapon against targeted political groups. They have filed felony charges against a Republican governor for vetoing a piece of legislation, engaged in naked political persecutions of members of Congress, and used the IRS and the ATF as weapons against political critics.

On the college campuses, they shout down unpopular ideas or simply forbid nonconforming views from being heard there in the first place. They have declared academic freedom an "outdated concept" and have gone the full Orwell, declaring that freedom is oppressive and that they should not be expected to tolerate ideas that they do not share. They are demanding mandatory ideological indoctrination sessions for nonconforming students. They have violently assaulted students studying in libraries and assaulted student journalists documenting their activities. They have staged dozens of phony hate crimes and sexual assaults as a pretext for persecuting unpopular organizations and people.

What they cannot achieve by legislation or litigation, they seek to achieve by simple violence, left-wing activists having smashed, looted, and burned portions of Ferguson, Mo., and Baltimore, where Koreans and other Asian minorities were specifically targeted. As on college campuses, they have made a point of assaulting journalists documenting their violence. They have rioted in Philadelphia and in other cities.

They are not backing away from that. Hillary Rodham Clinton may do her vice-principal shtick, but Bernie Sanders is calling for "revolution," and by "revolution" he means crushing the economic and political rights of opponents in order to prevent them from having a say in political debate. Sounding oddly like Henry Ford, he seethes as he talks about scheming foreigners and international bankers working nefariously behind the scenes to undermine American interests, while his admirers brandish such traditional symbols of totalitarianism as the hammer-and-sickle flag.
Read the rest here.