A question for my religious readers about distinguishing God's will from your own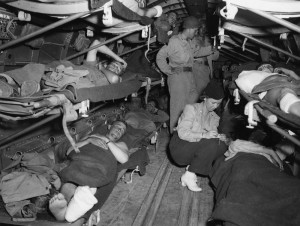 I've mentioned before that I enjoy reading Christian romances, despite being a theistic, albeit non-practicing, Jew. I like them because they're about relationships, not sex. I also like them because they're part of what I call the "getting it right" genre. I've written about this before. My favorite narrative, whether in books, movies, or watching "Dancing With The Stars," is one that sees people starting off on the wrong foot, and through hard work and mental growth, "getting it right."
The books that kept me company during Mom's final days are those written by Sarah Sundin. All of her books take place during World War II, and involve various combinations of nurses, pilots, engineers, pharmacists, etc., whether serving in the Army or the Navy. I'm currently reading In Perfect Time (Wings of the Nightingale Book #3): A Novel
the third book in her series about flight nurses in the European theater. If you're interested in following this series, the first book, With Every Letter (Wings of the Nightingale Book #1): A Novel
is a freebie. I got With Every Letter because it was free and decided, having read it, that I liked Sundin's writing, so I paid for subsequent books.
Why do I like Sundin's writing?  First, she's a good writer — good grammar, good sentence structure, good vocabulary.  Second, her characters are likable.  Third, she's truly mastered her subject and reading her books is as good as any history lesson when it comes to the American military's campaigns in Europe. Fourth, her novels, though formulaic (more on that in a second), are meticulously plotted, something I appreciate.
The formula behind Sundin's books is what I want to talk about.  In each book her characters are devout Christians who are struggling with a flaw in their character, an inability to cope with their past, or a challenging decision.  When they meet their romantic interest, these problems get in the way of their forming a mature relationship.  Each character ends up going through a crisis that is spiritual and war-related, and that crisis reveals to the character that he or she hasn't been giving himself over completely to God.  Once having done so, it's happily ever after time for the character and a green-light for a relationship.
My question is:  When you have such a crisis ("Am I too proud?"  "Do I serve God better as flight nurse or hospital nurse?"  "Should I become a preacher or a career military man?"  "Can I cope as a nurse in a plane crash?"), how do you know that God is what's guiding your ultimate decision?  When I read the books, even though the characters attribute their decision to truly having faith in God, one can also read the same decision process as their having made up their minds to do what suits them best or makes them happiest and then concluding after the fact that the decision is God's will.
In other words, how can you tell, as a believer, whether you're serving God or serving yourself and, in the latter case, having made yourself happy, putting God's imprimatur on your own decision?
All answers gratefully received.  As I said, I enjoy Sundin's writing a great deal, but reading her books I truly don't understand how people distinguish their goals from God's.