Dancing With The Stars, Week 7 review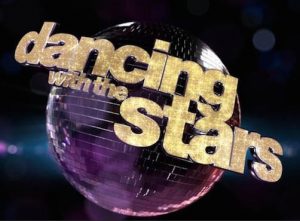 Last night was a fun evening, because the them was "Eras." For the couple dances, each couple was assigned a decade, from the 1920s through the 1990s. Then, for the two team dances, the groups were designated as "past" and "future." Although most of the dances were a little disappointing (a lot of people are kind of stalled), it was still a lovely show to watch.
Calvin Johnson, Jr. and Lindsay danced a delightful 1950s jive, which left me grinning from ear to ear (a very normal response when I watch Calvin dance). He owned the floor and fully deserved the high scores he got. I still don't see him as the Mirror Ball winner, but I'm beginning to think he can take second or third place.
Jana Kramer and Gleb also did a 1970s disco style samba. It suffered from the same problem a lot of Gleb's dances have, which is that he's not a very good choreographer. He always goes for the obvious. Jana did a workmanlike job, but for reasons I can quite grasp, I just don't warm to her as a dancer. I think that, had she been paired with someone like Derek or Val, she could have been a contender, but Gleb drags her down.
James Hinchcliffe and Sharna danced a 1940s jitterbug and, once again, James knocked it out of the box. It's not just that he's a fabulous dancer (or, as Julianne Hough, perhaps the best male "star" on the show in its history), it's that he's a natural-born performer. He sells everything. He's never out of character once he's on the dance floor.
When the season started, I thought Laurie Hernandez was going to win. I've now concluded that, lovely and powerful and precise as she is, James is the one who's got it all:  dancing chops and star charm. (His comic riff while he and his "star" teammates were watching the pros choreograph the team dance was hysterical.) The only thing I would have wished for were fewer lifts and more dancing.
Laurie Hernandez and Val danced the quick stuff, 1960s prom style. As always, Laurie was precise, powerful, and completely happy. The problem (for me) is that she lacks the showman's bravura that James has. If she'd been paired with Derek, he might have been able to give her choreography that overcomes this problem. Val, though a really good choreographer, is a little too careful of her age, and a little too unimaginative in his dance choices.
Unfortunately, there doesn't seem to be a video of her dance on YouTube that I can embed in this post. However, if you go here, you can see her dance charming, but not outstanding, dance.
Marilu Henner and Derek danced a 1920s style Charleston. Derek did his usual imaginative choreography, although I thought he was a little light on the actual Charleston. Too much shtick; too little dance. The big problem, though, was that Marilu once again reverted to being brittle. When she relaxes, she's a delight, but she seldom relaxes.
Maureen McCormick and Artem did a 1980s tango to Bon Jovi's You Give Love A Bad Name.  Unfortunately, Artem tripped on her costume, but Maureen just kept going. She's really blossomed on the show, become more self-confident and a smoother, more relaxed dancer. Not championship material, but it's been a pleasure to watch her journey.
Ryan Lochte and Cheryl danced a 1990s rumba. For a Ryan dance, it was surprisingly good, although that's not saying too much. Still, I think I've figured out what's going on with him and it explains a lot.. He's a sort of amiable dunce. Put him in a high pressure situation such as that in Rio, and he's going to make the wrong decisions and say the wrong things. When he's comfortable, though, he's just a nice, not very bright bulb. Again, I can't find an embeddable YouTube video, but you can see his dance here.
Terra Jolé and Sasha did a beautiful 1930s foxtrot. Sasha has proven to be an extraordinary partner to her. In addition to beautiful choreography, dancing, and partnering, he comes across in every sense of the world as an old-fashioned kind of gentleman. Kind, supportive, and just classy, and that's what Terra needs.
Terra did her usual:  whined about her woes in rehearsals and came out and nailed it during the dance.
I keep trying to like Terra, because of her determination and her dance chops, and I keep failing. I understand that life really gave her the short end of the stick in terms of the body it handed her. But looked at another way, she has a lovely husband, two healthy children, a TV show, and a stint on Dancing With The Stars — all things that move her ahead of a lot of Americans. Given that, her self-pity and whining get tiring. At least Maureen McCormick keeps trying to be upbeat. Terra doesn't make the effort.
And what about the team dances? Well, the "Past Team," headed by James Hinchcliffe did one of the most beautiful partner dances I've ever seen to an old Scottish folk song. Instead of a few group steps followed by frenetic partnership solos, it's an integrated dance with all of the team members moving together:
The "Future Team" did a lovely job too, but it was just the usual type of choreography — and they were not as in sync.
And who got knocked off? Well, if you really want to know . . . SPOILER AHEAD.
Maureen McCormick left. I knew that it would be either her or Ryan Lochte, but I admit to being a little sad to see her go. She was, from Day One, a very fragile woman, but she was also someone who worked incredibly hard, improved a great deal, and constantly tried to overcome her own emotional vulnerability. A weeper, but not an irritating one.
If you like unexpected variety in your reading material, be sure to check out WOW! Magazine, the collaborative site from the Watcher's Council.