Thoughts on ladies of a certain age in their pink pussy hats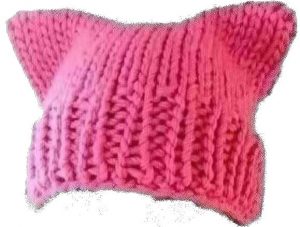 The Women's Marches may already be history, but the pussy hats linger on. Yesterday, a chilly, wet, blustery day, brought out a couple of those pink hats. It wasn't until I saw the second pink-hatted lady wandering down the aisles at Trader Joe's that something struck me about her, about the gal I'd previously seen, and about the many "ladies of a certain age" who showed up in photographs in their pink hats or at the parades.
The premise for my observation is that these are women my age and older who are ostensibly taking a stand for empowerment, for unconstrained women's sexuality, for women's freedom, yadda, yadda, yadda. What they should look like is bountiful, cheery (yet slightly ferocious) Valkyries, updated hippie gals who once danced in parks thanks to their liberation from centuries of male oppression. Certainly many of the young women on parade looked cheery enough, if vapid and ill-informed (content warning about vulgar images):
But it's the ladies of a certain age, the ones who were hippies in the 1960s and self-realizers and self-actualizers in the 1970s, who disappoint. They may have been smiling and shouting at the parade, but take them off the parade ground and put them back in the real world and, suddenly. . . .
Well, they don't look like women who lived full, rich lives and who are now doing their darndest to ensure that their daughters, granddaughters, and even great-granddaughters get the freedoms these women earned by getting zonked out on LSD, stripping off their clothes, picking flowers from public flower gardens, and then dancing naked in Golden Gate Park. (I may have been a child, but I remember those days well. They still haunt some of my nightmares.)
Instead, so many of these older women, especially the ones still making their political hat statements long after the parade has passed them by look desiccated and unhappy, rather like old-time Hollywood stereotypes of spinsters: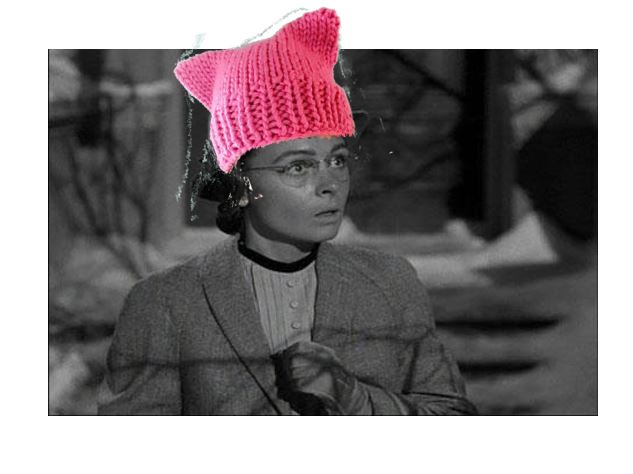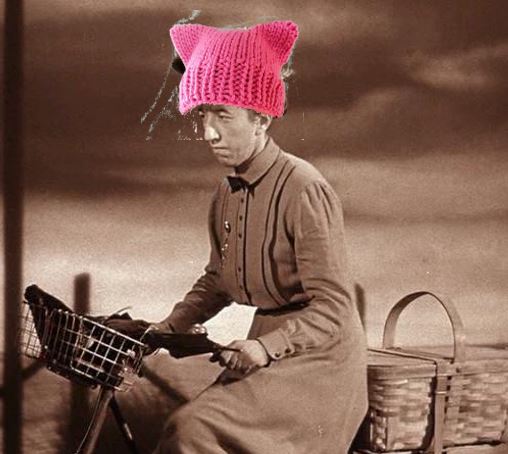 Whatever else Third wave women's lib does, the fact is that, like so many of the other Leftist initiatives to divide people by victim class and happiness, and therefore conquer the political word, it hasn't brought happiness. The women who have spent their whole lives buying into it are angry, misanthropic people with a strong sense of having been victimized and ill-used — and on a cold day at the grocery store, no perky pink hat is going to disguise that.