Attention, California gun owners with high-capacity standard magazines!
On July 1, California gun owners may no longer possess high capacity standard magazines. Learn here what you need to know about the ban.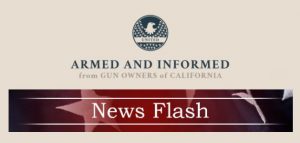 A friend just forwarded me a notice from Gun Owners of California informing California gun owners that, within two weeks, any high-capacity standard magazines they possess are illegal. Here's what you need to know:
D-Day for High-Capacity (standard) Magazine Ban Coming July 1, 2017

That's right – in just two weeks, it will be illegal to possess magazines that hold more than 10 rounds in California. Because we want to make certain that solid, law-abiding gun owners don't find themselves at odds with law enforcement (who are mandated to enforce the law no matter how senseless), we urge everyone to heed this new statute – regardless of its unconstitutionality.  GOC wants there to be zero misunderstanding regarding the new provisions:

All such magazines must be removed from the state, sold to a licensed dealer, destroyed, or surrendered to law enforcement by July 1, 2017.
The date of purchase is now irrelevant (prior to 2016's SB 1446/Hancock, individuals could own high capacity magazines so long as they were purchased prior to January 1, 2000; they were, in effect, "grandfathered in.") SB 1446, however, eliminated the grandfathering clause which brings us to the July 1, 2017 ban date.
Anyone still in possession on or after July 1, 2017 will be charged with an infraction punishable by a fine, with increasing penalties on each subsequent offense.
IMPORTANT NOTE: The Department of Justice is required to issue regulations on how the ban is to be implemented, but details are still not available. Although the law does not specifically address dismantling the magazine as one of the options, this may be an alternative so long as the magazine is never reassembled as long as the law is in effect.

During the debate on SB 1446, proponents had the nerve to state "high capacity" magazines are not designed for hunting or target shooting but are "military designed devices designed for one purpose only — to allow a shooter to fire a large number of bullets in a short period of time."  2nd Amendment supporters know otherwise.  In fact, Modern Sporting Rifles (MSR) are the single largest selling firearms platforms for competition and hunting purposes in California, selling well over a million!

The hi-cap ban might be in effect, but the final story has not been written – the Constitutionality of the prohibition is currently being challenged and we are keeping close tabs on those developments. 

For details, go to www.gunownersca.com/the-courts/ 

Not all our pleas to stop bad bills fall on deaf ears, but this one unfortunately did and a lot of law-abiding folks are going to pay the price if they don't stay informed on the changes in current law and GOC is your best bet to keep up-to-date.  Every day, we're adding more resources to our website to help you navigate the unusual-but-beautiful land called California, and more and more folks are joining the fight.  We are also honored to have many Sheriffs from throughout the state standing with us!

"I stand with GOC because they stand with me in protecting our 2nd Amendment rights."

Sheriff John D'Agostini – El Dorado County
The bottom line for California gun owners: Stay legal, be safe, keep informed.