Movie Review: The Big Sick
In a summer of vapid blockbusters, The Big Sick is a charming, funny, poignant movie that shows that the American melting pot still works.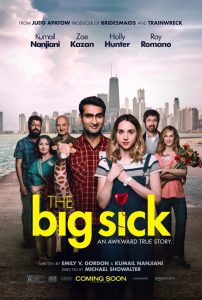 "The Big Sick"
By
The Closet Conservative Critic
The Big Sick did not have a name grabbing title drawing me to the theater. I checked out the charming trailer only after I noticed the movie was playing at our local town theater, where mostly independent or foreign movies play. I'm glad I did. The movie is a winner, by turns charming, fun, funny, poignant, and heartwarming. In the best sense of the genre that gives us so many lame, silly, stupid, crude, tasteless, or dumb movies, The Big Sick comes off as a nearly perfect, "Romantic Comedy".
It was not until the end credits that I learned this movie was based loosely on the real life romance of the co-writers, and the male co-star, Kumail Nanjiani. I was not aware of his fame, but he's been around, mostly in TV circles, and is quite an accomplished actor.
The movie, co-written with Nanjiani's wife, Emily Gordon, is a story that is as old as time: Two characters who don't have much in common when they meet nevertheless quickly fall for each other. Trouble eventually arrives when their families come into the picture. There begins the age-old dilemma: How much will the protagonists' family traditions get in the way of their new romance?
Much of the charm, fun, romance, and later conflict, comes from the fact that Emily (played by the actress Zoe Kazan) comes from a (seemingly) secular Jewish background, while Nanjiani (he uses his real life name) has been raised in America, by immigrant Pakistani parents who want nothing more than to see their son marry another Pakistani woman and continue his Muslim faith. Nanjiani is a devoted son, yet has been very much Americanized, and sees himself going down a different path than the one  his parents have planned for him. (One of the funny ongoing gags in the movie is how Nanjiani's mother is constantly inviting to the house a string of gorgeous Pakistani young women, whom she and the young women's mothers are doing their best to thrust into an arranged marriage.)
SPOILER ALERT AHEAD. IF YOU DON'T WANT TO KNOW A SIGNIFICANT PLOT POINT, STOP READING HERE AND JUST TAKE MY ADVICE TO SEE THIS DELIGHTFUL MOVIE, ONE THAT TRULY REFLECTS THE AMERICAN MELTING POT.
What I'm about to write doesn't give away the movie entirely, but it's still a little bit of a spoiler: Before the movie hits the halfway point, something dramatic happens to the main characters' situation, and the story takes off in a different direction than that which you'd expect. In this new direction, we meet Emily's parents, who mean well and are good people. Much of The Big Sick's humor and poignancy comes from this new twist and seeing Nanjiani's interaction with Emily's parents. (The parents are played by veteran actors, Ray Romano and Holly Hunter – they play their roles to perfection.)
Move The Big Sick up to the top of your queue for movies to see. It's a great date movie, be it with your boy/girlfriend, or your spouse of 25 years.