President Trump's State of the Union open thread
I didn't care that the State of the Union speech went long. It was great: patriotic, optimistic, and filled with classic American values and common sense.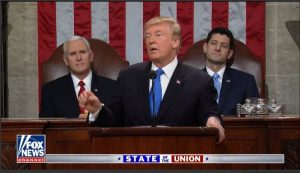 My response? I loved it. It went on too long and I didn't agree with all of Trump's promises, primarily because I think some of the things he promised aren't the federal government's job, but I loved it.
"Americans are Dreamers too." The relentless celebrating of a unified American people of all races, colors, creeds, etc., and of the American spirit. Sour-faced black caucus members when Trump boasted about historically low black unemployment. Nancy Pelosi sucking her tongue as if it were a sour lemon lozenge. Democrats desperately trying to decide whether their base would like or more or less if they applauded when Trump praised the American people, America itself, freedom, and government's role as the people's servant, not its master.
Judging by the responses from Progressives on my Facebook page, those Democrats fared best who applauded least.
Unfortunately, I'm working on deadline and can't write more. But I hope some of you can. What did you think?