It's time to check out What Business Thinks once again *UPDATED*
Because attacks on the NRA are a dynamic issue, I'm sticking this post at the top of my blog so people can easily find both What Business Thinks and the Google Sheets page. Scroll down for newer posts.
With businesses starting to boycott the NRA, it's time for you to check the What Business Thinks app so you spend your money where your values are.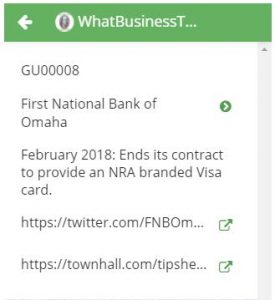 Last year, I introduced What Business Thinks, a database I created that has information about over 5,000 businesses and their stances on various hot topic issues, everything from pure politics, to guns, to LGBT stuff, to climate change, and more. With the Left escalating its insane attacks against the NRA, I've spent the morning updating the app with companies that are refusing to do business with the NRA (First National Bank of Omaha) or that are cutting out benefits once extended to NRA members (Hertz and Enterprise). It therefore think it's time for people to bookmark the website on their computers or smart phones so that they can make sure they're doing business with companies that don't hate them and everything they stand for.
As I said last year when I started collecting information for the database, we're living in a unique time. It used to be that customers might boycott a business. Now, we have businesses boycotting customers. Isn't it time you know whether a business hates you and your values before you spend your money there?
Incidentally, I present the information in the database evenhandedly. Your Progressive friends might also find it useful so that they don't have to give their money to companies that don't reflect their values. The fact is that, with everything politicized today, companies are either aching to take sides (especially those with college-educated upper management) or are being forced to take sides whether they want to or not. In a properly functioning marketplace, that information should be readily available to all consumers.
One more thing. I built this app myself and I know it's unsophisticated. Currently, you can search only by business name. My dream is for you to be able to search by issue as well. Having said that, some issues, such as "Pure Politics" have so many thousands of names in them that it wouldn't help you much to scroll through the list. Other issues, though, such as "Guns" aren't too full yet and I know many of you would like to have an oversight. That will come with time, if the app starts turning a profit from the ads on the link in the first paragraph.
UPDATE: Because the NRA boycott is a fast growing movement, I'm making available the Google Sheets page detailing which companies are participating in boycotts of the NRA or are otherwise opposed to the Second Amendment.
*****