The Resistance at the library: they're reading and weeping
A trip to the local library makes clear that the Resistance is not dying. It is, instead gathering steam, preparing for martyrdom and explosion.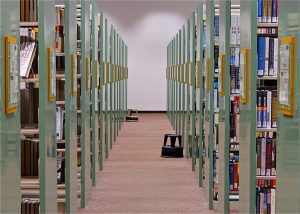 For the past few days, my time has not been my own, which is how I found myself staring at the "new in non-fiction" shelf at our local library. My home is unusual in that the younger generation prefers paper books while I, in part because of my less-than-perfect vision, love being able to read on my iPad, where I can make the text a little larger and the light a little brighter.
Thankfully, my library has signed on to the Libby App, so I have access to many recently published books, all with the aforementioned adjustable text size and bright light. Still, today was a day on which the younger generation was in charge, so I got a chance to see in concentrated form the books my Marin library thinks (probably correctly) that its patrons want to read.
If you ever wanted to know (a) that there really are two Americas and (b) that the self-styled Resistance is still struggling to understand how small-minded, tribalist Americans could reject its Utopian vision of a world in which all Leftist dreams are realized, my library is the place to go. On the few shelves dedicated to "new in non-fiction," I saw all of the following Resistance books. Most had multiple copies gracing the shelves presumably because of  high demand.
In addition to the books' titles, I've included some quotations from the reviews that the books' various publishers included on the Amazon pages. These reviews are a microcosm of everything the Left hates about Trump — which is everything that the Left hates about America. Trump's America is one in which modern racism is a Leftist social construct that can be done away with through an exuberant economy; border policies that keep out illegal aliens who take away jobs from minority Americans; national security that acknowledges a violent, colonialist streak in Islam; climate policies that acknowledge change but manage it wisely rather than using it as an excuse to push America back into pre-industrial darkness; and, of course, old-fashioned patriotism.
For the Left, this American vision is a daily, living nightmare that they must dissect and destroy. And so, without further ado, the books on my library's shelves:
Hillary Clinton's What Happened
:
"What Happened is not one book, but many. It is a candid and blackly funny account of her mood in the direct aftermath of losing to Donald J. Trump. It is a post-mortem, in which she is both coroner and corpse. It is a feminist manifesto. It is a score-settling jubilee…. It is worth reading."
—The New York Times

"What Happened is a raw and bracing book, a guide to our political arena."
—The Washington Post

"The writing in What Happened is engaging — Clinton is charming and even funny at times, without trying to paint herself in too flattering of a light…. Ultimately, the book might be a historical artifact most of all — the chronicling of what, exactly, it was like to run for president as the first woman major-party candidate (and, yes, a Clinton as well). Plenty may disagree with Clinton's opinions on what went wrong for her, but her story will still be an important part of that history when America looks back on the melee that was the 2016 election."
—NPR
Amy Chozick's Chasing Hillary: Ten Years, Two Presidential Campaigns, and One Intact Glass Ceiling
:
`Chasing Hillary [is] so wickedly readable: like Michael Wolff's Fire and Fury it's a nonfiction novel' Peter Conrad, Observer `Grudges, mis-steps and battles with the press corps are revealed in a searing account of Hillary Clinton's failed presidential campaign' Edward Luce, Financial Times `Riveting… This book is in part a memoir and Chozick's first person voice is funny and readable' Suzy Hansen, Guardian `A funny, insightful memoir…With her lively voice and eye for detail, "Chasing Hillary" is an enjoyable read, like The Devil Wears Prada meets The Boys on the Bus' Charlotte Alter, New York Times `Amy Chozick has written a breathtaking, page-turning masterpiece that pretends to be about Hillary Clinton's defiant presidential run. But Chasing Hillary is also – for the brilliant Chozick – a deeply personal story. Wait till you get the gory, insider details of the bloodiest political battle in recent memory. A must read!' Mary Karr `Amy Chozick sweeps us along on a ten-year chase after the most famous and elusive woman in modern politics. At the bittersweet end, she captures Hillary, and America, and the traveling press, and some part of herself.' David Maraniss `This insanely readable book manages to bring humor and a fresh inside perspective to the saddest event in history. The details alone are sure to drive Democrats to fisticuffs, or whatever we do when the kale runs out.' Gary Shteyngart
James Comey's A Higher Loyalty: Truth, Lies, and Leadership
:
The Most Anticipated Books of Spring 2018 * Publishers Weekly * The Year Ahead in Culture * Time * 11 Leadership Books to Read in 2018 * The Washington Post * The 15 Juiciest Political Books to Come in 2018 * Entertainment Weekly * 20 Books We Can't Wait to Read * Entertainment Weekly * 10 Big Books to Kick Off 2018 * USA Today * An urgent clarion call. — Edward Luce * The Financial Times * Trump offends all that Comey claims to hold dear about power in America and the values and institutions which merit his loyalty. Trump has shot back, but Comey has landed a stinger. * The Evening Standard * Comey has quite a story to tell – and that's even before we get to the Clinton and Trump chapters that have made this book an instant bestseller…The Trump win and what followed provides the material for the book's most riveting chapters. Comey has a keen eye and his observations of Trump and his enablers are sharp…In today's world, truth has become a precious commodity and those ready to risk their careers to defend it are few and far between. — Jonathan Freedland * The Guardian * [Comey] deftly, sometimes comically, captures the president as the inattentive, emotionally stunted, self-focused, absent-from-any-civic-sense, absurd fellow almost anyone in contact with him knows him to be… it is a story of probity, honour and virtue… Comey is an Avenger. — Michael Wolff * The Sunday Times * A well-written memoir, which combines a powerful argument for principled leadership with some acid comment on Trump's mendacious ego driven alternative * The Economist *
Reni Eddo-Lodge's Why I'm No Longer Talking to White People About Race: The Sunday Times Bestseller
:
"This is a book that was begging to be written. This is the kind of book that demands a future where we'll no longer need such a book. Essential." – Marlon James, author of Man Booker Prize-winning A BRIEF HISTORY OF SEVEN KILLINGS

"This political, accessible and uncompromising book has got people talking about race and racism in Britain." – Guardian, "Books of the Year"

"Searing … A fresh perspective, offering an Anglocentric alternative to the recent status-quo-challenging successes of Get Out and Dear White People. This book's probing analysis and sharp wit certainly make us pray she will continue talking to white people about race." – Harper's Bazaar

"A clear and convincing dissection of racism and the white denial that perpetuates it." – Our Best Adult Books of 2017 – Nonfiction, starred review, Shelf Awareness

"A plainspoken, hard-hitting take on mainstream British society's avoidance of race and the complexities and manifestations of racism . . . Eddo-Lodge's crisp prose and impassioned voice implore white Britain to look beyond obvious racism to acknowledge the more opaque existence of structural racism . . . With this thoughtful and direct book, Eddo-Lodge stokes the very conversation that the title rejects." – Publishers Weekly

"In her probing and personal narrative, Eddo-Lodge offers fresh insight into the way all racism is ultimately a 'white problem' that must be addressed by commitment to action, no matter how small . . . A sharp, compelling, and impassioned book." – Kirkus Reviews

"The provocative title is hard to ignore, and so is the book's cover. Seen from afar, it appears to be called Why I'm No Longer Talking About Race,which is intriguing enough on its own. You have to look closer to see To White People hiding underneath it in debossed letters. It's a striking visual representation of white people's blindness to everyday, structural racism . . . It's that boldness, that straight talk which makes this book memorable. Eddo-Lodge pushes readers to recognize that racism is a systemic problem that needs to be tackled by those who run the system." – NPR.org

"You don't have to live in the U.K. to recognize the issues of white privilege, class, feminism and structural racism that [Eddo-Lodge] explores in this essential book." – Silvia Viñas, NPR
Jon Meacham's The Soul of America: The Battle for Our Better Angels
:
Appalled by the ascendancy of Donald J. Trump, and shaken by the deadly white nationalist rallies in Charlottesville in 2017, Meacham returns to other moments in our history when fear and division seemed rampant. He wants to remind us that the current political turmoil is not unprecedented, that as a nation we have survived times worse than this. . . . Meacham tries to summon the better angels by looking back at when America truly has been great. He is effective as ever at writing history for a broad readership. . . . [Meacham] is an adroit and appealing storyteller." The New York Times Book Review
Michael Isikoff's and David Corn's Russian Roulette: The Inside Story of Putin's War on America and the Election of Donald Trump
:
"Two of the best and most accomplished investigative reporters of their generation, two of the best investigative reporters we have in this country…[A] superpower reporting team."―Rachel Maddow

"RUSSIAN ROULETTE is…the most thorough and riveting account."―The New York Times

"RUSSIAN ROULETTE performs an important service in tracing how establishment Washington…came to understand that what Russia was (and reportedly is still) up to was not routine espionage…[RUSSIAN ROULETTE] is engaging, smart."― The Washington Post

"[RUSSIAN ROULETTE] does an outstanding job of putting the Russia-Trump story into context, separating rumor from fact and adding new information…A smart, solid, even-handed book that future historians will use as a starting point."―Booklist (starred review)

"Riveting."―Newsweek
Ta-Nehisi Coates's We Were Eight Years in Power: An American Tragedy
:
"Ta-Nehisi Coates has published a collection of the major magazine essays he wrote throughout the Obama years. . . . But Coates adds an unexpected element that renders We Were Eight Years in Power both new and revealing. Interspersed among the essays are introductory personal reflections. . . . Together, these introspections are the inside story of a writer at work, with all the fears, insecurities, influences, insights and blind spots that the craft demands. . . . I would have continued reading Coates during a Hillary Clinton administration, hoping in particular that he'd finally write the great Civil War history already scattered throughout his work. Yet reading him now feels more urgent, with the bar set higher."—Carlos Lozada, The Washington Post

"Essential . . . Coates's probing essays about race, politics, and history became necessary ballast for this nation's gravity-defying moment." —The Boston Globe

"Biting cultural and political analysis from the award-winning journalist . . . [Ta-Nehisi Coates] reflects on race, Barack Obama's presidency and its jarring aftermath, and his own evolution as a writer in eight stunningly incisive essays. . . . He contextualizes each piece with candid personal revelations, making the volume a melding of memoir and critique. . . . Emotionally charged, deftly crafted, and urgently relevant."—Kirkus Reviews (starred review)

"Coates's collection of his essays from the past decade examine the recurrence of certain themes in the black community, the need for uplift and self-reliance, the debate between liberals and conservatives about the right approach to racism, and the virulent reaction in some quarters to any signs of racial progress. . . . As he charts social changes, Coates also offers a fascinating look at his own transformation as a black man and a writer. Before each essay, Coates provides context in light of recent political developments. . . . Coates's always sharp commentary is particularly insightful as each day brings a new upset to the cultural and political landscape laid during the term of the nation's first black president. . . . Coates is a crucial voice in the public discussion of race and equality, and readers will be eager for his take on where we stand now and why." —Booklist (starred review)
David Frum's Trumpocracy: The Corruption of the American Republic
, a book that's a favorite with the NeverTrumpers:
"No conservative has been a more astute, unsparing or courageous critic of Trumpism than David Frum. Trumpocracy is a powerful summation of the case against Trump based on a close reading of his first year in office. Even those who have followed the Trump administration closely will find much to surprise and enrage them in Frum's devastating analysis. A must-read to understand what we went through in 2017 –and where we are going next." (Max Boot, Jeane J. Kirkpatrick senior fellow in national security studies, Council on Foreign Relations)

"Fascism did not rise in the 30's because it was strong but rather because Democracy was weak. David Frum has written an essential book for a time when the pillars and norms of American Democracy are under threat from the leaders pledged to preserve it." –(Stephen Schmidt, strategist for George W. Bush, John Mccain, and Arnold Schwarzenegger)

"An outstanding chronicle of the unending corruption, deceit, and chaos that acts as rocket fuel for the administration, and ego, of President Donald J. Trump. This is a brilliant book of a frightening American present, it is also an honest discussion of the gifts a Trump Presidency has unwittingly revealed." –(Malcolm Nance, author of The Plot to Hack America: How Putin's Cyberspies and Wikileaks Tried to Steal the 2016 Election)

"With precision and even eloquence, Frum details how the Trump campaign and administration has damaged American institutions and the American psyche. For those who oppose Trumpism, this is a clarion call." –(Booklist)
Robert Reich's The Common Good
, which you will not be surprised to learn is a very small book:
"Against the grain of much liberal thinking . . . Reich's proposals would make a good starting point for a new progressive political project." —Michael J. Sandel, The New York Times Book Review

"Very timely . . . Reich's work is an important call for reform that should appeal to a wide audience disaffected with the status quo." —Library Journal (starred review)

"Reich's lucidly defining and empowering call for revitalized civic awareness—complete with an enticing list of recommended reading and discussion guide—is an ideal catalyst for book-group conversations." —Booklist

"Clear-voiced and accessible." —Publishers Weekly

"Brief but well-argued . . . a provocative essay." —Kirkus
Madeleine Albright's Fascism: A Warning:
`A wise book … such satisfaction that it brings comes from spending time in the company of a sage and admirable person' The Times `If Mrs Albright's learning is to be expected, her way with words is a happy surprise, as is her wisdom about human nature. Free of geopolitical jargon, her deceptively simple prose is sprinkled with shrewd observations about the emotions that underpin bad or wicked political decisions … Bookshops are full of expert guides to spotting a country's slide into autocracy … This book is broader … She has professorial fun describing despotic tactics with modern-day echoes … Dismissive of hyperbole, the former secretary of state is still nervy about Donald Trump' Economist `Having fled both Hitler's Germany and Czechoslovakia's Communist uprising as a child, Albright's acquaintance with fascism is practically a part of her DNA. With America's global standing now downgraded from "full democracy" to "flawed democracy" by the Economist Intelligence Unit, this is no time for complacency. Albright outlines the warning signs of fascism and offers concrete actions for restoring America's values and reputation. There is priceless wisdom on every page' Kirkus Starred review
Pete Souza's Obama: An Intimate Portrait
, which, despite its prominent place in our library, could garner little in the way of useful Amazon reviews:
"Perfect for gifting… lets readers into Obama's life in the White House, around the world, and into the spirit of his chapter in American history."―Travel + Leisure
David Garrow's Rising Star: The Making of Barack Obama
, which must be an intriguing book, because the publishers went out of their way, on the book's Amazon page, to pepper the reviews with ellipses:
"Impressive. … [A] deeply reported work of biography." (New York Times Book Review)

"Rigorous. … Thorough. … Meticulously researched. … Delivers insight and clarity on Obama's enigmatic personality." (Christian Science Monitor)

"A prodigious work. … Each page crackles with the strength of [Garrow's] research." (USA Today)

"Extremely well-done. … Garrow slices the fat of fiction away from fact. … [A book] equally as valuable for what it is saying about the present and the future as well as the past." (Atlanta Black Star)

"Revealing. … Probing. … [Garrow] tells us how Obama lived, and explores the calculations he made in the decades leading up to his winning the presidency." (Washington Post)

"Phenomenal… Essential. … Persuasive. … Authoritative. … A stunning and indispensable work of history. … A masterwork of historical and journalistic research… [and] a terrific read." (David Greenberg, Politico)

"One of the most impressive presidential biographies… [and] a look at the social construction of race." (Bloomberg (a Must-Read of 2017))

"A tour de force. … An epic triumph of personal and political biography. (Paul Street, New York Journal of Books)

"The authoritative biography of Barack Obama's prepresidential years. … Illuminating. … Impressively researched. … Readers will be richly rewarded." (Library Journal (starred review))

"A convincing and exceptionally detailed portrait. … Political history buffs will be fascinated." (Publishers Weekly (starred review))
Luke Harding's Collusion: Secret Meetings, Dirty Money, and How Russia Helped Donald Trump Win:
"Essential…I wish everyone who is skeptical that Russia has leverage over Trump would read it…. Harding, the former Moscow bureau chief of The Guardian, has been reporting on shady characters like Paul Manafort, the former Trump campaign chairman who was indicted last month, long before Trump announced his candidacy…. There's no longer any serious question that there was cooperation between Trump's campaign and Russia, but the extent of the cooperation, and the precise nature of it, remains opaque…. [Collusion] is invaluable in collating the overwhelming evidence of a web of relationships between the Kremlin, Trump and members of Trump's circle." —Michelle Goldberg, The New York Times

"Harding…presents a powerful case for Russian interference, and Trump campaign collusion, by collecting years of reporting on Trump's connections to Russia and putting it all together in a coherent narrative. It's the sheer breadth of connections, many of them dating back 20 years or more, between Trump and his associates and Russians with close ties to the Kremlin that put the lie to Trump's repeated claims that he has no ties to Russia." —The Nation

"A superb piece of work, wonderfully done and essential reading for anyone who cares for his country. Amazing research and brilliantly collated." —John le Carré

"Damning indeed…. Harding is at his best connecting dots that may not always be obvious…. If readers emerge from this fast-paced narrative convinced that the Trump White House is a wholly owned subsidiary of the Russian oligarchs, then there's good reason for it." —Kirkus Reviews
David Cay Johnston's It's Even Worse Than You Think: What the Trump Administration Is Doing to America
:
"Urgent, necessary reading." (Kirkus Reviews)

"A momentously thorough account of President Trump's alarmingly chaotic first year in office. . . . This precise and fiery indictment of an unstable, unethical president concludes with a call for us to defend our democracy." (Booklist)

"It's Even Worse Than You Think shines a light on actions by the White House and Trump-appointed federal officials on climate change, job creation, taxes, race, immigration, and foreign affairs, among other topics, that should concern – and alarm – all Americans." (Glenn Altschuler The Huffington Post)

"Wolff's news-breaking and news-stretching bestseller has become the political book of the moment…But it is at best a snapshot, already blurred and dated…Fortunately, other authors and analysts are looking past the news alerts and war stories to examine President Trump's longer-term impact on the nation's norms and governance — on American democracy itself… In "It's Even Worse Than You Think," journalist David Cay Johnston diagnoses the Trump administration as a "kakistocracy," or government by the least qualified and most venal among us." (Carlos Lozada Washington Post)
You could practically see the Leftist tears leaking off the shelves. I'm so glad to see that my county tax dollars are being well-spent….
Joking aside, Trump Derangement syndrome is not dying away. The "Resistance" crowd continues to gather the anger around itself, preparing for an explosion. That is, if Trump continues to be successful — as measured by constant improvement in the American economy, the labor market, national security, etc. — the members of the Resistance will not celebrate this success. Instead, they will wrap themselves ever more tightly in the mantle of victimhood and sink deeper into their angry madness.
Image: Library by Dean Hochman. Creative Commons; some rights reserved.