Did I ever tell you about the openly gay drag queen in today's Navy?
It's not your father's Navy. Thanks to Obama's order allowing openly gay service in the military, the USS Ronald Reagan now boasts its own drag queen.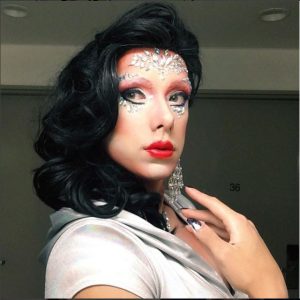 Winston Churchill is famously quoted as saying of the British Navy "Nothing but rum, sodomy, prayers and the lash." Here in America, jokesters in the other branches of the military have spent decades pretending that the Navy is the gayist branch of the services.
The reality, though, is that, up until recently, the Navy was about as "gay" as any other all-male enclave, which is to say that there were almost certainly covert homosexuals reveling in the company of men and that, as always happens when heterosexual men go too long without female companionship, things happened. When female companionship returns, things stopped happening. End of story.
That was then. This is today's Navy, per an article in the Navy Times, the unofficial newspaper of the Naval Service (emphasis mine):
Years before he became a yeoman 3rd class in the United States Navy, Joshua Kelley was entertaining exuberant crowds under his drag name, "Harpy Daniels."

The 24-year-old Berwick, Pennsylvania native, who currently serves as an administrative supervisor aboard the forward-deployed aircraft carrier Ronald Reagan, brought Harpy along for the ride when he decided to join the Navy in February 2016, a choice he said was heavily inspired by his father.

"I've heard many stories of the Navy from my father," Kelley told Navy Times. "He's a 24-year senior chief Navy counselor, so it was something I always had insight on. I grew up with the service, so knowing the benefits of it made it an easy path to take."

One of those benefits was financial stability, something Kelley was struggling to maintain while pursuing drag.

[snip]

"I've always been an entertainer at heart," he said. "It's something you just feel and the vibes you bring with you when the spotlights are on. As a performer, your greatest joy is bringing smiles and laughter to those around you."

And it turns out Kelley has an equally impressive knack for life as a sailor.

Within his first year in the Navy, Kelley was voted to be the president of Strike Fighter Squadron 115′s Coalition of Sailors Against Destructive Decisions, became the public affairs officer for the carrier Reagan's Gay, Lesbian and Supporting Sailors association, was named VFA-115′s Blue Jacket of the Year and earned his first Navy-Marine Corps Achievement Medal, a Navy release said.
So the Navy is funding this young man's life as a drag queen and his major contributions to the Navy have nothing to do with military readiness and everything to do with social constructs. Still, Kelley assures us that being a drag queen helped prepare him for naval duty:
Kelley, who was named the pageant queen in 2015′s Miss Gay Harrisburg, continues to find joy in performing drag and as a sailor aboard the Reagan. And despite the differences between the professions from an outsider's perspective, he says his dedication to performing has only helped his efficiency as a sailor.

"Competing in Miss Gay Harrisburg was similar to boarding for Blue Jacket of the Year," Kelley said in the Navy release. "They both required a board-styled interview, including questions of history and current world events in their respective social setting and inspections on professionalism and grooming standards."
Kelley sounds like a nice, upbeat guy. I'm not a fan of drag queens, who don't amuse me, but he's clearly good at what he does, so more power to him, I guess. Also, if the article is anything to go by, this generation of sailors is unfazed by all the gender bending that has become so prevalent in early 21st century America.
Still, for an old gal like myself, I can't help but think that what we're seeing here probably would surprise even Churchill, despite his jaundiced view of Naval traditions. Moreover, it exceeds any joke the Army traditionally liked to make about the Squids.
The one thing I can tell you with certainty is that the MSM is thrilled. Of course, because national defense and military readiness aren't their prime considerations, their thrill is related to entirely different concerns about today's military….