Whistle Blowin' In The Wind
Progressives want to portray any investigation of Biden or the Trump Russia hoax as fundamentally illegitimate.  Is Joe Biden above the law?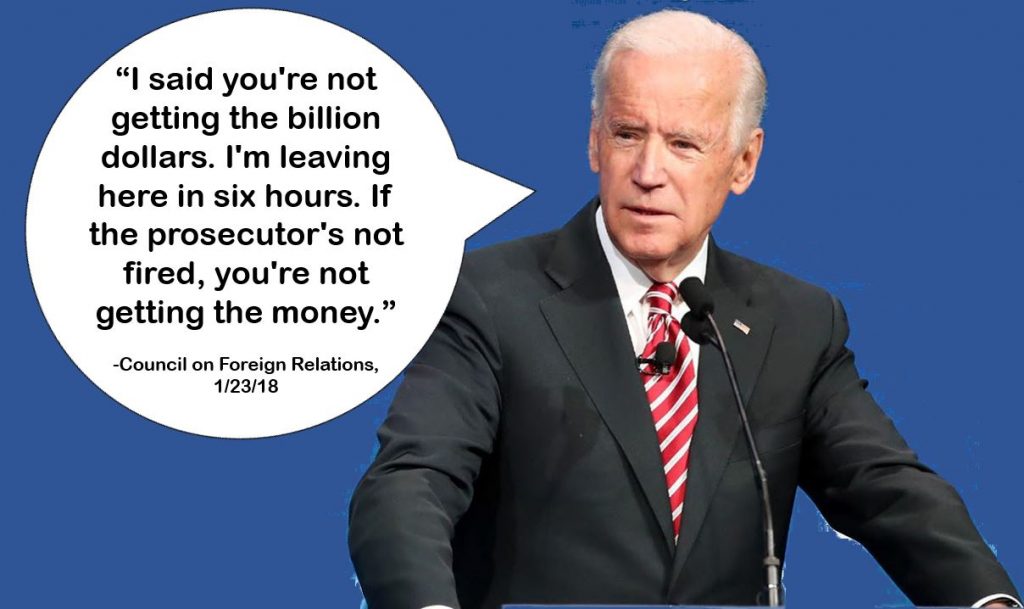 We're getting stuff in a bit of reverse order.  Yesterday, the White House made public the memorialization of the July 25, 2019, phone call between President Trump and President Zelinskyy of Ukraine, the text of which I embedded here.  That phone call, as it turns out, was the entire centerpiece of the whistle blower complaint.
Today, that Whistle Blower Complaint has been released, along with a cover letter from the Inspector General of the Intelligence Community (IG IC) detailing the IG IC handling and assessment of the complaint.  Neither the whistle blower nor the IGIC had seen the memorialization of the July 25 phone call prior to writing their documents.  The whistle blower had no first hand knowledge of the conversation, nor any of the other facts alleged in the complaint that did not appear publicly in the news (itself hearsay).  All of the allegations in the document are hearsay or multi-layered hearsay, most coupled with bald accusations and spin.  At the center of it all, this from the complaint:
Multiple White House officials with direct knowledge of the call informed me that, after an initial exchange of pleasantries, the President used the remainder of the call to advance his personal interests. Namely, he sought to pressure the Ukrainian leader to take actions to help the President' s 2020 reelection bid. According to the White House officials who had direct knowledge of the call, the President pressured Mr. Zelenskyy to:

 initiate or continue an investigation the activities of former Vice President Joseph Biden and his son , Hunter Biden;
assist in purportedly uncovering that allegations of Russian interference in the 2016 U . S. presidential election originated in Ukraine, with a specific request that the Ukrainian leader locate and turn over servers used by the Democratic National Committee (DNC) and examined by the U . S . cyber security firm Crowdstrike, which initially reported that Russian hackers had penetrated the DNC' s networks in 2016; and
meet or speak with two people the President named explicitly as his personal envoys on these matters,Mr. Giuliani and Attorney General Barr, to whom the President referred multiple times in tandem .
Of the whistle blowers three claims above, the only one seemingly being pushed as meaningful concerns Joe Biden blatantly conditioning American aid to Ukraine on shutting down the corruption investigation that was, in part, aimed at his son.  And other than the July 25 conversation,  much of the rest of the complaint concerns meetings taken by Rudy Giuliani that show nothing.  The meat of it all is the phone conversation of July 25, something that does not on its face establish that Trump proposed an unlawful quid pro quo to Zelinskyy.
So now what do the progressives and the MSM do?  They start by outright lying about what was said in the phone conversation between Trump and Zelinskyy.  And for that, we go to Adam Schiff's opening statement at today's House Intelligence Committee Hearing on the whistle blower complaint.
A Fantasy Full of Schiff
This may be the most scurrilous opening statement ever given.  Rep. Adam Schiff made up a series of facts and quotes out of whole cloth to portray the July 25 phone call between President Trump and President Zelinskyy as a Trump demand that Ukraine fabricate "dirt" on 2020 candidates if he wanted to receive American aid:
The Washington Times tells us just how vile Schiff's conduct was:
Rep. Adam Schiff acknowledged on Thursday that he made up parts of the Ukraine phone call transcript when he delivered his opening statement at a much-watched TV hearing with the U.S. top intelligence officer.

Mr. Schiff, California Democrat and chairman of the House Permanent Select Committee on Intelligence, said his reading was "part in parody"––but made the admission only after Rep. Mike Turner, Ohio Republican, called him out.

In his opening statement, Mr. Schiff said Mr. Trump asked Ukraine President Volodymyr Zelensky for fabricated dirt on former Vice President Joe Biden and said Mr. Trump threatened to make the same request Mr. Zelensky eight times–––both quotes not in the transcript.

When it came his time to question Joseph Maguire, the acting Director of National Intelligence, Mr. Turner noted inaccuracies uttered to a large TV audience as Democrats rev up talk of impeachment.

"It's not the conversation that was in the chairman's opening statement," Mr. Turner said. "And while the chairman was speaking I actually had someone text me, 'is he just making this up?' And yes, yes, . . .
Parody my eye. Schiff did nothing to point that out his fabrications during his speech.  It was an utterly outrageous attempt to influence public opinion with scurrilous lies.  Schiff should be subject to an ethics complaint and expelled from the House for that.
The Quid Pro Quo Wasn't Stated In The Phone Call Because Supposedly It Was Common Knowledge To The Ukrainians
With no quid pro quo in the July 25 phone call, a second effort is underway to make it seem as if the quid pro quo was so well known to the participants that it did not require statement during the phone call.  The whistle blower states:
During [the May – June] time frame, multiple U . S. officials told me that the Ukrainian leadership was led to believe that a meeting or phone call between the President and President Zelenskyy would depend on whether Zelenskyy showed willingness to play ball. . . . This was the state of affairs as conveyed to me by U.S. officials from late May into July. I do not know who delivered this message to the Ukrainian leadership, or when.
Apparently, no one delivered that message to the Ukraine.  This from President Zelenskyy in a press conference yesterday:
Zelensky insisted that "nobody pushed me" on the Biden matter.

"I think we had good phone call. It was normal, we spoke about many things," Zelensky said. "I think, and you read it, that nobody pushed me."
Hours before President Zelinskyy spoke at the press conference, ABC News ran a story, "Ukrainians understood Biden probe was condition for Trump-Zelenskiy talks, says former Ukrainian adviser."  ABC described their source, Serhiy Leshchenko, as an "adviser to the Ukrainian President."  Except that . . .
Setting record straight: @Leshchenkos confirmed to me what those of us in Kyiv already knew—he is NOT currently an advisor to Ukraine's Zelenskiy & wasn't at time of July 25 call. He said he DID NOT tell ABC insistence for leaders to discuss Biden probe was precondition for call. https://t.co/fNh5sMYj9i

— Christopher Miller (@ChristopherJM) September 26, 2019
Oh my.  This is going nowhere.
The MSM's Christopher Steele Gambit
For their final attempt at breathing life into this farce, the MSM is taking a page from the FBI and their treatment of Christopher Steele.  The FBI, in their four applications for a FISA warrant, tried to redeem the fact that all the information in their applications was hearsay by telling the Court that Christopher Steele, the source providing the hearsay, was trustworthy and knowledgeable.  Now it is the MSM's turn to try and pull that same trick as pertains to the anonymous whistle blower.
This from the NYT today:
The whistle-blower who revealed that President Trump sought foreign help for his re-election and that the White House sought to cover it up is a C.I.A. officer who was detailed to work at the White House at one point, according to three people familiar with his identity.

The man has since returned to the C.I.A., the people said. Little else is known about him. His complaint made public Thursday suggested he was an analyst by training and made clear he was steeped in details of American foreign policy toward Europe, demonstrating a sophisticated understanding of Ukrainian politics and at least some knowledge of the law.

The whistle-blower's expertise will likely add to lawmakers' confidence about the merits of his complaint, and tamp down allegations that he might have misunderstood what he learned about Mr. Trump. He did not listen directly to a July call between Mr. Trump and President Volodymyr Zelensky of Ukraine that is at the center of the political firestorm over the president's mixing of diplomacy with personal political gain.
No need to worry about reliable facts or the actual law. Trust the Deep State and they will take care of it all.
Getting Dirt or Investigate Corruption?
We can thank Adam Schiff for one thing today, and that is making it crystal clear that he wants America to believe that what Trump was doing in the June 25 phone call was nothing more than to "make up dirt on my political opponent, understand? Lots of dirt, on this and on that."
Except that is not what Trump asked Zelinskyy to do.  The first thing Trump asks of Zelinskyy is to provide the information he has on 2016 election interference coming out of the Ukraine and help in locating the DNC server.  None of that is aimed at the 2020 candidates, though progressives want to try and bootstrap that information into being viewed as illegitimate as well.  Indeed, Schiff, in his statement, implies that all the information Trump asked for will be false and made up by the Ukraine.
Trump did raise Joe Biden's outrageous abuse of power to shut down an investigation aimed at Hunter Biden.  Here is precisely what Trump said:
Good because I heard you had a prosecutor who was very good and he was shut down and that's really unfair.  A lot of people are talking about that, the way they shut your very good prosecutor down and you had some very bad people involved. . . .  The other thing, there's a lot of talk about Biden's son, that Biden stopped the prosecution and a lot of people want to find out about that so whatever you can do with the Attorney General would be great. Biden went around bragging that he stopped the prosecution so if you can look into it … It sounds horrible to me.
Taking Trump's words at face value, he asks for nothing other then to look into an incident that supposedly occurred, not to create dirt out of whole cloth.  So is Joe Biden, who indeed has been quite open about extorting the Ukraine with American aid money, now immune from any investigation because it might in fact show him in a bad, possibly criminal, light as he is running for the highest office in the land?  Is he above the law?
Part of the answer to that question rests on whether there indeed was an ongoing Ukrainian investigation that reached to Hunter Biden on the day when Joe extorted the then Ukrainian President to fire the Ukrainian prosecutor.
As Breitbart reported, despite many MSM claims to the contrary, such an investigation was ongoing:
In March 2016, Joe Biden threatened to withhold IMF funding from Ukraine if officials did not fire Viktor Shokin, who was then serving as Ukraine's Prosecutor General. At the time, Shokin's office was overseeing an investigation into Burisma and its owner, Mykola Zlochevsky. According to Bloomberg's source, Shokin's investigation had been "shelved" in 2015, well before Biden's intervention, and "[t]here was no pressure from anyone from the U.S. to close cases against Zlochevsky." Various outlets seized on the report to dismiss coverage of the Biden scandal:
PolitiFact

: 

"It's not even clear that the company was actively under investigation"

Axios: "Ukrainian official knocks down Biden conflict scandal"
New York Magazine

: "

The investigation into Burisma was dead long before Biden started his campaign to oust Shokin"
Do read the whole article.  It goes on to explain that the information was incorrect.  That said, probably the definitive answer to the Hunter Biden question comes from investigative reporter John Solomon.  His answer, based on hundred of documents and interviews, is yes, the investigation was quite active when Biden shut it down. (H/T Ace)
This is bad news for Biden pic.twitter.com/A4JfbQqOV3

— Ryan Saavedra (@RealSaavedra) September 26, 2019
So the real question at issue is whether Joe Biden above the law. Because, as Andrew McCarthy points out today at NRO, to claim he should not be investigated seems the mother of all double standards.
What Laws Did Trump Violate In His Phone Call With President Zelinskyy?
By Joe Biden's own admission, he extorted the Ukraine with American tax dollars.  What he demanded and received benefited his son and prevented the Obama-Biden administration from being embarrassed.  That certainly seems an act of corruption.  If so, can asking a foreign power to continue what had been a valid investigation of corruption on its own soil constitute an impeachable offense?
In the IC IG letter linked at the top of this post (and, in an act of pure incompetence, composed by the IG IC without ever seeing or even asking to see the memorialization of the July 25 phone conversation), the IG IC laid out the supposed offenses that the President is alleged to have violated with his conduct:
Here, the Complainant's Letter alleged, among  other things, that the President of the United States, in a telephone call with Ukrainian President Volodyrnyr Zelenskyy on July 25, 2019, "sought to pressure the Ukrainian leader to take actions to help the President's 2020 reelection bid." U.S. laws and regulations prohibit a foreign national, directly or indirectly, from making a contribution or donation of money or other thing of value, or to make an express or implied promise to make a contribution or donation, in connection with a Federal, State, or local election.  Similarly, U.S. laws and regulations prohibit a person from soliciting, accepting, or receiving such a contribution or donation from a foreign. national, directly or indirectly, in connection with a Federal, State, or local election. Further, in the ICIG's judgment, alleged conduct by a senior U.S. public official to seek foreign assistance to interfere in or influence a Federal election would constitute a "serious or flagrant problem [or] abuse" under 50 U.S.C. § 3033 (k)(5)(G)(i), which would also potentially expose such a U.S. public official (or others acting in concert with the U.S. public official) to serious national security and counterintelligence risks with respect to foreign intelligence services aware of such alleged conduct.
I am having real trouble identifying how Trump could have violated any of those statutes based on the facts as we know them now.  I will admit that I am not an expert in this area of the law and, if anyone can correct me, feel free.  This is not a case of soliciting donations or offering bribes.  This is not a case, unlike 2016, where there were alleged underlying crimes in which Trump was alleged to have conspired.
Information itself may be of value, but I do not know of any court case where obtaining foreign information was deemed a violation of the law.  If that's the case, lock up the DNC and Hillary for life after what they did in 2016, paying a Brit to get information from Russia and publish it a month before the election.
As Kevin Williamson points out, the threat to impeach Trump began in December, 2016, even before he came to office.  His real impeachable offense, in the eyes of the left, was winning the election.
To conclude with Victor Davis Hanson:
. . .  Any president has a perfect right to tell a foreign head of state and recipient of major U.S. aid that his corruption-plagued country has played a destabilizing but still murky role in recent American elections and in scandals that have affected the American people, and in particular the current president of the United States — and that it would be a good thing to get to the bottom of it.

Americans, left and right, would like to know the exact nature of Ukrainian-Russian interference and the degree, if any, to which CrowdStrike played a role in the Clinton-email imbroglio and why CrowdStrike (which analyzed the server that the DNC refused to turn over to the FBI) was apparently exempt from FBI investigation.

That Biden is now a Democratic front-runner does not provide immunity or excuse the fact that he was vice president of the United States tasked with Ukrainian affairs when his problem-plagued son, without any energy or foreign-policy experience, made a great deal of money for apparently nothing more than lending his Biden name to benefit a corrupt Ukrainian-Russian-related company. Nor should we overlook that Joe Biden threatened to cut off U.S. aid — $1 billion — to Ukraine if it did not within six hours fire the too-curious prosecutor who was looking into the mess. And that prosecutor was fired. And that $1 billion in aid was not cut off. And Hunter Biden was no longer a target of any investigation. And he made a great deal of money. . . .
I agree with Hanson's ultimate conclusion, that this will destroy Biden's candidacy.  And . . . it will do nothing more than strengthen Trump in the eyes of voters.