Trump's compassion: If you read only one thing today read this (then watch the video)
This video of President Trump and a severely wounded Army captain is one of the things the media doesn't want you to see. Please help make it viral.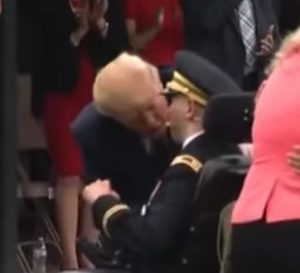 From PJ Media:
Army Capt. Luis Avila was severely wounded by an IED in Afghanistan in 2011, but even the loss of much of his voice doesn't stop him from singing "God Bless America," or prevent President Donald Trump from joining in.

Before we get to the scene, a few words about Capt. Avila. His is one of those amazing stories our military seems to produce with shocking regularity. Avila served four years in the enlisted ranks, before attending OCS and his swearing-in as a 2nd Lt. in 2004. In all, he served five combat tours in Afghanistan and Iraq.
Read the rest here. Really. You're cheating yourself if you don't read it.
Then watch the video:
Now make the video viral.