History, Holidays & Observances on December 25: Christmas
Today: The First Christmas, the Coronation of Charlemagne, William the Conqueror, Baldwin of Boulogne, Halley's Comet, Menachem Begin, Sadat, Isaac Newton, Jimmy Buffett, Saint Anastasia of Sirmium, W. C. Fields, Christmas Music,
And More . . .
Holidays and Observances on December 25
Luke 2:11-12 For unto you is born this day in the city of David
a Saviour, which is Christ the Lord. And this will be a sign for you:
you will find a babe wrapped in swaddling clothes and lying in a manger
Merry Christmas!
Major Events on December 25
336 Anno Domini – First Christmas celebration in Rome.
By 336 A.D., Christianity, which had started as a small sect of Judaism soon after Jesus rode into Jerusalem at age 30, had blossomed into its own religion that, watered by the "blood of martyrs," had spread to every corner of the Roman Empire. Constantine's Edict of Milan in 313 A.D. had brought an end to Roman persecution of Christians, bringing Christianity out of the shadows and into the mainstream of the Empire. But as of that date, no one celebrated Christ's birth for nowhere does the Bible give the date for his birth.
Ascribing the date of Christ's birth to December 25 appeared as a purely academic matter in several places in early Christian history, most notably the writings of Hippolytus of Rome, circa 202-211 A.D. A little more than a century later, in a chronology compiled in A. D. 354 these words appear for A.D. 336: "25 Dec.: natus Christus in Betleem Judeae." December 25th, Christ born in Bethlehem, Judea. It was the first recorded celebration that Rome had for Christ's birthday.
We do not know how this first Christmas was celebrated. Most likely, Roman Christians held a common "Agape Feast" that they simply dedicated to Christ's birth, that being a communal meal among early Christians dedicated to prayer and fellowship.
Interestingly, this first Christmas celebration in Rome came at a time when there was no pontiff. This first celebration was organic, not ordained. Pope St. Mark had died in October, 336 A.D. Pope St. Julius I was not yet elected to the papacy. Regardless, St. Julius I embraced this Christian celebration on Dec. 25, turning it from local Roman custom into a formal celebration for all members of the Universal Church by edict in 350 A.D. (For further discussion of this, see the entry for Dec. 17)
800 – The Coronation of Charlemagne as Holy Roman Emperor, in Rome.
A pivotal moment in Western history came when Charlemagne, the Father of Europe, on this day entered Old Saint Peter's Basilica to do no more than offer Christmas Prayers. Pope Leo III was waiting for him to arrive. When Charlemagne knelt in prayer, Pope Leo I approached him with a crown and proclaimed, by the authority invested in him as the Vicar of Christ on earth, that Charlemagne was the Emperor of the Holy Roman Empire.
Pope Leo III was likely trying to cement his papacy after coming under attack. He wanted to tie his papacy to the powerful King, Charlemagne. Charlemagne, for his part, claimed complete surprise at the act, though he did not balk at it.
The first legacy of Pope Leo III's action was that he had elevated Charlemagne above the Byzantine Emperors in the East and gave Charlemagne claim to all of their lands, the most important of which was the conquered territories the Byzantine Emperors held in Western Europe. This set the stage for centuries of warfare between the Western and Eastern Christian empires.
The second legacy was that, with the right to rule being anointed by heaven and channeled through the Pope, it gave the papacy a claim to ultimate spiritual authority over temporal Kings. This would prove one of the most dominant and divisive issues in European politics of the next near millennium.
Notable Events on December 25
508 – Clovis I, king of the Franks, is baptized into the Catholic faith at Reims, by Saint Remigius.
597 – Augustine of Canterbury leads a baptism ceremony in Kent of more than 10,000 Anglo-Saxons.
1000 – King Stephen I founds Hungary as a Christian kingdom after defeating the pagan army of his cousin.
1066 – William the Conqueror, Duke of Normandy, is crowned king of England at Westminster Abbey, London. When a cheer went up at his crowning, his guards outside thought they were under attack and began slaughtering the townsfolk and burning the buildings outside the Abbey.
1100 – Baldwin of Boulogne, an accomplished military commander during the First Crusade, remained in the Holy Lands and, on this day, is crowned the first King of Jerusalem in the Church of the Nativity in Bethlehem. He would reign for eighteen years.
1758 – Halley's Comet is sighted by Johann Georg Palitzsch, confirming Edmund Halley's 1705 prediction of its passage. This was the first passage of a comet predicted ahead of time. Halley had arrived at his predictions by applying to his calculations the laws of physics developed by his friend, Isaac Newton (who happened to have been born on this day in 1642, see below).
1914 – A series of unofficial truces occur across the Western Front to celebrate Christmas. It was a naive moment of hope in what turned out to be one of the world's most costly wars.
1951 – A bomb explodes at the home of Harry T. Moore and Harriette V. S. Moore, early leaders of the Civil Rights Movement, killing Harry instantly and fatally wounding Harriette. They became the first martys of the 1950's civil rights movement.
1977 – Israeli Prime Minister Menachem Begin meets in Egypt with its president Anwar Sadat. The latter was assassinated within four years by Islamic radicals of the Muslim Brotherhood for making peace with Israel.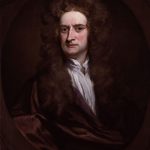 Born on December 25
1642 – Isaac Newton, the father of classical physics. A religious man and a product of the Enlightenment, Newton looked to math to discover the nature of God outside the received wisdom of the Bible.
1821 – Clara Barton, a nurse during the Civil War who went on to found the American Red Cross.
1890 – Robert Ripley who, whether you believe it or not, was born this day.
1946 – Jimmy Buffett, a singer-songwriter who dealt mostly with sojourning in the Caribbean islands.
304 – Saint Anastasia of Sirmium, the daughter of a Roman Patrician, who was executed during the Diocletian Persecution. She was renowned not only as a healer, but as an exorcist.
1946 – W. C. Fields, a comic actor famed for his dislike of children and Philadelphia. It is only an urban legend that he had ordered that, when he died, his tombstone should read "I'd rather be in Philadelphia."
Christmas Music
Joy to the World is a hymn written in 1719 by Isaac Watts, based on Psalm 98, 96:11–12 and Genesis 3:17–18.
Christ Was Born On Christmas Day  is a carol widely known in 14th century medieval Europe.
Twelve Days of Christmas is an English carol first published in 1780.
Cathedral Choirs