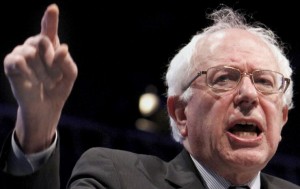 This is part three in my ongoing series challenging a simplistic pro-Bernie blog that is aimed at and popular with young people. I Like Bernie, But… states questions that worried Progressives might have about Bernie Sanders and gives short, usually highly misleading answers to those questions.
I started a new blog, entitled I Don't Like Bernie, Because. . ., and have already written posts challenging the way in which the I Like Bernie team pretended (a) that Bernie is not a socialist; (b) that his tax plans, rather than killing the economy, will enrich all but the rich; and (c) that he can successfully socialize American medicine. (You can also read those posts in Bookworm Room, here, here, and here.)  Those were easy posts, because one just had to take on the lies and misdirection.
A more interesting question is Bernie on gun control.  Bernie has been very uneven on that subject, sometimes voting for more gun control and sometimes voting against it (with his last few votes leaning more strongly in favor of gun control).  The I Like Bernie crowd seeks to assure people that Bernie really hates the Second Amendment.  I went a different way in my I Don't Like Bernie post:  I want to convince young Progressives that they're most safe in a Second Amendment world.  Here is a reprint of that post:
Why it's no compliment to Bernie that the NRA hates him
The website I Like Bernie, But… seeks to address concerns that voters might have about Bernie Sanders, and to assure them that his plans work, that he's electable, and that his vision his sound.  Previous posts on this blog have addressed the I Like Bernie take on his socialism (yes, he's a socialist, not a Democrat) and his tax and spend plans (which are great if you want to kill the economy).  This post takes on the I Like Bernie discussion about Bernie and guns.
The question asked is "Isn't he too weak on gun control?"  No, the I Like Bernie team hastens to assure readers, he's not.  The Brady Campaign loves him and the NRA hates him: