Two presidents in their milieus — and how photos can lie *UPDATED/CORRECTED*
Presidents get photographed hundreds of thousands, perhaps millions of time.  Each photograph captures a mere moment.  Some are flattering; some less so.  Many, however, go on to become iconic.
My generation, the 1970s generation, is deeply imprinted with this photo of Richard Nixon flashing the victory sign: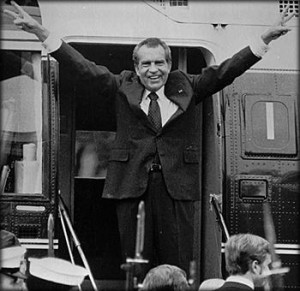 Then there is this 1932 photograph of FDR, which exemplified the buoyant self-confidence that was so attractive to frightened Americans during a shatteringly deep depression: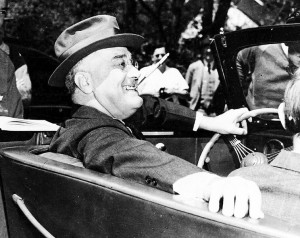 As a counterpoint to Roosevelt's jaunty assurance, I kind of like this picture of Barack Obama, caught unawares [UPDATE:  FunkyPhD clues me in to something I didn't know — the photo is a fake.  I'll keep it here, but add another immediately after of Obama smoking, just to keep the balance.  Incidentally, while the newly added photo is old, the fact is that Obama can't seem to kick the habit.]: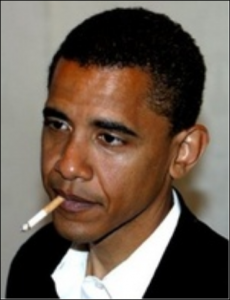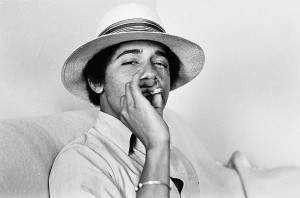 Frankly, whether one looks at the doctored photo or the genuine one, each freezes just a moment in time, but both seem to capture so completely the essence of the man (or lack of essence, if you will).
Steve Schippert, who writes at Threats Watch, stumbled across a couple of photos that seem to get to the heart of Bush and Obama, by showing each man in a milieu in which he clearly connects with his audience. The photos make a lovely matched set (and don't I love those matched sets?) because each is informal and, in each, the President holds a bullhorn, reaching out to his audience.
The first photo shows George Bush, at Ground Zero with rescue workers, shortly after 9/11: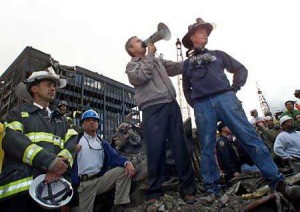 It is, in its own small way, another iconic moment.  9/11 was the turning point in Bush's presidency and, for at least 8 years, in America's relationship with the world.  Bush connected deeply with middle America, the America of people with traditional values and a reverence for American exceptionalism.  This is not a chauvinism that demands the degradation of other nations.  It is simply a recognition that we are what we are — and we like it. And the rest of the world hated Bush for his unreserved love for and protective feelings towards America.
The second photo shows Barack Obama, also with a bullhorn, speaking to adoring multitudes in Kenya: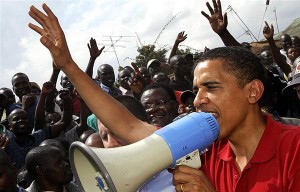 He looks so pleased and comfortable.  This crowd that unabashedly loves him.  They don't care where he was born, they don't ask about his grades, they aren't worried about his past associations, they don't look askance at his slender employment record dotted with promotions that appeared to be due to connections, not merit.  The picture captures perfectly a mindset that the American media sold to American voters in 2008:  Out in the world, away from America, Obama doesn't have to prove himself.  He just is.  He's Obama.
But things are never that simple, are they?  As Obama seeks world peace by cuddling up to bad actors in an effort to disarm them (think Chamberlain and Hitler), people of good will around the world are getting worried.  Certainly Poland and the Czech Republic have reason to fear; Israel fears; South Korea fears; everyone within rocket or suitcase range of Iran fears; Venezuela's neighbors fear — this is a man who prefers the peace of the grave to the hurly-burly of freedom.
The world is realizing that it's not enough just to "be Obama."  The cowboy insult bestowed on Bush might have been an unwitting compliment.  After all, it was Bush who was willing to ride into town and, at great risk to himself, clean up the bad guys.
The Kenyan image of Obama is especially ironic, because Africans and other people concerned about Africa are waking up to the fact that it was George Bush, whitest of white presidents, not Barack Obama, sort-of-black poster boy, who was a real friend to that imperiled continent.