Life does NOT imitate the Simpsons when it comes to handling bullies
From Season 1 of The Simpsons (waaaay back in 1990), comes "Bart the General":
After defending Lisa from school bully Nelson Muntz, Bart becomes Nelson's latest target. Sick of the harassment and torment, Bart, Grampa Simpson, and Herman (a slightly deranged military antique store dealer with a missing arm) rally the town's children into fighting back against Nelson and his cronies.
In real life, ten-year-old boys who try to defend themselves bullies (and, admittedly, this ten-year-old made a less than mature tactical decision), face quite a different situation– not from the bullies but from the administration:
Police say they have charged a 10-year-old Ohio boy after he told them he brought a BB gun to school to intimidate students who bullied him because he wears ankle braces and is small for his age.

Elmwood Place police Sgt. Kevin Vanover said Wednesday that the boy was charged with inducing panic after he took the BB gun to his elementary school in the suburban Cincinnati village on Monday. He remains in his mother's custody awaiting a juvenile court hearing. No hearing date is set.

Vanover says the principal reported that some children said they saw the boy with the gun and thought it was a firearm. Police say the gun's orange plastic tip was missing.
Did you catch that the school charged a frail, bullied 10-year-old with "inducing panic"?  Even in Marin County they're not that crazy.  The other day, when some teenage boys were playing in the hillside wearing camo clothes and using air rifles without orange plastic tips, residents reasonably believed that there were snipers in the hills.  After a police manhunt, the boys were let off with a warning:
Twin Cities police, with help from Mill Valley police, Marin sheriff's deputies and the California Highway Patrol, blocked traffic on Casa Buena and Meadowsweet drives as they searched for the suspect. After about 30 minutes, police contacted two 14-year-old boys with Airsoft rifles, Gorwood said.

"They were not properly marked with the orange tips," she said. "They were playing on the hillside, shooting at each other."

Police seized the guns and released the boys to their parents. There were no plans to seek criminal charges, Gorwood said.
Back to the original report, about the terrorized ten-year-old charged with terrorizing, bullying seems to be a lot worse today than it was when I was young.  Incidentally, I don't have a blinkered, halcyon view of a childhood free of bullying.  As the smallest, geekiest in any school I ever attended, the kid who had thick glasses and always carried a book with her, I came in for my fair share of bullying.  And I'm very embarrassed to say this, but if a child ever appeared on the horizon who was even more of a target than I was, I gleefully sided with my former persecutors, delighted that their attention was on someone else for a change.  So yes, bullying existed back then.
But back then, it wasn't in the papers, it wasn't a cause celebre for every TV show or pop star and — and this is a critical difference I think — kids themselves were expected to deal with the bullies.  That's what makes Bart the General so fascinating.  It's the last gasp of an era that sees kids turning to grown-ups for advice, but handling the bullies themselves.  Nowadays, kids who try to deal with bullies, unless they're lucky enough to have a YouTube video go viral, quickly find themselves in police custody, while the bully gets counseling.
I'm not advocating schools that look like Lord of the Flies, with invisible adults who make no effort to protect the children under their care.  I do believe, however, that children must be able to defend themselves.  They also have to be tough enough to take some bullying without crumbling under the pressure.
What we have here is a situation akin to those poor, disarmed Londoners.  In London, criminals know that, if they get caught, they'll face some kind of punishment from the legal system, although it will be minimal.  They also know that their victims are completely defenseless.  For the bad guys, it's party time, because there are no disincentives, either from the authorities or from the folks staring into the barrel of their guns.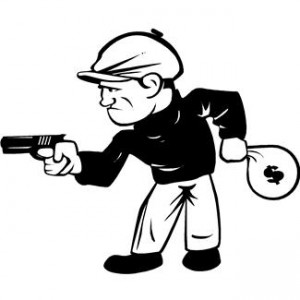 Here in American schoolyards, the situation is the same.  Because American kids have been psychologically disarmed by Leftist school administrations, the bullies, the ones who have resisted this mental disarmament, know that there is no real downside to their behavior.  They're like the delinquents in West Side Story who bait poor Office Krupke by telling him there's nothing he can do to stop them, because they are society's victims, and therefore deserving of pity, not punishment.  The American schoolyard bully knows that his victims have been trained to passivity, while the administration is trained in amateur, Leftist, 50s style psychology.  It's a win-win for the mini bad guy.