Progressives rewrite history to suit their needs
A couple of weeks ago, I posted about the fact that "the most brilliant president ever" doesn't know the difference between an endorser and an endorsee.  As you may recall, an Abraham Lincoln impersonator showed up at Obama's campaign event, leading Obama to say "'My homeboy from Illinois,' Obama said, 'and an outstanding Republican endorsee.'"
I had a good laugh at the genius's expense, but there was something else in the underlying news story that's been niggling at me about that news story.  What bugged me finally popped into focus this morning, when I made my daily visit to Ace of Spades and saw the cartoon I reprint below.
It all starts with that original news story.  We learned there that the impersonator, Lance Mack, has been making a fine living attending Republican events.  Apparently, though, he doesn't pay much attention at those events, because he's a staunch Democrat.  Mack has no problem pretending to be Lincoln, though:
"Today's Republicans either don't know or won't acknowledge if they do that the Republican Party of Abraham Lincoln of 1860 was the progressive party and the Democratic Party was the conservative party," Mack says. "Mr. Obama, of course, greatly admires President Lincoln. He's quoted him in many speeches. He also used Lincoln's Bible upon which to place his hand for his inaugural oath."
Wow!  This is 1984-style revisionism with a vengeance.  As best as I can tell, Mack's theory is that anything good that happened historically was "progressive," and anything bad was "conservative," so today's Progressives ( who were, as little as ten years ago, still called Democrats) can claim the mantle of any political outcome that the approved history books like.
You can play this game forever, you know:  During the Revolutionary War, the Americans were the progressive party and the British were the conservative party, so today's Progressives, everyone ranging from Obama to Pelosi to Axelrod, wears that revolutionary mantle.  And during the Jim Crow era, the anti-Jim Crow Republicans were the progressives and the pro-Jim Crow Democrats were the conservatives, which means that all of today's Progressives and Democrats can wear the Civil Rights mantle.
I won't belabor this point because, at Ace, I found the perfect cartoon from The People's Cube.  I do believe that this cartoon proves, once again, that one good picture is worth a thousand (or maybe ten thousand) of my words: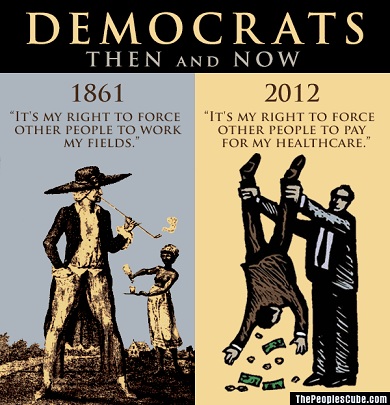 I'd give a People's Cube link for the above cartoon, but I can't find one, and that's despite scrolling through the archives with some vigor.  What I can tell you though, after having scrolled through those archives, is that you should visit the People's Cube.  I've been aware of the site for a long time, but had never actually checked it out.  It's really phenomenal.
I'm actually not surprised by the satiric brilliance on display there. The proprietor and creative genius is Oleg Atbashian, who grew up in the Soviet Union. The one thing that the Soviet overlords couldn't take away from the people was satire. Those who refused to bow down to the cognitive dissonance created by a totalitarian state understood that, sometimes, their only refuge — and weapon — was humor.