Is working as a porn star the cure for mental health issues?
Did any of you catch a story the other day claiming that a study of porn actresses showed that they're happier and better adjusted than their non-porn peers?
The report in the Journal of Sex Research found that porn stars are not more likely to have psychological problems than other women.

In fact, they discovered those in the sex entertainment industry had a more positive outlook on life with higher self-confidence and more flattering views on their body image.

'In terms of psychological characteristics, porn actresses had higher levels of self-esteem, positive feelings, social support, sexual satisfaction and spirituality compared to the matched group,' the report summarises.
Wow!
The way that study reads, it sounds as if those dealing with depression or other mental health issues should head for the San Fernando Valley in Southern California, home of myriad porn studios, rather than seeking out more traditional options, such as a therapist, anti-depressants, or, in more serious cases, a full-care residential facility.  Sadly, we have a thread of depression running through my family's history, and various family members have (or could have) benefited from some or all three options.
Such options weren't always available, of course.  My mother's maternal uncle and her paternal grandmother both suffered greatly from mental illnesses that were probably bi-polar disorder in his case and histrionic personality disorder in her case.  The Nazis dealt with these problems quite efficiently by killing my great-uncle and great, great grandmother.  I don't know about my father's family's mental health history, although most of them ended up being killed by the Nazis too.  Maybe all of them could have avoided these fates if they'd become happy porn stars.
Let me say that I don't believe this study at all.  For one thing, it's got a very small sampling:  171 porn actresses.  For another thing, these actresses were compared to some magical "average" woman.  Lastly, I'm dubious about this kind of self-reported happiness, given the lives they lead.  I know people who practice . . . hmmm . . . let's say "alternate" sexual lives.  These women tell me, almost aggressively, that they're "happy" with their choices and that having myriad sexual encounters with nameless, faceless men makes them feel like sex goddesses.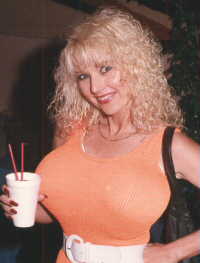 That's what they say.  What I see are women who rely heavily on pot and other drugs to maintain an anesthetized distances from their life choices.  Indeed, the study acknowledges greater drug use amongst the porn actresses studied:
While the report challenged the stereotype of porn actresses as drug addicts, drug use was found to be more prevalent among the entertainers. They were more likely to have tried ten different types of drugs compared to the control group.
These women also age much more rapidly than their cleaner-living peers.  I don't know if it's the sex or the drugs, but you can tell that they've been around the block a few thousand times.
Of course, if you report yourself as happy, maybe you are happy.  After all, our emotional well-being is a state-of-mind and, as the saying goes, mind over matter works:  if you don't mind, it don't matter.  If these women are convinced that they're not prematurely aged, substance using (not necessarily "abusing," but "using) people whose lives are defined by their exhibitionist sexual habits, but are, instead, desirable, beautiful women, than I guess they are — their perception of reality defines their reality.
We know, though, that young girls who are sexually promiscuous are less happy than their peers.  Hearing that porn stars are happy shouldn't be used as an indicator that exhibitionism is a recipe for happiness.  At most, with such a small sampling, the study shows that people with unusual predilections have found their niche.  Most people, I suspect, would find that niche to be a very demoralizing place, indeed, and certainly not a panacea for depression or just routine unhappiness.