Let not your heart be troubled — nations can be saved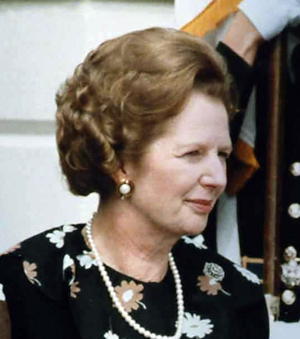 I thought about Margaret Thatcher today.  Lord knows, she was something.  Brilliant, indomitable, focused, feisty, witty, and absolutely convinced of her right-ness and righteousness.  She was the un-RINO.  Her unswerving commitment to her principles enabled her to turn England around.  We forget that sometimes, because the Labor party managed to take her legacy and destroy it by turning England into an Orwellian state.
For a few brief shining years, though, she fought back against a socialist norm that had turned England into a decayed, drab society.  She privatized businesses, fought victorious wars, and generally reminded the English of their greatness.  I was there during that transition period.  The unions fought back ferociously but Maggie, unlike today's loosey-goosey Republicans, would not back down.  She wasn't driven by polls or scared by a Leftist media.  She understood economics and human nature.  The last half of the 1980s and much of the 1990s saw an English economic renaissance.  Had the British people been smart, they could have kept it going; instead, they opted for a renewal of socialism, the EU, unlimited immigration, and the strong velvet chains of a nanny state.
I mention this because I refuse to accept that Obama can "destroy" America.  He can — and will — damage it.  If we can get a handful of Maggie Thatchers, though, or even one Maggie Thatcher, someone who is both a visionary and a fighter, America can be turned around.  And if we're smart, once that turnaround happens, we'll stick with it.
Incidentally, although this sounds awful, I think we need to go over the fiscal cliff in January.  Three reasons:  First, this is what Americans voted for and, in a republican democracy, they should get it; Second, the longer we delay, the worse the inevitable fall will be; and Third, this disaster needs to happy during the long haul of a Democrat presidency (and Senate) so that Americans can grasp cause-and-effect.  Only when the socialist economic infection erupts in its full fury will Americans begin to accept that their nation is sick.  When that happens, God willing, we'll have a Thatcher-esque politician cogently explaining to Americans that the cure lies in reaffirming constitutional and free market principles.