With the latest news about Drakes Bay Oyster Co.'s legal counsel, what's a good Marin liberal to do?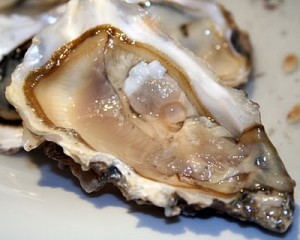 People in Marin have been extremely upset about the decision Ken Salazar (Secy of the Interior) made to shut down Drakes Bay Oyster Co.  The oyster company is a fixture in Point Reyes, and has been sustainably harvesting oysters for decades.  It is insufficiently pure for ObamaWorld, though, so it's got to go:
On November 29, Ken Salazar, secretary of the interior, announced his decision not to renew Drakes Bay Oyster Co.'s lease on National Park Service land about 30 miles north of San Francisco. Citing the 1976 Point Reyes Wilderness Act, the National Park Service intends to establish a federally designated wilderness area, the first on the West Coast, on the land where the oyster farm has long operated.

The Lunnys and their 31 full-time employees, many of whom have worked for decades on the oyster farm, will lose their jobs. Fifteen who lived on the premises will also lose their homes. And the company has only three months to vacate.
What's worse is that there's a very strong case to be made, not only that Salazar was going for an impossible purity, but that Drakes Bay Oyster Co. is the victim of a government fraud:
In 2007 [Corey] Goodman [professor emeritus at Stanford and Berkeley] received a phone call from Steve Kinsey, a member of the Marin County board of supervisors. Kinsey told him of the Park Service's allegations of environmental damage from a small oyster farm with an otherwise impeccable reputation, then he asked Goodman to fact-check the government's claims. Goodman agreed, reviewed the data, and attended a public hearing on Drakes Bay Oyster Co. He had never met the Lunnys, but he was appalled at what he heard from the Park Service officials. Their statements completely conflicted with what Goodman had found.

"I sat and listened to the Park Service that day make the most incredible claims," he tells National Review Online. "We hadn't heard exaggeration," Goodman recalls. "We'd heard things that were simply not true."

His interest piqued, Goodman embarked on what became a five-year examination of the Interior Department and National Park Service studies of the oyster farm.

"I've never seen anything like it," Goodman says. "It's a stunning misuse of science by our federal government. . . . They have spent a huge amount of money trying to find harm when it doesn't exist. . . . The Park Service was determined to get rid of the oyster farm, and they simply made [the environmental damage] up. . . . These people aren't following the data. They're following a predetermined agenda."
Judging by the posts on my real-me Facebook, my Marin friends are extremely upset about this one.  They're traditionalists (and Drakes Bay Oyster Co. has been around a long time), and they like their oysters.  Many Marinites consider it a fun family outing to pick up some oysters as part of a trip to Point Reyes.  They therefore believe that the Department of the Interior should back down on this one.
Today, though, the Marin Independent Journal dropped a bombshell that's going to have these liberal Drakes Bay supporters spinning and confused — it turns out that the Koch brothers have a connection to the Oyster company.  Oh, no!
The head of Cause of Action, the Washington D.C.-based nonprofit representing the Drakes Bay Oyster Co. in its lawsuit against the federal government, has had ties to the Koch brothers, wealthy industrialists who have funded ultra-conservative and libertarian policy and advocacy groups, most notably the Tea Party.

Dan Epstein, Cause of Action's executive director, worked for the Charles G. Koch Charitable Foundation from June 2008 to January 2009, according to Mary Beth Hutchins, a spokeswoman for Cause of Action.

When Epstein left the Koch foundation he took a job for the U.S. House Committee on Oversight and Government Reform, headed by California GOP Congressman Darrell Issa. Under Issa's leadership, the committee has mounted a series of investigations into the Obama administration since the Republicans took control of the House in 2010. Those investigations included the National Park Service's handling of the Drakes Bay Oyster Co.'s request for a special use permit.

Epstein left that job to head the newly formed Cause of Action in August 2011.
How in the world are the Marin people going to square this circle?  Will it force them to see that the Koch Brothers are not evil industrialists who destroy "the little people" but, instead, are principled constitutionalists who believe that the government should leave the little people alone?  Or will they decide that the Drakes Bay Oyster Company that they lauded so tearfully last week is, in fact, part of the vast right wing conspiracy, and that Salazar is correct to use fraud and coercion to destroy it?
It will be interesting to watch my friends struggle with this one.  No, I take that back.  One of the things I've noticed is that, once political issues get intellectually difficult, they just stop thinking about them altogether.  You can practically see these bright, highly educated people sitting there going "Owie.  My brain hurts."