The narcissism of Leftist culture — where bad things are never their fault
I recognize that my mind makes strange, often counter-intuitive connections, but as I hear Progressives rail against guns, I can't help but think of slut walks.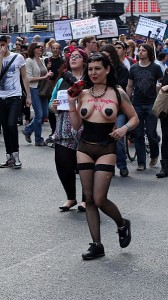 What?!  You don't know what slut walks are?  Slut walks are the latest manifestation of the feminist/Progressive rule holding that a women has no responsibility whatsoever if she is raped.
Slut walks are the exhibitionist version of the same ideology that says that a young woman can go off to college, get blind drunk, fellate several equally drunk young men and then, when she wakes up the next day and realizes that one or all had sex with her, cry rape.  In each case, the entire responsibility for rape (whether it was quite obviously rape at the moment occurred or transmuted into rape along with the morning hangover) is on the man.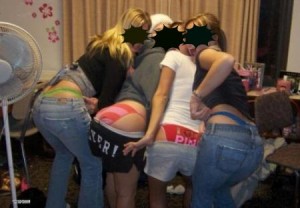 Before I get deeper into this one, I should say that a man is always guilty if he enters a woman without her consent, just as a robber is always guilty if he enters a house with the homeowner's consent.  This is true whether the woman is walking down a dark alley in a bikini or the homeowner has left the front door wide open.  Nothing I'm about to say removes the moral and, almost invariably, legal responsibility the man or the robber has for the act he committed.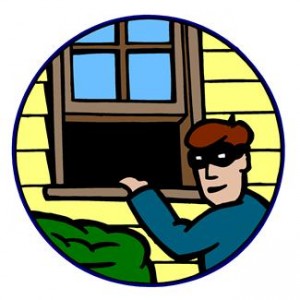 Having said that, though, you and I both know that, if a homeowner leaves a window open at night or the keys in the front door, he's going to come in for ridicule and criticism from the police and, if he has the courage to confess his carelessness to them, from his friends, neighbors, and colleagues.  "Damn, dude!  That was really stupid.  Why didn't you just hang a sign on the door saying 'come in and take my television'?"
Everyone engaged in this chaffing or ridiculing would understand that the homeowner's stupidity didn't make the robber less culpable — but that it did also make the homeowner culpable.  And we would all make extra sure to lock our own doors.  Heck, we might even buy an alarm system if we suspected that there were robbers trolling our neighborhood.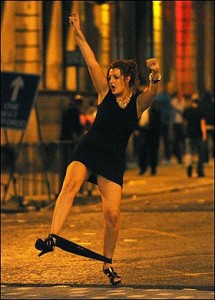 When it comes to rape, though, political correctness mandates that we exonerate the woman of any responsibility for what happened.  Pardon me if I sound like Mr. Spock, but that's illogical.  We know that if a half-naked drunk woman walks into a biker bar, she's more at risk of sexual assault than if a woman in a bulky sweatshirt and mom jeans walks into a church social.  Basic common sense makes this obvious.
In the bad old days, if the half-naked drunk woman was raped in that biker bar, authorities would say "she asked for it," and give the bikers a pass.  The problem is that, in the bad new days, if the half-naked drunk woman gives a slurred "yes" to the guy who looks cute through her beer goggles, and then cries rape the next morning, his life is over and she gets a pass.  Not only that, the message to other similarly situated young women is "Don't change a thing — walk around the streets in clothes that western culture associates with the boudoir and get blind drunk or stoned on a regular basis.  We will never punish you."
Even if the Leftists give the woman a pass, though, the punishment is still there.  It's there in the form of young men whose lives are destroyed and, even more, it's there in the form of young women whose lives are also destroyed.  All those women urged by society into trashy, minimal clothing think that they're never responsible for the consequences of their actions, but they're wrong.  Even if society refuses to condemn them, nature does, whether it's a pregnancy (plus or minus an abortion), sexually transmitted diseases, feelings of self-loathing, or irrational fears of all men that make future trusting, stable relationships all but impossible.
What drives this entire "slut" movement is the malignant narcissism that characterizes almost all Leftist social and political positions.  One of the hallmarks of narcissism is the narcissist's inability to take responsibility for his acts.  It's always someone else's fault.
When it comes to rape (or "gray rape" which is the morning-after guilt a woman feels when her drunkenness led her into acts she regrets), because of feminism's push within Leftist corridors, it's always the man's fault.  No matter what the woman does, no matter how foolish she is, she bears no responsibility for her acts.  She doesn't even count as a grim warning to others who follow.  (Again, I'm not saying that the man who rapes isn't fully responsible for his conduct; I'm just saying that rational thinking demands that women must also be responsible for their conduct.)
The same is true when it comes to guns.  What better place to put responsibility than on an inanimate object?  "It's all the gun's fault."
Here's a real-world fact, though, one that seems to have eluded the "reality based" political party:  Guns do nothing unless people handle them.  When courageous, principled people handle them, they save lives.  When crazy people handle them, they take lives.  Crazy people also take lives with knives, fertilizer bombs, glass bottles, boots, airplanes, box cutters, and whatever else comes to hand.  Knives don't have great reach, but bombs certainly do — and that's true whether the crazy person is listening to the voices in his head or the voices from the imam's pulpit.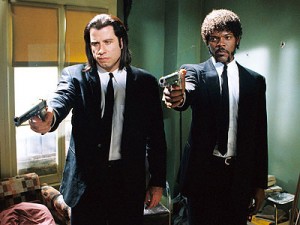 Leftists (primarily the ACLU) have made it all but impossible to institutionalize crazy people, no matter how dangerous they quite obviously are.  Leftists have created gun-free zones to which a crazy person can head secure in the knowledge that there's no one there to stop him.  Leftists operating out of Hollywood have glorified a the most bloody of gun violence of a type that a conservative culture would never countenance.  Leftists up and down the Left coast, with an eye to profit, have put out video games that make it routine and painless to blast human-looking avatars to death.  And Leftists have so highly sexualized our culture that two 7th grade girls at a local middle school had a major falling out because one girl gave a blow job to the other girl's ex-boyfriend.
Leftists make rape easy by hyper-sexualizing our culture and by exonerating women of all responsibility for their acts.
Leftists also make killing an easy and attractive option for people who, in a more conservative culture, would be kept in humane comfort behind high stone walls.   The great thing for the Leftists, though, is that they can, in good conscience, attack the Second Amendment and the inanimate gun  because being a Leftist means never having to say you're sorry.